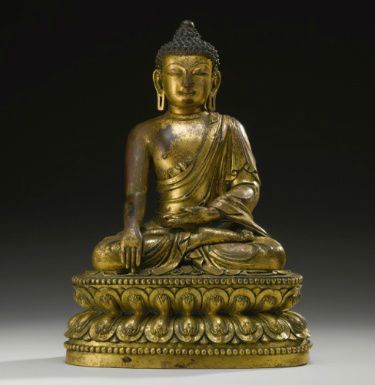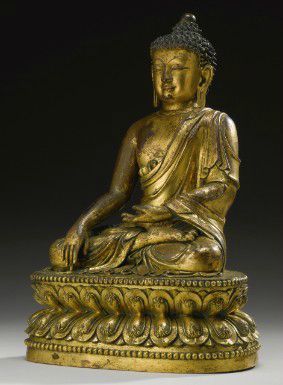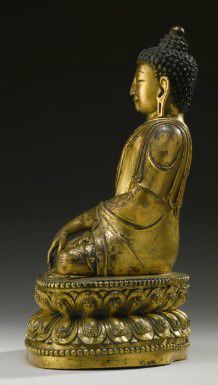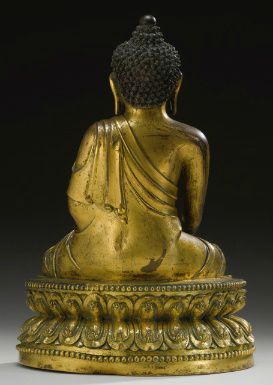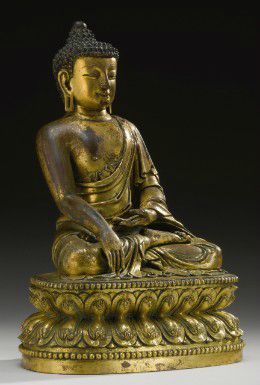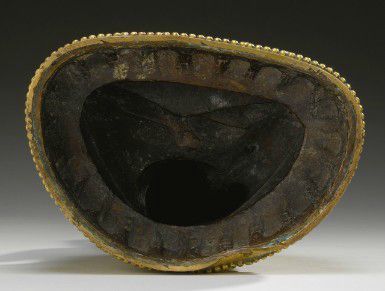 An Important Gilt-Bronze Figure of Shakyamuni Buddha. Yongle Mark and Period. Photo Sotheby's
well-cast and portrayed seated in dhyanasana with right hand in bhumisparsamudra, the left in dhyanamudra, clothed in a loose-fitting robe falling in elegant folds leaving the right shoulder bare, the serene face with downcast eyes and gentle smile flanked by pendulous ears with pierced lobes, the head and domed ushnisha covered with tight curls and surmounted by an ovoid jewel, all supported on a double lotus pedestal with beaded edges, inscribed Da Ming Yongle nian shi. Height 10 3/4 in., 27.3 cm - Estimate 300,000-500,000 USD
PROVENANCE: Acquired in Seoul, South Korea in 1964
NOTE: Gilt-bronze Buddhist figures produced during the reign of Emperor Yongle in the first part of the 15th century and inscribed with his reign mark, are a highly distinguished group, admired for their exquisite refinement and craftsmanship. The reign mark on the present lot confirms that it was cast in the Imperial foundries in Beijing on order of the emperor.
A particularly fine example from this group, from the Speelman Collection, was sold in our Hong Kong rooms, 7th October 2006, lot 808. Although of a larger size when compared to the present lot, the proportions, the treatment of the robes, the way the facial features are cast and way the mark is inscribed, are all very similar. Both figures are also seated on the distinctive double-lotus pedestals with beaded rims that were characteristic of the Imperial style. Apart from not having an urna in the middle of the forehead, the present lot appears to be a smaller version of the Speelman Buddha.
A figure of identical size to the present lot, also with a Yongle mark and of the period, was sold at Christie's Hong Kong, 29th May 2007, lot 1436. A slightly smaller figure also with a Yongle mark and of the period from the Collection of Tuyet Nguyet and Stephen Markbreiter, was sold in our Hong Kong rooms, 7th October 2010, lot 2142, and another of similar size with a Yongle mark in the collection of the Palace Museum, Beijing, is illustrated in Selected Gems of Cultural Relics; Newly Collected in the Palace Museum in the Last Fifty Years, Beijing, 1999, p. 126, no. 163. Another image, slightly larger than the present lot was sold in our Hong Kong rooms 5th October 2011, lot 2127.
This iconography in which Shakyamuni Buddha is seated with his right hand touching the earth, recalls the moment when he triumphs over all distractions and temptations, and summons the earth to bear witness to his enlightenment.
Sotheby's. Fine Chinese Ceramics & Works of Art, New York | 11 sept. 2012 www.sothebys.com