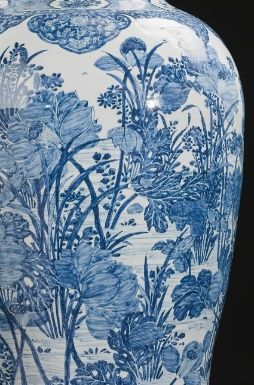 A Pair of Blue And White 'Soldier' Vases. Qing Dynasty, Kangxi Period. Photo Sotheby's
each jar of massive baluster form, well-painted in underglaze blue with a continuous pond scene of lotus and other aquatic plants issuing from calm waters above a narrow lappet band, the shoulder with a pendent blue ground ruyi collar enclosing stylized floral scrolls beneath a band of floral cartouches reserved on a diaper ground, the short straight neck with blossoming branches beneath a ruyi band at the lipped rim, the domed covers decorated en suite with gilt lion-form finials, giltwood stands (6). Height 50 in., 127 cm - ESTIMATION 300,000-500,000 USD
PROVENANCE: The Chinese Porcelain Company, New York, 6th June 1997.
LITTERATURE: The Chinese Porcelain Company, A Dealer's Record 1985-2000, New York, 2000, p.111.
NOTE DE CATALOGUE: These monumental vases are part of a rare group referred to as 'dragoon' or 'soldier' vases in reference to the famous group of 151 pieces of porcelain among which were several massive jars which Augustus the Strong (1670-1733) received in 1717 from Frederick William I of Prussia (1688-1740) in exchange for 600 soldiers. The collection of Augustus the Strong remains in Dresden and among the many 'soldier vases' is a five-piece garniture with a continuous boating scene, which appears to be one of the rare examples of a single narrative theme similar to the present example. The Dresden garniture is illustrated in Eva Strober, La maladie de porcelaine..., Leipzig, 2001, cat. no. 16, pp. 15 and 46-47.
These large and impressive forms were produced first during the Kangxi reign, mostly in underglaze blue and white but also in famille-verte and later in famille-rose. Because of their desirability and popularity with the Western market and its insatiable appetite for all things Chinese, it appears that most of these massive jars were produced for export. However, the technical expertise and money required to successfully throw, paint and fire such large pieces would have made them notable and famous at the time and it is tempting to speculate that some, particularly the more painterly type such as the present pair, found their way into the homes of the Chinese aristocracy as well as the homes of Western nobility.
Sotheby's. Fine Chinese Ceramics & Works of Art, New York | 11 sept. 2012 www.sothebys.com