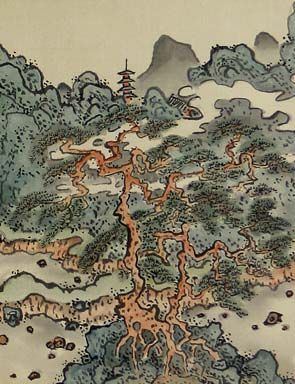 Fukuda Kodojin (1865-1944), Hanging Scroll. Ink and color on silk. (detail).
BASEL.- BachmannEckenstein | Japanese Art were recently described by Martin Lorber in the Asian Art Newspaper as "Two scholarly Swiss dealers … highly regarded for their taste and knowledge in the fields of pre-modern calligraphy, painting, and tea ceramics."
In September they will feature all three of these areas during New York's Asia Week.
Highlights of the exhibition include:
· A collaborative work by Matsumura Goshun (1752-1811) and Yosa Buson (1716-1783). Goshun painted a chimaki (a kind of rice dumpling), while Buson enhanced it with a related poem, a nice touch given Buson's famed love of food.
· A scroll painting of a man gazing at the moon, also with a poem, both from the brush of Kobayashi Issa (1763-1827).
· An extensive calligraphy by the famous female poet/calligrapher of Gion, Chiyo-ni (1703-1775), who is most commonly known for her short poems.
· A number of hanging scrolls by "the last great Nanga painter" Fukuda Kodojin (1865-1944), an artist BachmannEckenstein have handled for many years, and who has become increasingly popular amongst collectors and museums alike.
· A delightful selection of the latest discoveries by ceramic artist, calligrapher, and poet Otagaki Rengetsu (1791-1875)
Exhibiting at: Jill Newhouse Gallery. 4 East 81st Street – 2nd Floor New York, NY 10028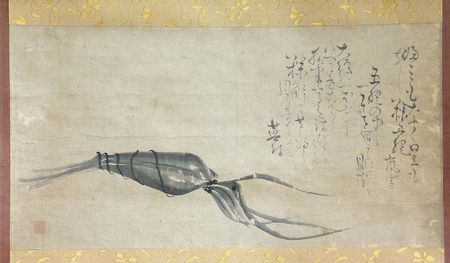 Matsumura Goshun (1752-1811) & Yosa Buson (1716-1783), Hanging Scroll. Ink on paper. All of the three poems brushed by Yosa Buson have one motive in common: Chimaki, the rice dumpling wrapped in a bamboo leaf, depicted on the scroll by Matsumura Goshun. Usually Chimaki are eaten on the fifth day of the fifth month (Boys Day), and thus come in groups of fife. Chimaki are often used motifs in Haiku poetry and it serves as a season indicator of summer.