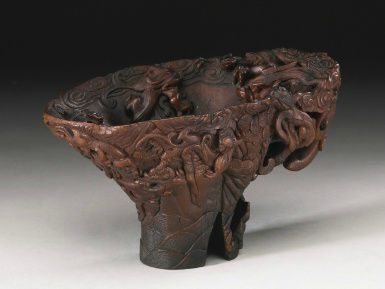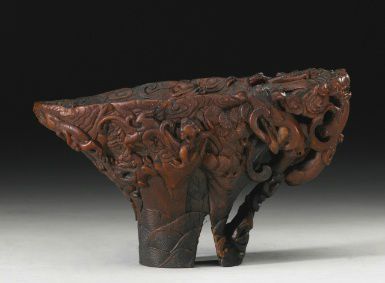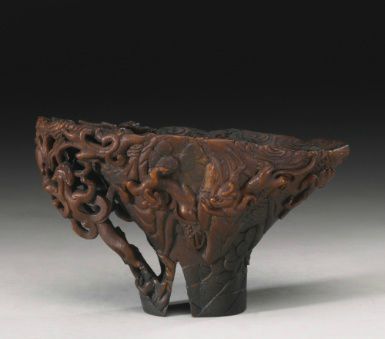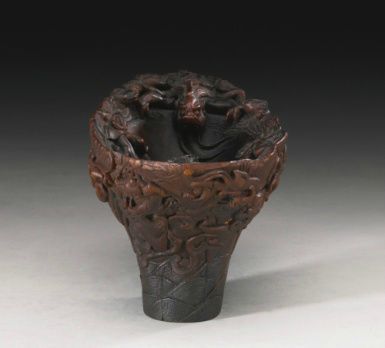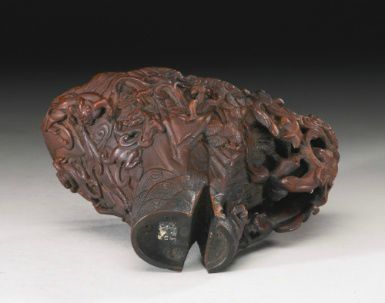 A Rare and Unusual Rhinoceros Horn 'chilong' Libation Cup, 17th century. Photo Sotheby's
the exterior carved with six lively chilong clinging to pointed overhanging rocks with outcrops of pine shrouded with swirling mist that extends over the rim, one chilong beside a large chilong flanked by two smaller ones forming the undercut handle, four further chilong carved in high relief in the interior, the base incised with a wave pattern, the horn a reddish-brown color. Length 7 3/8 in., 18.7 cm - ESTIMATION 100,000-150,000 USD.
PROVENANCE: Acquired from a private New England Collection in the 1990s.
NOTE DE CATALOGUE: Rhinoceros horn cups with a design of overhanging cliffs and pine trees are a known type, as are cups with multiple
chilong. It is rare however, to see the two designs combined in one cup. From the carving on the cup, we are given the impression that chilong inhabit a similar habitat to bats, clinging to cliff faces with overhanging rocks suspended high over water. The combination of the chilong with a natural landscape breathes life into the overall design.
An example of a rhinoceros horn cup from the Edward & Franklin Chow Collection, with a dragon extending over therim into the interior, dated to the 17th / 18th century was sold in our Hong Kong rooms, 8th April 2011, lot 2714.
Another example from the same collection and sale dated to the 17th century, with chilong-form handle and smaller chilong in the interior was lot 2707, and one with dragons in the interior dated to the late Ming / early Qing dynasty, 17th century, was sold in these rooms, 20th March 2012, lot 199.
Sotheby's. Fine Chinese Ceramics & Works of Art, New York | 11 sept. 2012 www.sothebys.com