03 septembre 2012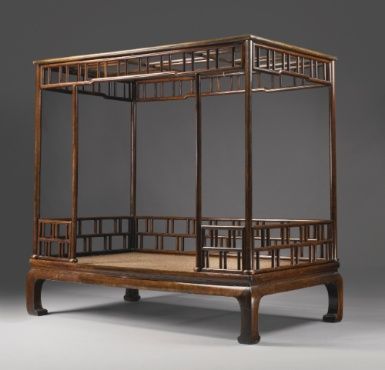 A jichimu Six Poster Canopy Bed (jiazichuang), Qing Dynasty, 18th Century. Photo Sotheby's
the soft matted sleeping platform within a rectangular, mitered frame, molded with a waisted apron and raised on corner legs of square section ending in hoof feet, the front, back and side railings in a lattice pattern, joined by six baluster form upright posts joined to five similarly carved open work panels along the sides and surmounted by a pierced lattice canopy. Height 82 1/2 in., 210 cm; Width 86 3/4 in., 219.8 cm; Depth 51 5/8 in., 131 cm - ESTIMATION 80,000-120,000 USD
NOTE DE CATALOGUE: Intact canopy beds are extremely rare. Virtually none retain their original paneled tops. Latticework beds of the sixpost type in published collections include two formerly in the collection of the Museum of Classic Chinese Furniture, Renaissance, California and later sold at Christie's New York, 19th September 1996, lots 62 and lot 84; and another in Robert H. Ellsworth, Chinese Furniture from the Mimi and Raymond Hung Collection, Hong Kong, 2005, no. 48. Asix-post canopy bed in the collection of the Minneapolis Institute of Arts is in Robert D. Jacobsen and Nicholas Grindley, Chinese Classical Furniture in the Minneapolis Institute of Arts, 1999, no. 24. A six-post canopy bed of huanghuali was sold in these rooms 20th March 2012, lot 135.
For further discussion on the evolution and decoration of canopy beds see Sarah Handler, Ming Furniture in the Light of Chinese Architecture, Berkeley, California, 2005, chapter 4, pp. 67-105. In addition refer to Jonathan Hay, Sensuous Surfaces, The Decorative Object in Early Modern China, London, 2010, pp. 289-295 in which the author describes the social context and sumptuous setting to which these elaborate forms belong.
Sotheby's. Fine Chinese Ceramics & Works of Art, New York | 11 sept. 2012 www.sothebys.com

Commentaires sur A jichimu Six Poster Canopy Bed (jiazichuang), Qing Dynasty, 18th Century.