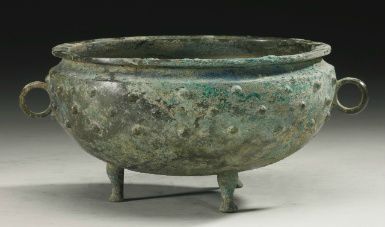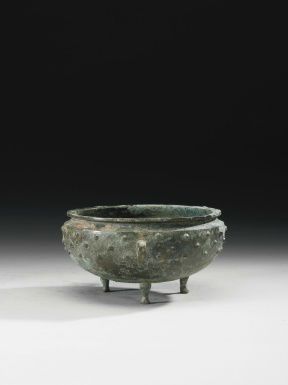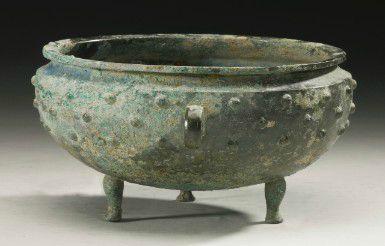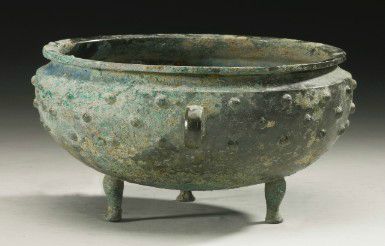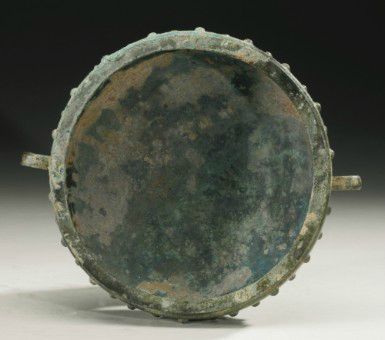 An Archaic Bronze Ritual Food Vessel (dui), Warring States Period, 4th century BC. Photo Sotheby's
the rounded body with a short waisted neck rising to a flat everted rim and with a pair of small ring handles to either side, cast in relief with three rows of smooth bosses, all supported on three short cabriole legs, the patina a silvery gray-green with light patches of encrustation, Japanese wood box (2). Width 10 in., 25.5 cm - ESTIMATION 60,000-80,000 USD
PROVENANCE: Old Japanese Collection.
EXHIBITED: Osaka Municipal Museum, Chugoku Sengoku Jidai No Bijutsu (Arts from the Warring States Period), 1991. no. 79
NOTE DE CATALOGUE: A related ding of elliptical form with three rows of bosses and resting on similarly elegant cabriole legs and dated to the 6th century BC from the Avery Brundage Collection, Asian Art Museum of San Francisco is discussed and illustrated in Jenny So, Eastern Zhou Ritual Bronzes from the Arthur M. Sackler Collections, Washington D.C.1995, fig. 9.4, pp. 116-117 with other ding and again fig. 28.2, p. 195 in regard to its evolutionary similarity to dou.
Additionally the author illustrates a dui with its cover, ibid. fig. 29.3, p.199 currently in the British Museum of similarform and with the same delicate cabriole legs which are also placed well under the rounded base.
Sotheby's. Fine Chinese Ceramics & Works of Art, New York | 11 sept. 2012 www.sothebys.com