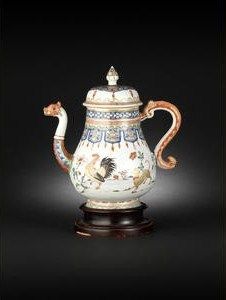 A rare famille rose coffee pot and cover. Yongzheng, circa 1735. Photo Bonhams
The pear shaped ewer with a phoenix-head spout and S-shaped phoenix-tail handle, surmounted by a domed cover with a lotus bud finial, the body enamelled on one side with a cockerel and a hound and on the other side with an eagle and a cat, all amidst lotus, aster, linghzi fungus, bamboo and other plants, below borders around the neck and shoulders including a band of florets, gilt band, whorls, spearheads and pendent lotus lappets with tassels, the spreading foot with foliage and a cross-hatch design, the cover with four lappets enclosing flowerheads on a brocade design, tassels, spearheads and whorl patterns, attached stand. 25cm (9⅞in) high. (3). Sold for £1,500
Provenance: a Greek private collection formed in the 1950s/60s and thence by descent.

The rare shape of this ewer, most probably used as a coffee pot, is based on the more typical pear shape, but enhanced with the novelty phoenix shaped spout and handle, suggesting it was specially commissioned by a Western buyer and formed part of the private trade.

See D.S.Howard, The Choice of the Private Trader: The Private Market in Chinese Export Porcelain illustrated from the Hodroff Collection, London, 1994, pls.169-170 for a cylindrical coffee pot, with a novelty ostrich-shaped spout and handle; and a pear-shaped coffee pot, with the more typical long curved spout and ear-shaped handle emerging from makara dragons, both dated as Yongzheng, circa 1735.
Bonhams. 5 Sep 2012 11 a.m. London, Knightsbridge. Chinese & other Asian Works of Art