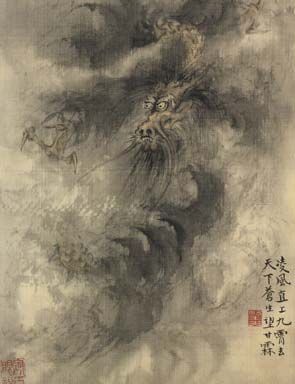 A fine and sweet ten-leaf album of Animals by Hua Yan (1682-1756). Est. $80/120,000. Photo: Sotheby's.
NEW YORK, NY.- On 13th September 2012 Sotheby's New York will present the fall sale of Fine Classical Chinese Paintings. The auction follows the extraordinary success of the March sale in this category that took place during Asia Week New York for the first time. The 150 lot sale presents a selection of important works by the leading artists of Ming and Qing dynasties from private collections around the world including An Important American Collection Part II and Paintings and Calligraphy Works from Dr. Meiling Luh Collection.

A major highlight in the sale is a staggering handscroll by the Zhe School master Lan Ying (1585-1664), Landscape After Wu Zhen (lot 636, est. $1.2/2.2 million*). The scroll is over ten meters long and exemplifies how Lan Ying grasped the essence of the ancient master. The piece was formerly in the collection of the legendary collector Zhang Xueliang (known as the Young Marshal) whose collection was celebrated in the legendary 1994 sale at Sotheby's in Taipei.
Qiu Ying's (circa 1494-1552) Summer Reverie by the Lotus Pond (lot 631, est. $750,000/1.5 million) is a fine example of the artist's brushwork. The delicately arranged composition and the beautifully depicted details, as well as the scholar sitting comfortably in the pavilion, demonstrates the superb quality of brushwork that can also be found in Returning Late from a Spring Outing, now in the Palace Museum collection, Taipei.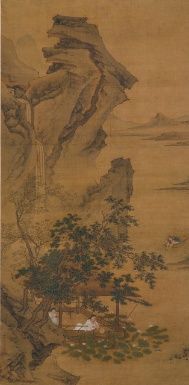 Qiu Ying (circa 1494-1552), Summer Reverie by the Lotus Pond. Estimation: 750,000 - 1,500,000 USD. Photo Sotheby's
The elegant album Ink Play, by one of the Six Masters of the Early Qing Dynasty, Yun Shouping (1633-1690) is a fine combination of the artist's flower and landscape paintings (lot 655, est. $150/250,000). Dated 1664, when Yun Shouping was only 31 years old, the 12-leaf album is a rare early work by the artist. According to its colophon by the great 20th century collector and connoisseur Wu Hufan, the album was once part of an album that was in the imperial collection – they are composed on identical paper and the calligraphic style on both albums indicate that they were created around the same time.

Among the major collections in the sale are An Important American Collection Part II and Paintings and Calligraphy Works from Dr. Meiling Luh Collection, each of which consists of exquisite works that are fresh to the market.

Highlights from the first collection include a magnificent calligraphy work, Poem in Cursive Script by Song Cao (1620-1701), the highly acclaimed calligrapher and poet in the latter half of the 17th century (lot 605, est. $40/60,000), and a fine and sweet ten-leaf album of Animals by Hua Yan (1682-1756) (lot 613, est. $80/120,000).

Dr. Meiling Luh (1920-2011), a native of Shanghai who immigrated to the United States in 1948, became a fervent collector of Chinese paintings only after his retirement as an orthopedic surgeon in 1988. Yet his dedication and passion for art was apparent and he was able to form a versatile collection with a number of superb works. These include Landscape After Ancient Masters by Sheng Maoye, a Suzhou artist of the early 17th century (lot 718, est. $150/200,000) and the gem-like painting Clouds Surrounded Mountains, a masterpiece by Wu Hufan (1894-1968) (lot 741, est. $250/350,000).

*estimates do not include buyer's premium