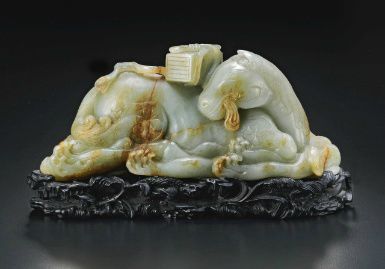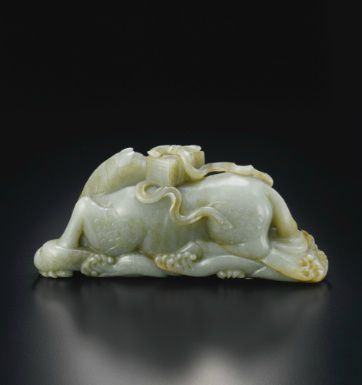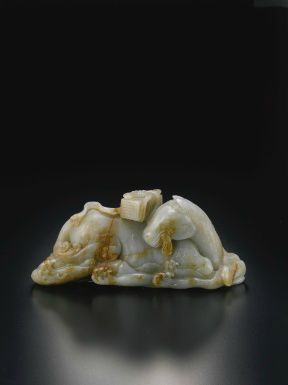 A rare celadon jade carving of a mythical horse. Qing dynasty, 18th century. Photo Sotheby's
the figure well-carved with patches of scales on its shoulders and haunches, in a recumbent position with head turned back grasping in its mouth a section of the sash tied around a bundle of books resting on its back, supported on a base of churning waves, the stone with some opaque white inclusions and russet enhancement, wood stand (2). Length 8 1/2 in., 21.6 cm - ESTIMATION 60,000-80,000 USD
PROVENANCE: Acquired in New York in the 1930s and thence by descent.
NOTE DE CATALOGUE: According to the Liji (Book of Rites) written from the Warring States Period to the Qin and Han dynasties, Fuxi, the first of the three legendary rulers of ancient China, was observing all under heaven, when he saw a creature emerge from the river. This creature had the form of a horse, the head of a dragon and the scales of a fish. The markings on the creature's back inspired Fuxi to invent the eight trigrams, which led to the invention of writing, represented by the book on the creature's back.
Later writings described the creature as having the essence of heaven and earth, with the form of a horse and the scales of a dragon, such as represented by the present lot, and it was said to appear when a sage ruled the land.
Beginning in the Yuan dynasty, this mythical horse became a popular motif on ceramics, where the design was referred to as haima (sea and horse) because it always portrayed the horse galloping through the air over turbulent seas. A Qing dynasty example of this motif, dating to the Qianlong period, can be seen on two brushpots sold in these rooms, 20th March 2012, lots 93 and 94. A jade example, of 18th century date, was sold at Christie's Hong Kong, 28th November 2006, lot 1419. Another jade example of a horse carrying books is illustrated in The Complete Collection of Treasures of the Palace Museum - Jadeware (III), Hong Kong, 1995, pl. 90. A qilin of similar size, style and posture, ascribed to the Qianlong period, is illustrated ibid, pl 94.
Sotheby's. Fine Chinese Ceramics & Works of Art.. New York | 11 - 12 September 2012