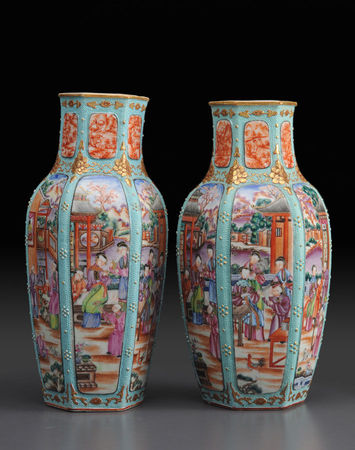 Paire de vases balustres facettés en porcelaine à décor « Mandarin ». Chine, Dynastie Qing, Époque Qianlong (1735-1796). Photo courtesy Iegor
Chaque présente six faces ornées de médaillons oblongs sur la panse et de médaillons rectangulaires sur le col, lesquels se détachent sur un fond perlé bleu ciel rehaussé de pivoines dorées, les supérieurs ornés de paysages couleur sépia, les inférieurs, polychromes, de multiples personnages. Étiquette de la Collection Haas au revers : « The Haas Collection 79 ». H : 27cm - 10.5''.
Publiée en partie dans l'ouvrage de Louis Lawrence, « Masterpieces from the World's important collections ».
IEGOR. ARTS D'ASIE. LUNDI 10 SEPTEMBRE 2012. http://www.iegor.net