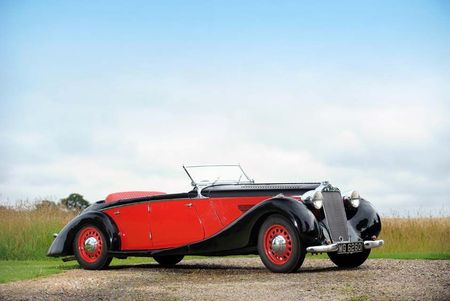 The 1938 Delage D6-70 Tourer, in striking red-and-black paintwork, was purchased by the actress directly from the Delage stand at the 1938 Motor Show. Sold for £51,750. Photo: Bonhams
LONDON.-
The car bought new by 1940s star of stage and screen Margaret Lockwood (1916 – 1990) with one of her first film pay cheques was offered for sale at the
Bonhams
Beaulieu Sale in Hampshire on Saturday 8th September – one week before what would have been her 96th birthday.
The 1938 Delage D6-70 Tourer, in striking red-and-black paintwork, was purchased by the actress directly from the Delage stand at the 1938 Motor Show.
Born on 15th September 1916 in Karachi, British India (now Karachi, Pakistan), Margaret Lockwood attended Sydenham High School for Girls in London before studying for the stage at the Italia Conti, making her debut in 1928 aged 12.
After further training at the Royal Academy of Dramatic Art in London, and numerous other theatre roles, she entered films in 1934, starring in the 1935 film version of Lorna Doone.
In 1938 she appeared with Michael Redgrave in what was to become her most successful film: Alfred Hitchcock's The Lady Vanishes.
Soon afterwards, Lockwood began to play on-screen villainesses, becoming the most successful actress in British films at that time. Her greatest accolades followed her performance in the title role in the controversial The Wicked Lady (1945), after which she gained the Daily Mail National Film Awards First Prize for most popular British film actress.
Among other roles during a career spanning more than five decades, Lockwood starred in the stage thriller Spider's Web in 1955, a play written for her by Agatha Christie.
The 1938 Delage (estimate £40,000 - £50,000) was bought by its current owner from the Lockwood family in the 1990s and was subject to a partial restoration by specialists over a 10-year period.
Other lots on offer at the Bonhams Beaulieu Sale include: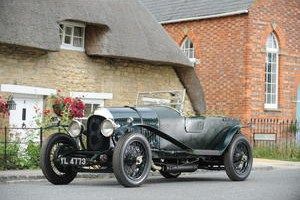 1925 Bentley 3/4½-litre short-chassis Red Label Vanden Plas Tourer. Registration no. YL 4773. Chassis no. 1162. Engine no. SP 1407. Estimate £160,000 - £220,000.
Sold for £158,300.

Photo: Bonhams
With characteristic humility 'W O' was constantly amazed by the enthusiasm of later generations for the products of Bentley Motors Limited, and it is testimony to the soundness of his engineering design skills that so many of his products have survived. From the humblest of beginnings in a mews garage off Baker Street, London in 1919 the Bentley rapidly achieved fame as an exciting fast touring car, well able to compete with the best of European and American sports cars in the tough world of motor sport in the 1920s. Bentley's domination at Le Mans in 1924, 1927, 1928, 1929 and 1930 is legendary, and one can only admire the Herculean efforts of such giants as Woolf Barnato, Jack Dunfee, Tim Birkin and Sammy Davis, consistently wrestling the British Racing Green sports cars to victory.
W O Bentley proudly unveiled the new 3-litre car bearing his name on Stand 126 at the 1919 Olympia Motor Exhibition, the prototype engine having fired up for the first time just a few weeks earlier. Bentley's four-cylinder 'fixed head' engine incorporated a single overhead camshaft, four-valves per cylinder and a bore/stroke of 80x149mm. Twin ML magnetos provided the ignition and power was transmitted via a four-speed gearbox with right-hand change. The pressed-steel chassis started off with a wheelbase of 9' 9½", then adopted dimensions of 10' 10" ('Standard Long') in 1923, the shorter frame being reserved for the TT Replica and subsequent Speed Model. Rear wheel brakes only were employed up to 1924 when four-wheel Perrot-type brakes were introduced.
In only mildly developed form, this was the model that was to become a legend in motor racing history and which, with its leather-strapped bonnet, classical radiator design and British Racing Green livery, has become the archetypal Vintage sports car.
Early success in the 1922 Isle of Man Tourist Trophy, when Bentleys finished second, fourth, and fifth to take the Team Prize, led to the introduction of the TT Replica (later known as the Speed Model) on the existing 9' 9½" wheelbase, short standard chassis. Identified by the Red Label on its radiator, the Speed Model differed by having twin SU 'sloper' carburettors, a higher compression ratio, different camshaft and the close-ratio A-type gearbox, the latter being standard equipment prior to 1927 when the C-type 'box was adopted. These engine changes increased maximum power from the standard 70 to 80bhp and raised top speed to an impressive 90mph. Other enhancements included the larger (11-gallon) fuel tank and (usually) Andre Hartford shock absorbers. Bentley made approximately 1,600 3-Litre models, the majority of which was bodied by Vanden Plas with either open tourer or saloon coachwork.
Michael Hay's authoritative work, Bentley, The Vintage Years, records the fact that '1162' was completed as a Speed Model with four-seat coachwork by Vanden Plas. The engine number is recorded as '1174', the registration as 'YL 4773' and the first owner as one P Latham. One of only 513 Speed Models built, the car was sold to J W Cock in 1931 and then to C D Pitman in 1934. A C B Matthews owned the Bentley from 1947 to 1970 and while in his ownership the car was involved in a head-on collision with a Rolls-Royce during a funeral procession, the accident occurring in 1961. Some parts were then sold to H J K Townshend.
'1162' was subsequently purchased by Richard 'Dick' Baddiley, a prominent VSCC Bentley racer, who acquired engine number '685' and rebuilt the car as a 'racing bitsa'. The original Vanden Plas body was sold and a special body fitted in its place. There is a photograph on file of Dick Baddiley racing the Bentley at a VSCC Silverstone meeting.
In 1989 the Bentley was rewired and sold to H C Peity (in Portugual) who in turn sold it to marque specialist Stanley Mann in 1989. The chassis frame was straightened and modified by Green Farm Racing (Julian Ghosh) with new dumb irons before being rebuilt to 'Mother Gun' replica specification using the following parts: engine number '922'; front axle 'VA 4086'; differential casing 'KM 3083'; rear axle 'KD 2104' (ex '815'); C Type gearbox; and an original Vanden Plas body numbered '1241'. The Bentley was then sold to Tim Houlding who owned it from 1990 to 1994. During his ownership '1162' was fitted with a 4½-litre engine ('SP 1407'), front axle ('FA 2508') and a lighter A Type gearbox (number '395'). The steering box is original to '1162'.
Following a period of inactivity between 2000 and 2012 the Bentley has been re-commissioned by Solutions Racing of Standlake, Oxfordshire. Works included repairs to the ahs frame, interior trim and fuel tank, new wheels, road springs realigned, new hydraulic braking system and a new oak dashboard installed. Now driving beautifully, '1162' represents an exciting opportunity to acquire Vintage Bentley rebuilt to ultimate specification. The car is offered with MoT/tax to August 2013 and Swansea V5 registration document.
1972 Ferrari 246GTS 'Dino' Spider. Chassis no. 05404 Engine no. 05404. Estimate £100,000 - £120,000.
Sold for £144,860.
Photo: Bonhams
It was the need for a production-based engine for the new Formula 2 that led to the introduction of a 'junior' Ferrari, the Dino 206GT, at the Turin Motor Show in 1967. Building on experienced gained with its successful limited edition Dino 206S sports-racer of 1966, Ferrari retained the racer's mid-engined layout for the road car but installed the power unit transversely rather than longitudinally. A compact, aluminium-bodied coupe of striking appearance, the Pininfarina-styled Dino - named after Enzo Ferrari's late son Alfredino Ferrari and intended as the first of a separate but related marque - was powered by a 2.0-litre, four-cam V6 driving through an in-unit five-speed transaxle. The motor's 180bhp was good enough to propel the lightweight, aerodynamically-efficient Dino to 142mph, and while there were few complaints about the car's performance, the high cost enforced by its aluminium construction hindered sales.
A 2.4-litre version on a longer wheelbase - the 246GT - replaced the Dino 206 in late 1969. The body was now steel and the cylinder block cast-iron rather than aluminium, but the bigger engine's increased power - 195bhp at 7,600rpm - was adequate compensation for the weight gain. A Targa-top version, the 246GTS, followed in 1972. While not quite as fast in a straight line as its larger V12-engined stablemates, the nimble Dino was capable of showing almost anything a clean pair of heels over twisty going.
Testing the ultimate V6-engined Dino – the 246GT – in 1972, the authoritative American motoring magazine Road & Track enthused, 'it is a thrill to drive a car like the Dino, one whose capabilities are far beyond what even an expert driver can use in most real-world motoring, and that is the Dino's reason for being. The real joy of a good mid-engined car is in its handling and braking and the Dino shone as we expected it to. The steering is quick without being super quick, and it transmits by what seems a carefully planned amount of feedback exactly what is going on at the tyres. Thanks to the layout's low polar moment of inertia the car responds instantly to it. The Dino's cornering limits are very high... ' Truly a driver's car par excellence.
As the first series-produced, mid-engined Ferraris, the early Dino V6s are landmark cars. The line they founded would prove to be an immense commercial success for Maranello, production amounting to 2,487 GT coupés and 1,274 GTS spyders by the time the model was deleted in 1974.
One of only 235 supplied to the UK in right-hand drive configuration, this example comes with copies of its original Maranello Concessionaires and H R Owen order paperwork revealing that the car was supplied new finished in Bianco Polo Park (white) with black interior and equipped with power-operated windows. The most extensive history file also contains numerous bills for work carried out during the 1980s together with invoices for a major restoration undertaken by independent Ferrari specialists Shiltech Performance Cars Ltd of Loughborough circa 2002, which included converting the cylinder heads to accept unleaded fuel. It should be noted that although the Swansea V5C document still records the car as white, restoration photographs on file show it as already red when work commenced.
The current owner acquired the Dino in January 2011, since when it has been kept on museum display. Presented in generally good condition and running well, the car is offered with the aforementioned history file and Swansea V5C document, road test reprints and quantity of old MoT certificates (most recent expired 30th June 2012). It is understood that a fresh MoT will have been obtained by time of sale.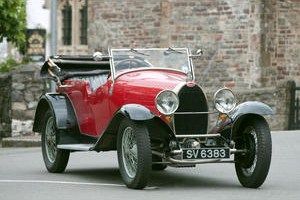 1927 Bugatti Type 40 Tourer.

Roadster Chassis no. 40445. Engine no. 429. E

stimate £80,000 - £100,000.
Sold for £149,340.

Photo: Bonhams
'Bugattis encapsulate concepts of engineering which, once seen, change your ideas radically and definitively. Drive them, and you realise that each car is form and engineering in equilibrium, and a work of art.' – William Stobbs, Les Grandes Routières.
'Bugattis encapsulate concepts of engineering which, once seen, change your ideas radically and definitively. Drive them, and you realise that each car is form and engineering in equilibrium, and a work of art.' – William Stobbs, Les Grandes Routières.
By the early 1930s Ettore Bugatti had established an unrivalled reputation for building cars with outstanding performance on road or track; the world's greatest racing drivers enjoying countless successes aboard the Molsheim factory's products and often choosing them for their everyday transport. Introduced in 1926, the Type 40 Bugatti succeeded the Brescia types, being built on a longer wheelbase and equipped with a more powerful engine. Virtually identical to that used in the Type 37 Grand Prix car, the latter was a four-cylinder unit displacing 1,496cc and incorporating an all-plain-bearing bottom end with five mains. A single overhead camshaft operated three valves per cylinder (two inlets, one exhaust) and the Type 40's 45bhp or thereabouts maximum power output was transmitted to the rear wheels via a separate four-speed gearbox. A total of 775 Type 40s had been made when production ceased in May 1931 with a further 32 Type 40As completed with the 1,627cc engine by the end of that year. It is estimated that fewer then 200 survive today.
The example offered here, chassis number '40445', was delivered new to Australia for fitting with a locally built body, which it retains. Bob King's 'Australian Bugatti Register' (1974 edition, copy extract on file) lists Roy A Johnson of Ripponlea as the first of many owners 'down under', having taken delivery of the car on 2nd December 1927. At the time of the Register's publication the owner was Dr Noel Murdoch of Yarra Junction, who had acquired the Bugatti in 1942. In a letter on file his son, Stuart Murdoch, recalls driving the car for many miles during the early 1950s while attending Melbourne University.
The car's Register entry records the original engine as number '323' while further documentation on file includes invoices for a Bugatti Owners Club engine block and a new Allen crankshaft supplied and fitted in the 1980s while the car was owned by Peter Cooper of Albury, NSW who it seems was undertaking its restoration at this time. Its accompanying FIVA Identity Card depicts the Type 40 in 1988 soon after completion.
In 1996 the Bugatti was imported into the UK by marque specialists Ivan Dutton Ltd and in 2003 was purchased from them by the current vendor, the car's third registered keeper in the UK, having previously belonged to Mrs Margaret Davison of Bledlow, Buckinghamshire. Presented in generally good condition and running well, this beautiful Type 40 roadster is offered with aforementioned history file, Australian Owner's Certificate (issued 1932), import and shipping documentation, BOC spare part books, copy service manual (in French), SORN letter, a quantity of expired MoT certificates, old/current Swansea V5/V5C documents and MoT to June 2013.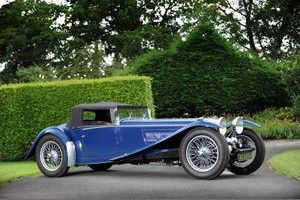 1935 Riley 12/4 Kestrel Special Two-Seater.

Registration no. VD 5254.

Chassis no. 22T 1238.

Engine no. SL 4168.

Estimate £50,000 - £70,000.

Sold for £61,980.

Photo: Bonhams
'September 1934 heralded the introduction of a new 1½ litre range of cars from the Riley stable, rather a case of "Something Old – Something New" in a way. Two features made it something old: it was a revival of the four cylinder 1½ litre engine format – extinct as far as Riley was concerned since 1928 - and it incorporated most of the design features of the now-famous Nine. Two features made it something new: it was a completely new range of cars with an engine designed by a newcomer to the Riley design team – Hugh Rose.' – David G Styles, 'As Old as the Industry: Riley 1898-1969'.
First introduced in 1926, Percy Riley's 9hp, 1,087cc, twin-camshaft four was an outstanding engine design by any standards, various versions powering Rileys until 1957. Looking to all intents and purposes like a twin-overhead-camshaft design, the Nine's cross-flow cylinder head featured hemispherical combustion chambers and valves inclined at an included angle of 90 degrees. The twin gear-driven camshafts were mounted high in the block, operating the valves via short pushrods.
This successful high-camshaft layout was retained for the new Hugh Rose-designed 1½-litre four introduced in 1935. The Falcon saloon debuted on this new 12hp chassis, which was also available with the familiar streamlined Kestrel saloon and Lynx tourer coachwork, while the following year the range was augmented by the Sprite two-seater sports and three saloons: the Adelphi and six-light Kestrel on the 112.5" long-wheelbase chassis and the all-steel Merlin on the short-wheelbase (106") frame. Other noteworthy features of the 1½-Litre included Girling rod brakes, Armstrong-Siddeley pre-selector transmission and Bijur automatic chassis lubrication. The well-liked 1½-Litre model in its various guises remained a fixture of the Riley range until the firm's take-over by Morris in 1938.
Originally a Kestrel four-door saloon, this Riley 1½-Litre was restored and converted to three-position drophead coupé coachwork by the current vendor, who was also responsible for its design and construction, which consumed approximately 10,000 hours! During the rebuild an overdrive was fitted, operating on all forward gears to give eight speeds in total, and the engine treated to a 'Stage 1' tune consisting of a high-lift camshaft and twin carburettors. Riley components were used wherever practicable and since completion the car has covered some 5,000 miles. The owner's Herculean efforts have been well rewarded, as 'VD 5254' has gone on to win its class at the Riley Register Concours on four occasions since its completion in 2004. Described as in generally very good condition, with excellent bodywork, the car is offered with sundry restoration invoices, current MoT/tax and Swansea V5 document.