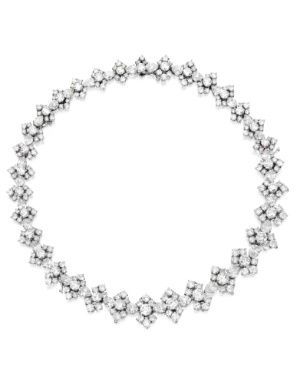 Platinum and Diamond Necklace-Bracelet Combination, Harry Winston. Photo Sotheby's
Composed of graduated clusters of diamonds, set with numerous round diamonds weighing approximately 35.00 carats and numerous pear-shaped diamonds weighing approximately 18.00 carats, length 16 inches, with marks for Jacques Timey, clasps numbered 1, 2, 3 and 4; links numbered 1, 3, 4 and 5 on applied plaques to correspond with non-extant pendants; applied plaque for link number 2 missing; necklace detaches into sections measuring 6½, 3½, 3¼ and 2¾ inches. With signed envelope-pouch. Estimation: 125,000 - 175,000 USD
NOTE DE CATALOGUE: Often referred to as the "King of Diamonds," Harry Winston has been known for handling the majority of the world'smost magnificent diamonds and colored stones. These famous gems are only part of his legacy however, as he also proved to be a true visionary in the field of 20th century jewelry design.
The "Winston" look, as it became known, is characterized by a multitude of round or fancy-shaped diamonds arranged in clusters, sparkling from every angle with very little visible metal distracting from the beauty of the stones. According to legend, Winston took his initial inspiration from a holly wreath hanging from his front door during Christmas in 1944. He challenged his team of designers to come up with a way to mount stones in a similarly three-dimensional fashion, shaping the necklace or bracelet in the same way that the holly leaves shaped the wreath. What evolved were the flexible-wire mountings of platinum and gold that revolutionized jewelry design and allowed formal jewels, even those set with massive gemstones, to be worn more comfortably than ever before. Marvels of craftsmanship, the mountings were engineered to highlight the brilliance and beauty of each individual stone while at the same time allowing for an unprecedented suppleness.
The jewels offered here are quintessential examples of the Harry Winston style.
Sotheby's. Important Jewels. New York | 20 sept. 2012 www.sothebys.com