13 septembre 2012
NEW YORK, NY.- Bonhams established a world record price for a Mon Dvaravati bronze sculpture when the stunning circa 8th century Eilenberg Buddha sold for $674,500 at Bonhams Himalayan, Indian & Southeast Asian Art sale, September 11 in New York.

Eclipsing its previous record by more than three times, the rare Thai sculpture soared past its $250,000-350,000 estimate, and an international field of private collectors and institutions vied for it. The winning bidder was institution with a strong holding in important Southeast Asian art. Bonhams has quickly established a strong position in the field, following another record-breaking sale in March of this year.

Bonham's specialist and consultant to the Southeast Asian, Indian and Himalayan Art department, Edward Wilkinson, said of the item, "The sculpture is a rare and important example of early Thai sculpture that is virtually unknown outside of institutional collections. To have such a fine example, with impeccable provenance from the storied Eilenberg Collection, resulted in tremendous competition from around the globe."

Dessa Goddard, Head of Asian Art for Bonhams in North America, further noted, "This was a thrilling start to Asian week for Bonhams that will be following by important sales of Classical Chinese Paintings and Fine Japanese Art."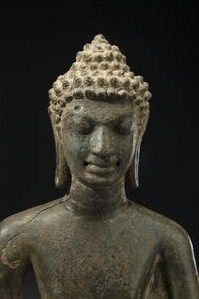 The Eilenberg Buddha
The treatment of the robe is unusual, in that it does not follow the classic tradition of the 'full cape' that is known to have originated from the Indian Gupta (5th/6th century). Here, the robe is arranged such that it leaves the right shoulder bare, in a style more familiar in the 6th-8th century Sri Lankan Buddhas and earlier Amravati (2nd/3rd century) figures. However, they favored robes delineated with parallel lines of fine pleats and figures with broad shoulders and smaller heads. The Mon Dvaravati style introduced a smooth diaphanous treatment of the robe, almost invisible across the androgynous body, and more balanced proportions of the whole figure. As noted by Jean Boisselier in The Heritage of Thai Sculpture, 1975, p. 73, "The school of Dvaravati may stand alongside the great Buddhist artistic traditions of India, so enduring were its innovations and so persuasive its influence on most of the art of Southeast Asia."

In comparison with the large Mon Dvaravati standing Buddha in the Metropolitan Museum of Art, (59.149), they both share the same facial shape, thick head of knotted hair and slender sensuous line of the torso. However, the Eilenberg Buddha has lower, more relaxed shoulders falling from a slender neck that provides a more natural and free-flowing line. Another closely related example is in the National Museum, Bangkok (see Sculpture of Thailand, Theodore Bowie ed., Asian Society, New York, 1972, no.5).

The Eilenberg Buddha is the most important Mon Dvaravati sculpture to have appeared in the market recent years, and it could be argued that it is the finest example of its type still in private hands.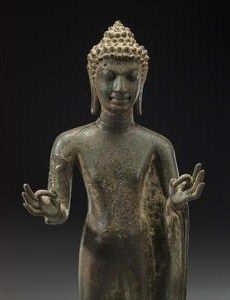 Natasha Eilenberg (1919-2012)
Natasha was an outstanding independent scholar of the art and culture of India and Southeast Asia. She produced a number of important publications based on her own research, as well as translations from the French of Jean Boisselier, one of the 20th century's most influential historians of Khmer art.

Natasha came to the US in 1946, where her travel experience led her to open a travel agency that she later sold in 1967. During this time, Natasha married Samuel Eilenberg, a mathematics professor at Columbia University. The marriage ended in a divorce, and it was during this period that she began to study the art of India and Southeast Asia.

She later began to travel to Paris to attend lectures at the Sorbonne and became a student of professor Jean Boisselier. Natasha developed a close professional and personal relationship with another famous Sorbonne art historian, professor Madeleine Giteau, who worked on the Khmer art of Cambodia, Thailand and Vietnam. Khmer art became Natasha's scholarly focus.

Her close relationship with professor Boisselier and the familiarity with his often complex scholarship led her to produce two English translations of his publications. In 1989, she published a translation of Boisselier's Tendances de l'art khmer (Trends in Khmer Art), by Cornell University's Southeast Asia Program, which quickly sold out. In 2008, Natasha published a volume of edited and translated articles by Boisselier titled Studies on the Art of Ancient Cambodia: Ten Articles by Jean Boisselier, published by Reyum in Phnom Penh. Besides these two long translations, the great respect she had for Boisselier inspired yet another publication in 1997, a volume of essays with more than 40 contributions from scholars from around the world, which was a birthday present for Boisselier on his 80th birthday (Living a Life in Accord with Dhamma: Papers in Honor of Professor Jean Boisselier, published by Silpakorn University in Bangkok), for which she was both an editor and a contributor. She also published articles on the Jain art of India and Cham art of Vietnam, and was a consultant for The Wisdom of the Buddha, published by Harry N. Abrams in 1994.

For Natasha, the art object was always given primacy, and she was renowned for her curatorial eye. Her influence went well beyond her publications as she gave opinions on quality and authenticity of Southeast Asian art.
Commentaires sur Bonhams in New York sets new world record price for Mon Dvaravati bronze sculpture