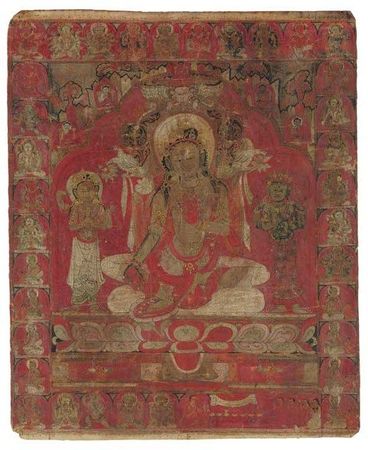 A Rare and Important Thangka of the Green Tara, Tibet, 12 th/ 14th Century. Estimate: $400,000 - $600,000. Price realized: $1,762,500. Photo: Christie's Images Ltd 2012
NEW YORK, NY.-
Christie's
concluded its Fall Asian Art Week with a combined total of $44,735,075 (HK$346,768,407/ ₤27,539,785/ €34,488,525) achieved over four days of sales, September 11 to 14.
Jonathan Stone, Chairman and International Head, Asian Art, said: "
An 18th century Joseon dynasty blue and white dragon jar, selling for $3.2 million, led a dynamic and diverse series of sales. This week's auctions, exhibitions, and events demonstrated again Christie's commitment to all cultures and epochs of Asian art. Other highlights included Hasegawa Tonin's screens, Egrets and ducks in a winter landscape ($626,500), Vasudeo S. Gaitonde's painting, Untitled, ($962,500), a thangka of the Green Tara, a world auction record for a Tibetan painting ($1,762,500), and the 12th-10th century B.C. archaic bronze, zun ($1,426,500). There was global participation, reflecting a world-wide demand for the greatest objects of Asian art
."
RESULTS OF ASIAN ART WEEK SALES

JAPANESE & KOREAN ART
11 September 2012
$9,116,600/£5,652,292/€7,110,948/58% by lot/90% by $
TOP LOT: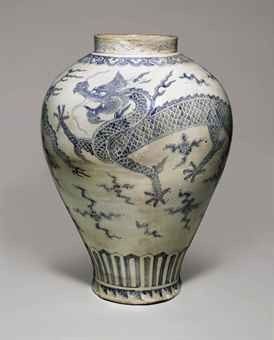 Lot 193: An Important and Monumental Blue and White Porcelain Dragon Jar, Joseon dynasty (18th century). Estimate on request. Price realized: $3,218,500
.
Photo: Christie's Images Ltd 2012
Expressively painted in alternating tones of underglaze cobalt blue with two five-clawed dragons chasing two flaming pearls around the perimeter of the jar, above and below the dragons are cross-shaped clusters of scalloped clouds interspersed with smaller cloud ribbons; the upright neck painted with pale tones of underglaze blue with a band of scrolling foliage and the base of the neck with a collar of clouds in the shapes of auspicious fungus heads; the tapered foot painted with a wide band of lappets and the flared foot with a narrower band of unusual half-fungus-head, triangular cloud motifs; the body additionally applied with a lustrous transparent overglaze
23 13/16in. (60.5cm) high; 16 7/8in. (43cm) approx. diameter
Compare the Dragon Jar sold in these Rooms, 23 March 2011, lot 1004.
For the jar in the National Museum of Ceramics, Sèvres, see
Beurangseu Sebeureu kungnip toja pangmulgwan sojang Hanguk munhwajae Collections Coréenes du Musée national de céramique de Sèvres, France Korean Collection of Sèvres National Ceramics Museum, France
,
Haeoe sojae munhwajae chosaso
, vol. 15 (Republic of Korea: National Research Institute of Cultural Heritage, 2006), pl. 104. For the five-claw dragon jar dated to the mid-eighteenth century in the Rhee Byung-chang Collection in the Museum of Oriental Ceramics, Osaka (55.2 cm; acc. no. 21763), see Itoh Ikutaro, ed.,
Yuen no iro, shitsuboku no katachi: Ri Heiso korekushon Kankoku toji no bi Color of Elegance Form of Simplicity: The Beauty of Korean Ceramics from the Rhee Byung-chang Collection Uahan saek, sunbakhan hyeongtae: Yi Byeong-chang kolleksyeon Hanguk tojagi eui areumdaum
, exh. cat. (Osaka: Museum of Oriental Ceramics, 1999), pl. 130; or access online at www.moco.or.jp/en/products/product.php. For another jar in the Museum of Oriental Ceramics, Osaka (56.2 cm; acc. no. 20764), see also Itoh Ikutaro,
Yuen no iro
, fig. 64, p. 335; and
Richo koki sometsuke Blue and White of the Choson Dynasty
(Osaka: Museum of Oriental Ceramics, 1999), pl. 4. For the five-claw dragon jar in the Ho-Am Museum (47.2 cm), see
Joseon heugi gukbojeon: Widaehan munhwa yusan eul chajaseo Treasures of the Late Choson Dynasty, 1700-1910
, exh. cat. (Seoul: Samsung Art and Culture Foundation and Ho-Am Gallery; Yongin: Ho-Am Art Museum, 1998), pl. 86. Compare also the jar (57.7 cm) sold in these Rooms, 26 April 1995, lot 43, published in
Leeum, Samsung Museum of Art: Traditional Art Collection
(Seoul: Leeum Samsung Museum of Art, n.d.), pls. 160-61.
Notes:

UNIQUELY KOREAN:




A Magnificent, Dragon-Emblazoned Jar from Eighteenth-century Korea





Robert D. Mowry





Used as storage vessels and occasionally as vases for monumental floral displays at royal banquets and ceremonies, such large, broad-shouldered, narrow-waisted jars were popular in Korea from the seventeenth through the nineteenth centuries. Some feature landscape decoration, while others sport floral designs; the rarest and most desirable, however, boast majestic striding dragons and are known as

yongjun

(literally, "dragon jars"). A few dragon jars display decoration brushed in underglaze iron brown, but most, like this magnificent example, are painted in underglaze cobalt blue. Made in the eighteenth century, likely during the first decades of that century, and almost certainly commissioned by the royal court, this jar ranks among the largest and most sumptuous of such dragon jars.





The jar's form doubtless finds distant inspiration in

meiping

vessels created in China during the Northern Song period (960-1127). Despite the poetic name meaning "plum vase,"

meiping

(Korean,

maebyeong

) vessels were not vases for the display of cut branches of blossoming plum but were elegant storage bottles for wine and other liquids, though later collectors admittedly did sometimes press them into service as vases on special occasions, particularly when inviting learned friends of refined taste. Most such bottles originally claimed a small, bell-shaped cover that protected the contents from dust and evaporation and that aesthetically reversed and complemented the vessel's strong curves. The earliest

meiping

bottles----the elongated form likely was invented in silver and then imitated in ceramic ware----display bulging sides, the widest point occuring at the midpoint of the belly. By the late eleventh century, both Chinese and Korean vessels had assumed the more stately form that we admire today, a form with broad shoulders and angled side walls that taper to a narrow foot.





Korean potters of the twelfth and thirteenth centuries, during the Goryeo dynasty (918-1392), gave the form its classic interpretation, with broad shoulders, narrow waist and lightly flaring foot (fig. 1). The graceful Goryeo interpretation of the

maebyeong

echoes in

meiping

vessels created in China from the fifteenth century onward, during the Ming (1368-1644) and Qing (1644-1911) dynasties.





Crafted in both porcelain and Buncheong stoneware, the

maebyeong

form persisted into the Joseon dynasty (1392-1910), following its own evolutionary path. Dated by inscription to 1489, a monumental blue-and-white porcelain

maebyeong

with pine and bamboo decoration in the collection of Dongguk University Museum, Seoul (National Treasure no. 176), reveals that by the late fifteenth-century the vessel had been transformed from slender-necked bottle into wide-mouthed jar; it further reveals that in the transformation from bottle to jar, such vessels saw both an increase in size and a change in proportions, the shoulders becoming ever broader, probably to accommodate the wider mouth. As evinced by a porcelain jar embellished with a branch of fruiting grapevine painted in underglaze iron brown in the collection of Ewha Women's University Museum, Seoul (National Treasure no. 107), seventeenth-century potters gave the jar form the robust interpretation that would continue through the end of the dynastic era and that we find so familiar today (fig. 2). Unique to Korea, jars with bulging shoulders and gently curved side walls that descend to a constricted base were ubiquitous during the seventeenth, eighteenth and nineteenth centuries.





Seventeenth- and early eighteenth-century examples have a short, vertical neck and an exaggerated profile, with massive shoulders and constricted waist; of closely related form, those from the second half of the eighteenth century display a less exaggerated profile that incorporates a gentle S-curve, and they have a slightly higher neck. Jars from the nineteenth century, by contrast, exhibit a more mannered profile with narrower shoulders, an attenuated body, a beveled foot, and a tall, cylindrical neck.





In the East Asian dualistic

ying-yang

interpretation of the universe, the dragon symbolizes the

yang

, or male, principle, while the phoenix represents the

yin

, or female, principle. Associated with water, the auspicious dragon is typically paired with clouds, mist, or rolling waves. Borrowed from the repertory of Buddhist art, the flaming jewel----often termed pearl----symbolizes transcendent wisdom; developed in China but adapted by the Koreans, the motif of striding dragon and flaming jewel thus symbolizes the pursuit of wisdom. By the fifteenth century, the dragon, particularly the five-clawed dragon, had further come to represent the emperor in China and the king in Korea, just as the phoenix has come to emblemize the empress or queen. As seen on this magnificent jar, rising, stylized lotus petals typically frame the lower edge of the so-called dragon-and-pearl composition just as a descending cloud collar borders its top. Eighteenth-century examples tend to be meticulously painted while those from the nineteenth century characteristically show more whimsical compositions and spontaneous brushwork.





Its bold form, vibrant brushwork, and silvery hued cobalt blue in light and dark tones make this an exceptional eighteenth-century dragon jar, while its immense size pushes it to a virtual one-of-a-kind category. Its two dragons and probable royal associations only heighten its appeal.



Robert D. Mowry is Alan J. Dworsky Curator of Chinese Art and Head of the Department of Asian Art, Arthur M. Sackler Museum, Harvard Art Museums
SOUTH ASIAN MODERN + CONTEMPORARY ART
12 September 2012
$7,060,625/£4,377,588/€5,507,288/76% by lot/91% by $
TOP LOT: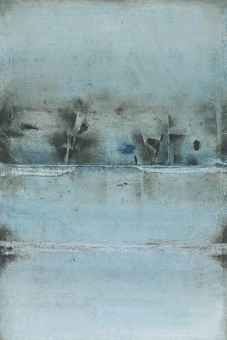 Lot 315: Vasudeo S. Gaitonde, Untitled, oil on canvas, Painted in 1969. Estimate: $400,000 - $600,000. Price realized: $962,500
.
Photo: Christie's Images Ltd 2012
Provenance:
Formerly from the Collection of Dr. Bernard Peters.
Notes:
Portrait of an Idea
No other modernist Indian painter exemplifies the spirit of the international art movement of the 1960s better than Vasudeo S. Gaitonde. Best described by Richard Bartholomew in 1959 as "a quiet man and a painter of the quiet reaches of the imagination" (D. Nadkarni, Gaitonde, Lalit Kala Akademi, New Delhi, 1983, unpaginated), Gaitonde was uncomprimising in his belief that art, the process and the final product, is an expression of the inner self.

Beginning his artistic career at the Sir J. J. School of Art in 1943, Gaitonde mastered the relationship between linear form, light and color in a deceptively simple, yet highly sophisticated manner. Respected by early art collectors in India, most notably Dr. Homi J. Bhabha, his artistic voice resonated with the postmodern concerns of the time.

From the 1940s through the 1960s, a kind of metamorphoses took place and three major influences coalesced in Gaitonde's work beginnning with the tradition of Indian miniature painting. "Early on, I did both figurative and non-figurative paintings; I was initially influenced by Indian miniatures. You see, my sense of colour was weak, so I started copying the miniatures. Their vivid, vital, vibrant colours attracted me. Soon, to study the colours more closely, I started eliminating the figures and just saw the proportions of colours. I experimented with this because sometimes figures can bind you, restrict your movements. I just took patterns instead. I think that step really marked the beginning of my interest and pre-occupation in this area of painting." (V. S. Gaitonde in an interview with M. Lahiri, Patriot, 27 September 1985)

The works of German Expressonist artists, especially Paul Klee, whose whimsical forms and use of line also captured Gaitonde's imagination. "Early in life I was greatly influenced by the works of Paul Klee. I had no space to paint in my parents' house - I had only a small corner to work in - and there was no room to paint anything big so I was encouaraged by Klee's small canvases and water colours." (M. Menezes, 'The Meditative Brushstroke', Art India, Vol III, Issue III, p. 67) Commentating on Klee's influence, the artist further adds, "Something in his use of line excited me. I gradually came to identify myself in his work. I liked Klee's imagination and fantasy." ( F. Nissen, 'V. S. Gaitonde -- Contemporary Indian Artists 8', Design, February 1958, unpaginated)

By the time of the Young Asian Artists exhibition and competition in Tokyo, 1957, Gaitonde had completely broken away from representational art and began focusing on the interplay of color, light and space. In Tokyo, he was awarded a significant monetary prize for an early work from this transitional phase. In 1964 on a Rockefeller Fellowship in New York, exposure to the techniques and practices of Abstract Expressionist artists inspired Gaitonde to begin using a roller and a pallet knife. With translucent planes of paint, meticulously applied, weightlessly spread across the canvas, the full maturity of Gaitonde's style is realized.

Many art historians attribute Gaitonde's study of Chinese and Zen Buddhist philosophy as the main driving force behind his minimalist landscape paintings. But this is often overstated. Echoing Rothko's sentiment, all of art is the 'portrait of an idea', Gaitonde drew upon art historical influences combined with his own philosophical inquiry. During the 1960s in New York, Gaitonde also experienced the rise of Conceptual Art, of which Sol LeWitt and Joseph Kosuth were proponents. This was a philosophy which, counter to Abstract Expressionism, championed the metaphysical concept in the artist's own mind as art. The physical art produced became the final manifestation of a realized innate idea from within the artist's consciousness. "A painting always exists within you, even before you actually start to paint. You just have to make yourself the perfect machine to express what is already there." (D. Nadkarni, Gaitonde, Lalit Kala Akademi, New Delhi, 1983, unpaginated) Foresworn of all conventional sentimental connections; nationality and religion, Gaitonde singularly focused on the expression of his innermost self.

The painting offered here, both formally and stylistically is a beautiful culmination of these influences on Gaitonde's psyche. The canvas appears like an ocean under a misty sky. In the half light, across the horizon, shapes emerge as if surfacing or floating in the water. With careful maniplution of multiple paint layers a luminosity radiates from the canvas. Standing before the painting, as if at the edge of the ocean, there is an overwhelming sense of the infiniteness of the natural world and the infinite capacity of the human mind and emotion. Free of cultural associations and historical references, the painting penetrates the depths of the subconscious.

"In photographs, his favorite pose shows him with his arms crossed across each other, and there is as much intrepidity in his physical stance as in his eyes. This independent-mindedness was accompanied by a firm belief in his identity as a painter. And because of this firmness, Gaitonde isolated himself very early in his career from everything in his environment he considered irrelevant to his identity as a painter. Gaitonde's growth over the years is marked by an increasing inwardness and a meticulous and watchful consolidation of this identity."
(D. Nadkarni, Gaitonde, Lalit Kala Akademi, New Delhi, 1983, unpaginated)

The iconic photograph by Richard Bartholomew was taken in 1969 at the height of his career when he painted this work.

For Gaitonde, painting was the perfect exercise for his highly intuitive and intellectual mind. "I'm still learning about painting, because I believe that the process is constant. Painting is a struggle -- you have to enquire, you have to have a thinking mind." (M. Menezes, 'The Meditative Brushstroke', Art India, Vol III, Issue III, p. 69) It is no wonder that his works resonated with some of the most preeminent scientific minds of post-Independence India. They shared with him a relentless passion for truth and knowledge.

Art like Science knows no Frontiers

In 1952, on the invitation of Homi Bhabha, Bernard Peters (1910-1993), a cosmic ray physicist, joined the faculty of the newly formed Tata Institute of Fundamental Research (TIFR) in Bombay. Peters, deeply influential in the early years of TIFR, spent seven years in India. He was the only non-resident of India to receive the Padma Bhushan in 1985.

In a tribute to Peters, G. K. Menon writes, "Bernard's ideas, attitudes and enthusiam will live on through these new generations of Indian scientists. When you met Bernard at first you might think of him as a rough, aloof personality who could be very combative in his discussions. But as you got to know him you discovered a person who is extraordinarily affectionate, very warm and deeply concerned about people, their problems and welfare. And with Bernard you always had Hannah, his wife, so kind, affectionate, always smiling, and a mother to all his students and younger colleagues. Indian science has cause to be grateful to them for the years they spent in India and their commitment to the country, and for the programmes and people they developed and grew." (Current Science, Vol. 61, No. 11, December 1991, p. 716)

Peters, originally from the German city of Posen (now Poznan, Poland), escaped Nazi Germany in 1934. With his wife Hannah, he first came to New York. In 1938, encouraged by J. Robert Oppenheimer, Peters enrolled at the University of California, Berkeley, completed his Ph.D. in 1942, and from 1942-1945 worked on the Manhattan project. Meeting Bhabha at a conference in New York for the first time in 1949 was a stroke of good luck for both men. Peters, under persecution for his liberal politics, needed a new University and laboratory to call home and Bhabha, dedicated to the advancement of science and technology in India, sought to invite some of the best minds to conduct research, train and mentor Indian scientists.

Peters left Bombay for Copenhagen in 1959 but his association with TIFR and India did not end there. On one of his many trips back to Bombay in 1969 or in the early 1970s, Peters attended an exhibition of contemporary art at TIFR where the painting on offer was likely to have been exhibited. Having always admired the "Bhabha Gaitonde", Peters was immediately struck by the painting and acquired it sometime between 1969 and 1977. Peters met Gaitonde for the first time in December 1977 at a dinner hosted by G. K. Menon in Peters' honor. Gaitonde and Peters spent the very next day together.

"Today Gaitonde picked me up and we went to see his studio, a small place with large terrace. He is a very sympathetic man, bachelor with no family, reads, plays music and paints. He has only 3 canvases at home, sells all he makes." (Bernard Peters letter to his wife Hannah from Bombay dated 17 December 1977)

This painting connects two great scientists to a momumental time in India's history. In the early years of post-Independence India artists and scientists shared a common belief that for India to advance and join the ranks of the greatest nations new discoveries and new ways of understanding the universe were necessary. Modernity rests in the equal development and acknowledgement of the limitless potential of art and science.
INDIAN & SOUTHEAST ASIAN ART
12 September 2012
$7,670,750/£4,755,865/€5,983,185/72% by lot/95% by $
TOP LOT:
Lot 558: A Rare and Important Thangka of the Green Tara, Tibet, 12th/ 14th Century. Estimate: $400,000 - $600,000. Price realized: $1,762,500. WORLD AUCTION RECORD FOR A TIBETAN PAINTING
.
Photo: Christie's Images Ltd 2012
Seated in
lalitasana
on a white cushion over a multi-colored lotus seat, holding two lotus stalks with her left hand raised in
abhayamudra
and right lowered in
varadamudra
, wearing a white dhoti with floral decorations in red secured with red sashes, adorned with gold and pearl jewelry and backed by a nimbus, flanked by Marichi in white and Ekajati in a tiger skin dhoti and surrounded by an elaborate torana centered by Garuda with the Five Buddhas beyond amidst an idealized rocky landscape, the register at the perimeter with the Twenty-One Taras above, the Eight Fears at the sides, five deities at lower left and the donors at lower right, with finely detailed scrollwork overall, the verso with inscription in a stupa outline
General pigments and gold on textile. 18½ x 15½ in. (47 x 39.4 cm.)
Provenance: Collection of Dr. Eugenio Ghersi, acquired while on expedition with Giuseppe Tucci and brought to Italy in 1933
Literature: E.Allinger, 'Some Problems about the Green Tara together with the Eight Great Dangers and the 21 Taras. The Indian Origins and Tibetan Resolutions,' in South Asian Archaeology 1997, vol. III, M. Taddei and G. de Marco (eds.), Istituto Italiano per l'Africa e l'Oriente, 2000, pp. 1367-1381 J. Watt, Himalayan Art Resource (www.himalayanart.org), HAR no. 60681
Notes:
This thangka includes the Green Tara, the Five Buddhas, the Twenty-one Taras of the Suryagupta tradition, and the Eight Taras Removing the Eight Fears. It is the earliest example of Green Tara in association with Twenty-one Taras and the Eight Fears, and is in the same condition since it was first acquired in 1933.
Once she achieved complete enlightenment, Tara promised to return in a female form to benefit all beings. Meditational practices and visual descriptions of Tara appear in all schools of Buddhist tantra. She is usually depicted as a beautiful young woman, commonly either green (for all types of meditation), white for longevity, and red for power. There are close to two hundred different meditational forms of Tara, varying in color, number of faces and limbs, and in peaceful or wrathful countenances. In this painting, Green Tara is flanked by Marichi to her right, the peaceful deity with clean skin and bright white clothing, and to her left by Ekajati, the ash-covered wrathful deity with third eye wrapped in a tiger skin.
The top and side registers of the painting contain the Twenty-one forms of Tara according to Suryagupta system. Suryagupta was a layperson from Kashmir who was cured of leprosy by a miraculous statue of the goddess Tara. He is famous for having many visions of Tara and originating many lineages of her practice, including the Twenty-one forms of Tara, the names of which are 1. Tara Very Heroic, 2. Tara Radiant White Moon, 3. Tara Golden Coloured, 4. Tara Crown Ornament of the Conqueror, 5. Tara Resounding with Hum, 6. Tara Victorious Over the Three Worlds, 7. Tara Defeating Adversaries, 8. Tara Treasure of Supreme Power, 9. Tara Bestowing Wishes, 10. Tara Dispelling Sorrow, 11. Tara Clearing All Misfortune, 12. Tara Auspiciously Shining, 13. Tara Completely Ripening, 14. Tara With a Frown, 15. Tara Treasure of Virtue, 16. Tara Destroyer of Attachment, 17. Tara Accomplishing Happiness, 18. Tara Greatly Increasing, 19. Tara Burning Suffering, 20. Tara Giving Rise to Attainments, 21. Tara Accomplishing the Complete Perfection.

The Eight Fears are described as fire, water, lions, elephants, snakes, chains or false imprisonment, demons or ghosts, and thieves. These are often depicted literally in painting and represent very real fears of the day, inner meanings related to ego and emotions, and deeper secret meanings representing specific tantric philosophies. In this painting there are four panels each at the lower left and right depicting a Tara seated on a cushion and turned towards a diminutive figure, consoling him as he confronts one of the Eight Fears (see diagram below).

Starting at lower left, the bottom register contains Namasangiti Manjushri, Chaturbhuja Avalokiteshvara, Krodha Vajrapani, followed by Vajrasattva and Yellow Jambhala. The identification of the last two figures is not certain. Assembled on the right side are a Lama figure, a shrine, and devotees representing the donor of the painting.
IN THE PURSUIT OF KNOWLEDGE: ASIAN ART REFERENCE BOOKS INCLUDING SELECTIONS FROM THE C.T. LOO LIBRARY
13 September 2012
$1,290,825/£800,312/€993,935/100% by lot/100% by $
TOP LOT: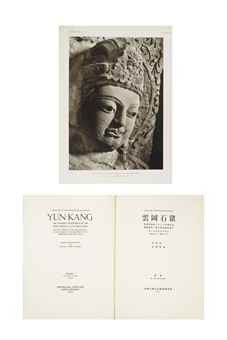 Lot 810: Mizuno, Seiichi, and Toshio Nagahiro. Yun-Kang The Buddhist Cave-Temples of the Fifth Century A.D. in North China. Kyoto: Jimbunkagaku Kenkyusho Kyoto University, 1951-1956. Estimate: $5,000-$7,000. Price realized: $74,500
.
Photo: Christie's Images Ltd 2012
15 volumes (of 16) in 30, 4o (lacking two parts of volume 16, the index and supplement). Text and titles printed in Japanese and English; text volumes with numerous engraved plans; plates volumes with numerous photographic plates; a few photographic frontispieces in color. Original cloth; original boxes (some rubbed or broken). Provenance: Frank Caro (inkstamp).

Each volume is divided into two parts individually bound, one containing text and the other plates. The text for volumes 8/9 and 13/14 are bound together in one volume. Volumes 3 and 12 are expanded into three volumes (one text and 2 plates). Publisher's announcements laid into volume 15 call for a volume 16 in two parts, comprising the supplement and index. (15)

FINE CHINESE CERAMICS AND WORKS OF ART
13-14 September 2012
$19,596,275/£11,953,728/€14,893,169/74% by lot/86% by $

TOP LOT: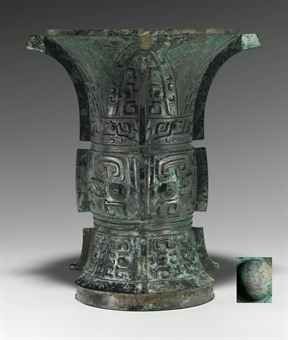 Lot 1226: A Rare Bronze Ritual Wine Vessel, Zun, Late Shang/Early Western Zhou Dynasty, 12th-10th Century BC. Estimate: $200,000 - $300,000. Price realized: $1,426,500
.
Photo: Christie's Images Ltd 2012