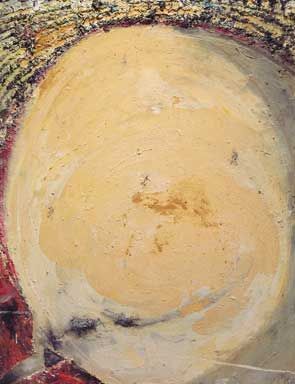 Miquel Barceló, Areneros y Muleros, 1990. (102⅜ x 81⅛in. / 260 x 206cm. Estimate: £2,000,000-3,000,000. Photo: Christie's Images Ltd 2012
LONDON.- On October 11 Christie's Post-War & Contemporary Art department will offer for sale two extraordinary large-scale paintings created by the most celebrated contemporary masters. Realised on an epic scale, 5 Türen II (5 Doors 2) (1967) is a seminal work dating from an intensely productive and pivotal moment in Gerhard Richter's celebrated oeuvre (92⅞ x 213¼in. / 233.5 x 541.5cm.; estimate: £1,500,000-2,000,000). The largest painting from Miquel Barceló's famous cycle of Bullfight ever to appear at auction, Areneros y Muleros (1990) announces the grand finale of a corrida (102⅜ x 81⅛in. / 260 x 206cm. ; estimate: £2,000,000-3,000,000.
Francis Outred, Christie's Head of Post-War & Contemporary Art, Europe: "I am delighted to be handling these two indisputable masterpieces by Gerhard Richter and Miquel Barcélo. In both works, scale plays a vital role in their impact; these works need to be seen to be believed. Conceived in 1967, Gerhard Richter's 5 Türen II is a landmark, conceptual art work in which the idea of a painting as a mirror is turned into painting as a door, with an apparently infinite space opening up behind it. These doors are painted so meticulously on a life-size scale that the work invites the viewer to step into its illusory space. Very rarely seen, 5 Türen II has been in the same collection virtually since it was made. The market has seen many works by Richter since Christie's broke the world record in 2011, but there has never been a painting like this at auction in my professional career. Equally there has never been a bullfight by Barcélo of this scale; the format accentuating the drama of the scene where both the bullfighter and the painter have left the arena."
Marking an important, constructive step forward in Gerhard Richter's post-modern practice 5 Türen II (5 Doors 2) was painted in 1967. One of two works to depict five doors, the other, 5 Türen I (1967) is housed in the Museum Ludwig, Cologne, where each of the doors opens in step to reveal more and more of the evacuated room behind. In both of these works, the viewer experiences a heady sense of movement as if walking through a series of Eadweard Muybridge action-still photographs, accentuated by the fact that the work is life-size.
During this period Gerhard Richter began his journey taking the medium in new and unchartered directions and emerging as the greatest pioneer of painting the twentieth century would ever see. Responding to the fertile artistic milieu in Europe and the conceptual and minimal impetus of artists such as Carl Andre, Lawrence Weiner, Sol LeWitt and Richard Serra who exhibited in Düsseldorf at the time, Richter began to dramatically expand the possibilities of paint. In these revolutionary years, Richter experimented widely with the different languages of painting, depicting colour charts, townscapes, seascapes and Alpine scenes, pivoting between abstraction and figuration. In all of these contemporary works, Richter was playing with perception, optical effect and the very nature of objective depiction versus illusion.
By far the largest painting of the Bullfight series ever seen at auction, Areneros y muleros by Miquel Barceló (B. 1957) announces the grand finale of the corrida (102⅜ x 81⅛in. / 260 x 206cm.; executed in 1990; estimate: £2,000,000-3,000,000). In this work, the texture of the arena is referenced by the central surface of the canvas, which has been obtained by mixing sand into paint. Here, Barceló focuses directly on the ballet of the bullfight as a metaphor for painting itself, as we see the marks left by the duel between bullfighter and bull in the sand directly replicating those left by a painter on canvas. In fact the bullfighter has left the ring, but here we see the bull being carried by a procession of 'Muleros' out of the thickly carved exit in the bottom left hand corner, a trail of blood soaks the sand in its wake.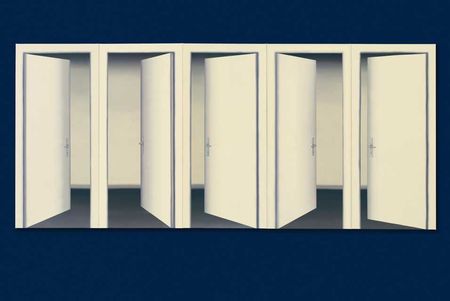 Gerhard Richter, 5 Türen II (5 Doors 2) (1967), 92⅞ x 213¼in. / 233.5 x 541.5cm.; estimate: £1,500,000-2,000,000. Photo: Christie's Images Ltd 2012