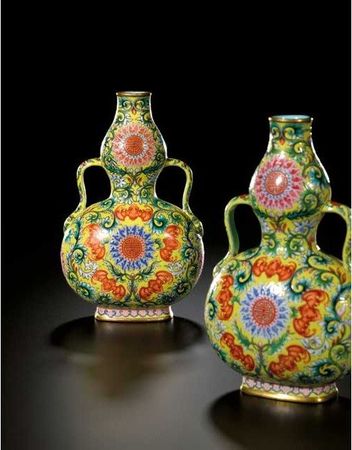 Pair of Yellow-Ground Famille-Rose Double-Gourd Vase. Est. HK$40 – 60 million / US$5.1 – 7.7 million. Photo: Sotheby's.
HONG KONG.- Sotheby's Hong Kong is delighted to announce that the Fine Chinese Ceramics and Works of Art Autumn Sale Series 2012 will take place on 9 October 2012 at the Hong Kong Convention and Exhibition Centre. The sale will offer a fine selection of Chinese art from the Ming and Qing dynasties, highlighting imperial porcelains from the collections of Dr. Alice Cheng and J.M. Hu, The Meiyintang Collection (Part IV), as well as Imperial Bannermen Portraits from a European Collection. The four single-owner sales, together with a various-owner sale, offer over 230 lots with an estimated total value of over HK$500 million / US$64 million*.
Nicolas Chow, Sotheby's Asia Deputy Chairman and International Head of Chinese Ceramics and Works of Art, said, "This autumn we have the privilege of offering selections from three of the world's most prestigious porcelain collections, including exceptional Qing porcelains from the collection of Dr. Alice Cheng, the Shanghai-born business woman and philanthropist; exquisite monochromes from the celebrated collection of J. M. Hu, founder of the Minchiu society and benefactor of the Shanghai Museum; as well as around 50 pieces of Yuan, Ming and Qing porcelains from the Meiyintang collection, Europe's grandest private collection of Chinese porcelain. Other highlights include a superb pair of yellow-ground enamelled double-gourd vases of the Qianlong period and an extraordinary collection of 17 portraits of bannermen commissioned by the Qianlong Emperor."
QING IMPERIAL MONOCHROMES FROM THE J.M. HU COLLECTION
J.M. Hu (Hu Jenmou, or Hu Huichun, 1911-1995), master of Zande Lou (Studio of Temporary Enjoyment), was one of China's great connoisseur-collectors. His collection encompasses the finest of imperial ceramics, Chinese paintings and calligraphies and scholarly objects. A patron and benefactor, he was known for his generous donations of ceramics to institutions including the Shanghai Museum, as well as his support of publications, exhibitions and research. The present collection forms part of the grand legacy of a man who was passionate about Chinese porcelain and determined to share it with others. The sale offers 12 lots with an estimated total value of HK$56 million / US$7 million.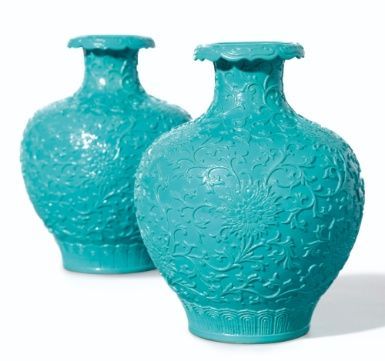 An Exquisite Pair Of Turquoise-Glazed Pomegranate Vases. Seal Marks And Period Of Qianlong. Est. HK$20 – 30 million / US$2.6 – 3.8 million. Height: 21.5 cm. Photo: Sotheby's.
Ever since the Song dynasty (960-1279), connoisseurs have appreciated the beauty of ceramics of harmonious form, desirable colour and pleasing texture, and monochrome wares have held a powerful appeal for China's collectors. As Qianlong Emperor (r. 1736-95) delighted in the infinite possibilities of ceramic technology, potters at the imperial kilns in Jingdezhen discovered endless innovative ways to create objects that appealed to his baroque taste, such as this pair of turquoise-glazed relief-decorated vases. Pastel-coloured glazes, mixed with white enamel, were applied in an unusual way so that the opaque quality of the glaze admirably reproduces the mat gloss and smooth texture of natural turquoise gemstone and the relief-design contributes further to the effect of the vases being carved from stone. Another important property offered is a pair of Guantype Rectangular Jardinières, also produced during the reign of Qianlong.
EXCEPTIONAL QING PORCELAIN FROM THE COLLECTION OF DR. ALICE CHENG
Sotheby's Hong Kong will present a group of five pieces of exceptional Qing porcelain from the Collection of Dr. Alice Cheng, the Shanghai-born business woman and philanthropist. Dr. Cheng grew up surrounded by fine objects. Her parents were celebrated antique dealers, in whose footsteps her brother Robert would later follow and build an illustrious career in the field of Chinese art. Over the last 15 years, Dr. Cheng has put together a formidable collection of imperial Chinese porcelain. The sale offers five lots with an estimated total value of HK$78 million/ US$10 million.
A Large Blue And White 'Fruits And Flowers' Vase, Tianqiuping. Seal Mark And Period Of Qianlong. Est. HK$18 – 25 million / US$2.3 – 3.2 million. Height: 52.1 cm. Photo: Sotheby's
The floral and fruit sprays seen on the blue and white tianqiuping are "re-designs" of a Ming pattern, although the vase itself appears to be inspired by a Yongzheng example. Like many other blue-and-white wares of the early Ming period, this design was reinvented and transformed during the Yongzheng emperor's reign before becoming one of the favourites of the Qianlong emperor. Only one similar example, but with a Yongzheng mark, is preserved in the Palace Museum Beijing.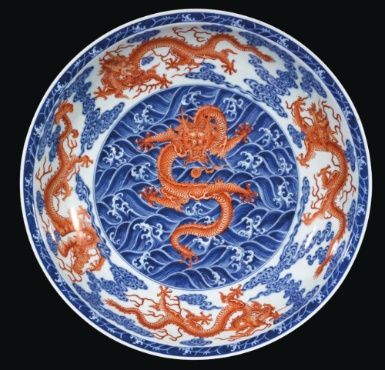 A Magnificent And Rare Iron-Red And Underglaze-Blue 'Nine Dragon' Charger. Mark And Period Of Yongzheng. Est. HK$30 – 40 million / US$3.8 – 5.1 million. Diametre: 47.2 cm. Photo Sotheby's
Early Qing rulers, especially the Yongzheng and Qianlong emperors, were keen to see historical masterpieces with ancient designs and glazes re-interpreted to suit current taste as a reminder of the nation's glorious past. Adorned with a Yongzheng-period interpretation of an early Ming pattern of nine ferocious iron-red dragons among rolling waves, this dish of magnificent size and formidable decoration was made to impress. Although a few examples of this type are known in museums and collections around the world, the present dish ranks among the finest.
PORTRAITS OF VALOUR: IMPERIAL BANNERMEN PORTRAITS FROM A EUROPEAN COLLECTION
Mingliyang, Attributed To Ignaz Sichelbarth (Ai Qimeng, 1708-1780), et al. Est. HK$3.5 – 4.5 million / US$450,000 – 580,000, 72.5 by 56 cm.
As part of his efforts towards self-aggrandisement and glorification, the Qianlong Emperor commissioned portraits of 280 meritorious officers for display in the famous Ziguangge (Hall of Purple Splendour) at the Imperial War Memorial in Beijing. These painted portraits of bannermen are most likely the work of Jesuit painters, including Ignaz Sichelbarth (Ai Qimeng) and Giuseppe Panzi. This collection comprises 17 portraits in oil on Korean paper, which document the heroes deemed instrumental in two important historical events in 18th Century China, namely the return of the Russian Torgut tribe and the pacification of the mountainous Sichuan areas known as Jinchuan, and are therefore of tremendous historical significance. Among the bannermen portrayed was Mingliyang, who from 1772 to 1776 fought against the Jinchuan rebels in Sichuan. For his services during this campaign he was awarded the title Count of Xiangyong (Zeal and Bravery) of the first class and commended by the emperor with a poem which was later added to the portrait. Very few portraits of important officials have survived, among which oil portraits are considered excessively rare.
THE MEIYINTANG COLLECTION, PART IV – AN IMPORTANT SELECTION OF IMPERIAL CHINESE PORCELAINS
Assembled over a period of more than 50 years, The Meiyintang Collection is world renowned for having brought together magnificent examples of imperial porcelain. This fourth sale dedicated to the Collection again makes available a phenomenal range of rare works from the kilns at Jingdezhen, covering imperial porcelains from all major reigns between the Yuan (1279–1368) and Qing dynasties (1644–1911). The sale offers over 50 lots with an estimated total value of HK$100 million / US$13 million.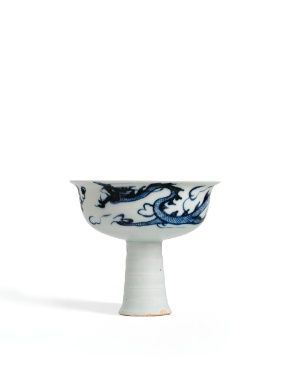 A Fine And Rare Blue And White Moulded "Dragon" Stemcup. Yuan Dynasty, Early-Mid 14th Century. Est. HK$8.5 - 10 million / US$1 – 1.3 million. Diametre: 11.5 cm. Photo Sotheby's
Stemcups with such freely executed sketches of vigorous dragons chasing flaming pearls appear to have been used throughout China during the Yuan dynasty, although extant examples are rare. The moulding of the dragons on this cup is extraordinarily crisp and the present example is the finest of its type ever to come to the market.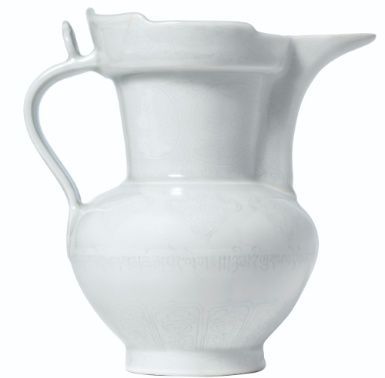 A Very Rare White-Glazed 'Monk's Cap' Ewer Incised With Tibetan Inscription, Sengmaohu. Ming Dynasty, Yongle Period. Est. HK$ 3.4 – 4.8 million / US$440,000 – 610,000. Height: 20.2 cm. Photo Sotheby's
Monk's cap ewers derive their shape from Tibetan ewers used in Buddhist ceremonies, usually undecorated or with lotus scroll and the bajixiang adornment. Porcelain ewers of this form became a standard vessel shape of the imperial kilns in the Yongle reign (1403-24), when the emperor actively supported Tibetan Buddhism. Samples with incised Tibetan inscriptions like the present piece were believed to be commissioned by the emperor as gifts for Halima, the most influential Tibetan lama of the Karma-pa sect of his time. Applied overall with an unctuous 'sweet-white' (tianbai) glaze, the present piece was finely incised around the centre with a band of lança script on peace and tranquillity.
FINE CHINESE CERAMICS AND WORKS OF ART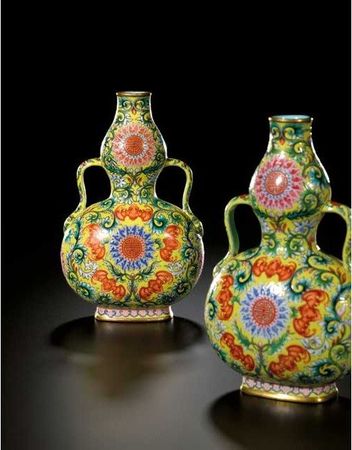 A Pair Of Yellow Ground Famille-Rose Double-Gourd Vases. Seal Marks And Period Of Qianlong. Est. HK$40 – 60 million / US$5.1 – 7.7 million. Height: 17.1 cm. Photo Sotheby's
This pair of superbly enameled vases appears to be unique and no other similar vases exist in collections around the world. These vases, with their fine potting as well as splendid and auspicious decoration, would have been a perfect birthday or wedding gift for the emperor or one of his family members. The vases are from the collection of Mrs Christian Holmes (1871-1941).
An Outstanding Mother-Of-Pearl Inlaid Incense Stand. Mark And Period Of Kangxi, Dated To The Guichou Year, 1673. Est. HK$10 – 15 million / US$1.3 – 1.9 million. Height: 69.5 cm
The present incense stand belongs to an exclusive group of nine pieces of dated imperial lacquer furniture decorated in the virtuoso technique of mother-of-pearl inlay, often with the incorporation of gold and silver foil, seven of which are now in the collection of the Palace Museum, Beijing. The stand ranks among the finest examples of the art of inlay lacquer and can arguably be attributed to a famous artist in Kangxi's court, Liu Yuan (c. 1642 – 91).
*Estimates do not include buyer's premium