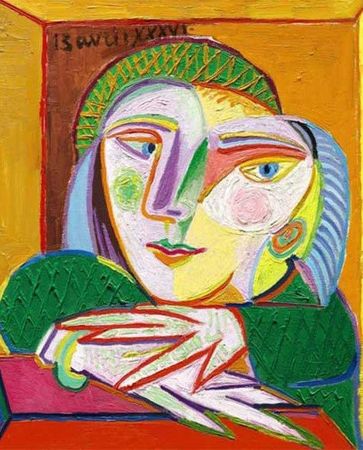 Pablo Picasso, Femme à la fenêtre (Marie-Thérèse), 1936. Estimate: $15/20 million. Photo: Sotheby's
NEW YORK, NY.- Sotheby's Impressionist & Modern Art Evening Sale on 5 November 2012 in New York will be led by an exuberant example of Pablo Picasso's acclaimed and sought-after portraits of his lover Marie-Thérèse Walter. Femme à la fenêtre (Marie-Thérèse) bears all the hallmarks of the artist's sumptuous depictions of the young woman, while its sharp color palette and boldness of form distinguish it within the famed series. This singular style may reflect what was an intense period in Picasso's personal life: painted in the spring of 1936, the work followed the birth of his daughter Maya the previous fall with Marie-Thérèse, as well as his separation from his wife Olga and the beginnings of a passionate affair with another important muse, Dora Maar. The work carries a pre-sale estimate of $15/20 million*, and will be on view in Hong Kong from 4 – 7 October and in London from 10 – 16 October before returning to New York for exhibition beginning 1 November.
"Marie-Therese inspired some of Picasso's greatest work," commented Simon Shaw, Head of Sotheby's Impressionist & Modern Art department in New York. "His legendary meditations on love, dreams and desire represent one of the seminal achievements of Modernism. It is no coincidence that three of the top ten auction prices for Picasso are for works from this series. Femme à la fenêtre remained with the artist until his death; for over 30 years it has belonged to the distinguished private collector who has consigned today to Sotheby's".
Picasso famously encountered Marie-Thérèse outside Galeries Lafayette in Paris in 1927. At that time only 17, the athletic and statuesque blonde came to embody sensuality for Picasso. His many inventive depictions of her asleep, reading or at play – in which her form is transformed magically in a style inspired by Surrealism – underscore how her every move fascinated him.
In contrast to his depictions of a more passive Marie-Thérèse, Femme à la fenêtre is one of his most poignant renderings of the young woman, perhaps due to the fact that the composition dates from one of the most vulnerable times in her relationship with the artist. Picasso painted this canvas at a villa in Juan-les-Pins, where he had taken Marie-Thérèse and their infant daughter Maya during the spring of 1936, and he had neglected her for months following the birth in order to deal with his separation from his estranged wife Olga.
But another distraction had entered Picasso's life during these months, and her influence on Picasso was becoming increasingly apparent in his art: Dora Maar, the young Surrealist photographer whom Picasso met through Paul Eluard while Marie-Thérèse was pregnant, had already commenced her love-affair with the artist by late 1935. By the end of the decade, Dora would eclipse Marie-Thérèse as Picasso's primary muse, becoming the inspiration for his harrowing "weeping women" series of the war years.
As is the case for many of the works that are now considered to be among Picasso's greatest pictures, Femme à la fenêtre remained in the artist's possession until his death in 1973. It was then inherited by his granddaughter Marina, whose father was the son that Picasso had with his wife Olga. The portrait is further distinguished by having been a highlight of the celebrated Picasso and Portraiture show organized by William Rubin at the Museum of Modern Art in New York in 1996.
*Pre-sale estimate does not include buyer's premium.