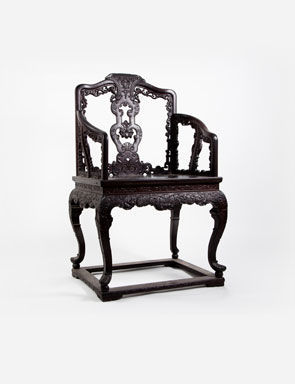 A Rare and Important 18th Century Chinese Imperial Zitan Armchair. Estimate: $150-250,000. Photo iGavel auction
NEW YORK, NY.- iGavel's online Fall auction of important Asian, Ancient & Ethnographic works of art will go live on Tuesday, October 9 through Wednesday, October 24, it was announced by Lark Mason, founder and president of the Harlem-based auction house, at 227 East 120th Street. Over 500 lots drawn from a cross-section of periods and disciplines, from antiquities through the 20th century, will be offered.
"On behalf of iGavel and its associate network, I am pleased to present a wide variety of freshly offered Asian items including bronzes, paintings, furniture, scholars' articles, and ceramics," says Lark Mason, who created the highly successful online auction platform in 2003.
Top sale highlights include:
A Rare and Important 18th Century Chinese Imperial Zitan Armchair, one of a larger set created under Jesuit instructions and designed for the Qianlong emperor. With its Italian rococo elements, this chair was part of a set that was in the Yuan Ming Yuan, the Imperial Summer Retreat north of Beijing, designed by an Italian architect and incorporating both Western and Chinese elements. It is an exceedingly rare object, documenting a period of time in which China and the west were engaging in diplomatic contact and trade, a pattern that has continued to the present day. As a documented Imperial chair, it is not only a fantastic example of the finest imperial craftsmanship, but also one of very few objects that can be traced to a specific Imperial residence. Of particular interest are three documentary metal plaques attached to the chair attesting to the provenance and date it was removed from China in 1902. Chinese furniture and works of art rarely are accompanied with any history of ownership. China's long tumultuous history, particularly during the 20th century, has separated most objects from any information about past owners. (Estimate: $150-250,000)
A 17th Century Chinese Landscape-Decorated Rhinoceros Horn Cup
Landscape-decorated cups of this type reflect the interest during the 17th century of depictions of exotic landscapes, peopled with real and imaginary figures often with references to literature and mythology. This is a particularly good example of landscape-style decoration. (Estimate: $250-350,000)
An Early 20th Century Large Chinese Celadon Jade Vase and Cover, Republic Period.
Large scale jade carvings were popular during the reign of the Qianlong emperor (1736-95) and during the early years of the 20th century. After the fall of the Qing dynasty in 1911, works of art were often created to bolster the legitimacy of the new government, a period of time referred to as the Republic period in Chinese history. This white to pale celadon jade vase incorporates designs that are based on eighteenth century prototypes and has a seal mark for the Qianlong period. The quality of the stone and workmanship indicate this example was made during the first quarter of the 20th century and is an excellent version of this type. (Estimate: $250-350,000)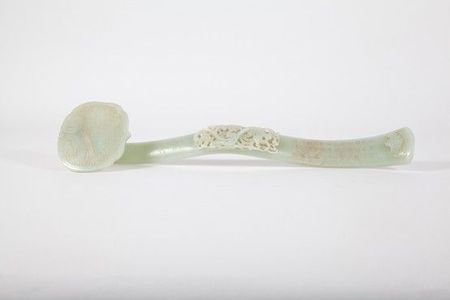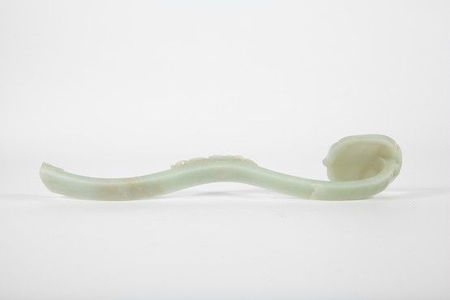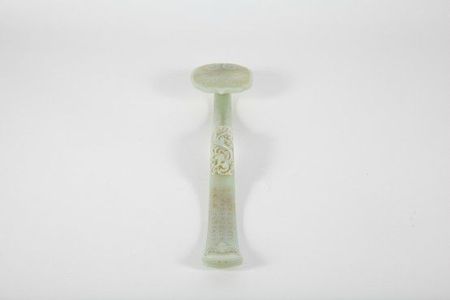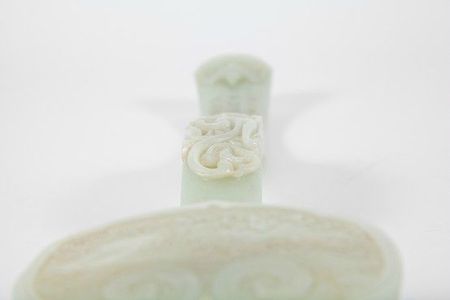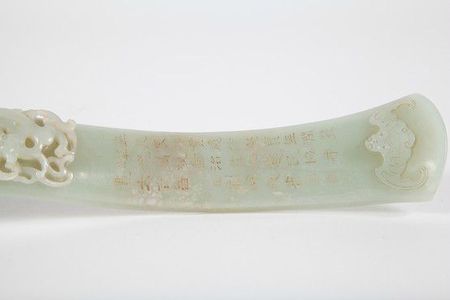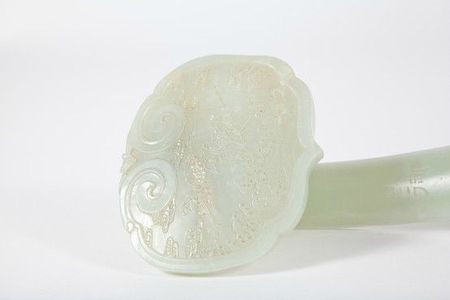 A Chinese Imperial Presentation Celadon Jade Ruyi Scepter, Qianlong Period, 18th-19th century. Estimate: $50-80,000. Photo iGavel auction
This scepter was created in the Imperial workshops as a presentation from Yong Xuan (1746-1832), the eighth son of the Qianlong Emperor (1736-95), to the Jiaqing Emperor, presumably upon Yong Xuan's elevation to the role of Prime Minister when Jiaqing became emperor in 1796. The inscription reads: "A full foot of fine material from a far away land to pay tribute to one's emperor; whose strength, loyalty, and gentleness emanates light; may all government affairs go according to one's wish; may all citizens work together for fruitful and prosperous years, respectfully, minister Yong Xuan." Imperially commissioned jade objects are extremely unusual and this example, presented at a time of uncertainty over the transition of power from the government of Qianlong, whose long illustrious and successful reign had just ended, to that of his heir, provides an insight into the personal nature of the relationships between these individuals. (Estimate: $50-80,000)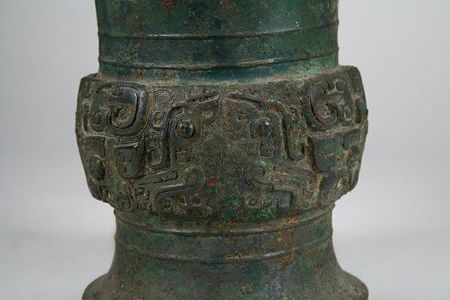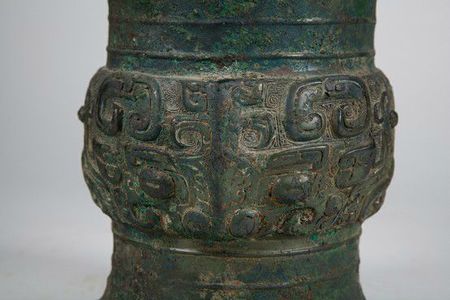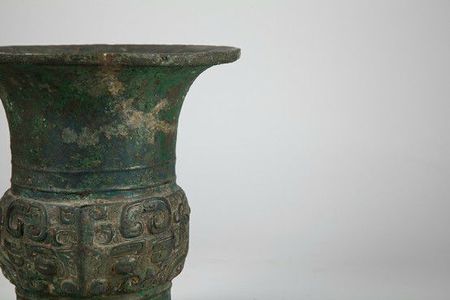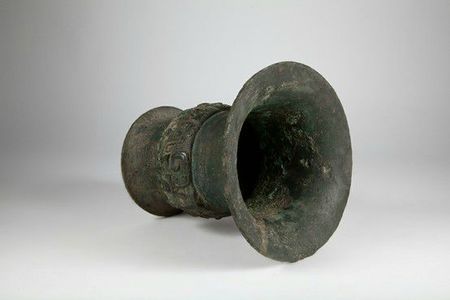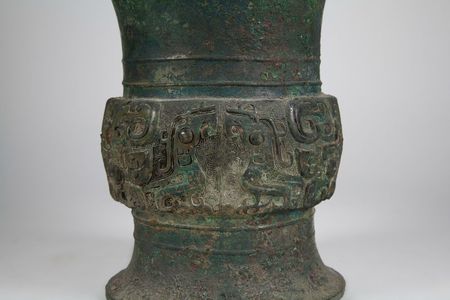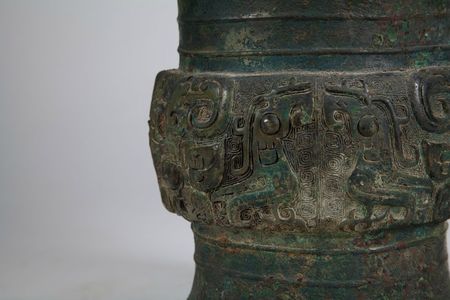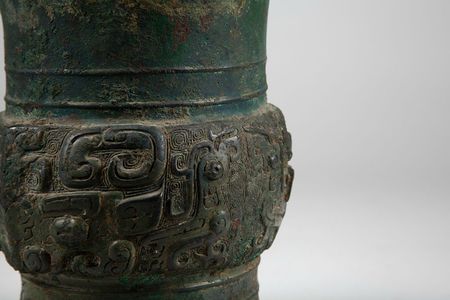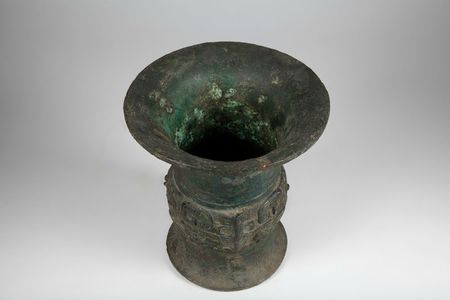 A Chinese Bronze Ritual Vessel, Zun, Western Zhou Period, c.1000 BCE. Estimate: $50-80,000. Photo iGavel auction
Both this lot and a similar version in the sale date from the Western Zhou Period c.1000 BCE and are ritual food vessels created during the high point of Chinese bronze manufacture. Both examples were originally on loan to the Museum of Fine Arts in Boston during the earlier part of the 20th century and depict bold mask and stylized bird patterns. (Estimate: $50-80,000)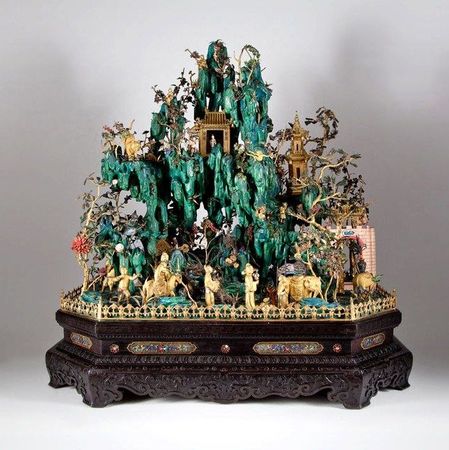 A 19th Century Chinese Zitan, Hardstone, and Gilt Bronze Miniature Mountain. Estimate: $30-50,000. Photo iGavel auction
Depicting the Buddhist Paradise. Imperial workshops located in Beijing and Canton (Guangzhou) created spectacular works of art of all types, but few as elaborate as this example. The model is composed of zitan, a wood largely restricted for Imperial use and characterized by a dense, tight grain and dark purplish-black color. The figures and pavilions are of gilt bronze with details in silver, gilt-silver, kingfisher feather, simulated malachite, coral, ivory, and enamels. It is likely this model was created as a presentation gift possibly from the Imperial household to a high official or dignitary upon an auspicious occasion. The workmanship and design indicate that this is most likely from the Guanxu reign (1875-1908), most likely in the early years of his reign. The model is complete with the original black lacquer bronze-mounted carrying case. (Estimate: $30-50,000)
A Japanese Silver and Gold Tortoise, Meiji Period.
This silver tortoise is a depiction of a minogame, an ancient tortoise that is a haven for immortals and symbolic for longevity, felicity, and good luck. They are generally depicted with hexagonal patterned shells and with seaweed attached to the shell, flowing behind in long strands. This example is signed, "Teishitsu Gigei-in Shomin zo," an important Meiji court artist active during the latter part of the 19th century. (Estimate: $15-25,000)