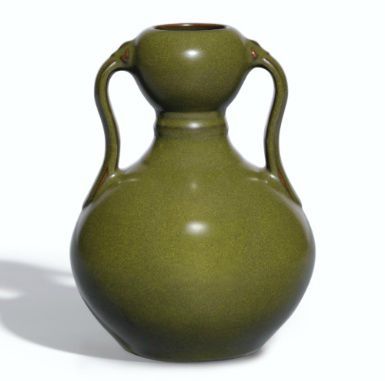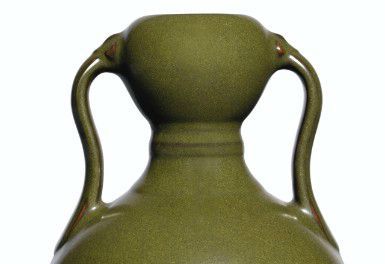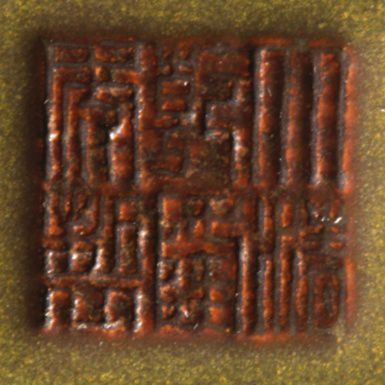 A superb Teadust-Glazed Double-gourd Vase with Handles. Incised seal mark and period of Qianlong - Photo Sotheby's
elegantly potted of double-gourd form with a globular lower bulb rising to a waisted neck and a smaller upper bulb with an incurved rim, the mouth flanked by a pair of arched ruyi-shaped handles attached to the shoulders on the lower bulb, the neck collared by a raised ring above a faint fillet around the top of the lower bulb, covered overall with an olive-coloured glaze flecked with a fine yellow mist, the glaze thinning to brown at the mouth and along the raised areas on the handles, the base incised with a six-character reign mark beneath a brown glaze; 18.5 cm., 7 1/4 in. Estimation: 6,000,000 - 8,000,000 HKD
PROVENANCE: Acquired in Shanghai in the 1930s and 1940s.
EXHIBITED: Zandelou Qingdai guanyao danseyou ciqi/Qing Imperial Monochromes. The Zandelou Collection, Shanghai Museum, Beijing Museum and Art Museum, The Chinese University of Hong Kong, 2005, cat. no. 51.
LITTERATURE: Helen D. Ling and E.T. Chow, Collection of Chinese Ceramics from the Pavilion of Ephemeral Attainment, vol. IV,
Hong Kong, 1950, pl. 196.
NOTE DE CATALOGUE: This gourd shape was developed in the Yongzheng reign and appears to have been one of the favorites of the Yongzheng Emperor, as Yongzheng examples are known with a great variety of different glazes and decorated in different styles. Qianlong versions are extremely rare altogether and the shape is seldom seen with a 'teadust' glaze. A related gourd shape was also produced with the lower part cut flat, and a 'teadust'-glazed piece of that form, also of Qianlong mark and period, was included in the exhibition Anthology of Chinese Art. Min Chiu Society Silver Jubilee Exhibition, Hong Kong Museum of Art, Hong Kong, 1985-6, cat. no. 188, from the collection of J.E. Hotung.
A pair of Yongzheng vases of this form with ge-type glaze, were in the collection of Edward T. Chow: one later in the collection of Robert Chang was sold in these rooms, 25th November 1980, lot 90, and again 25th April 2004, lot 262; the other, illustrated in Michel Beurdeley and Guy Raindre, Qing Porcelain. Famille Verte, Famille Rose, London, 1987, pl. 234, was sold in these rooms 19th May 1981, lot 498. Compare also a Yongzheng flask with Jun-type glaze, sold in our London rooms, 11th December 1979, lot 328.
Sotheby's. Qing Imperial Monochromes from the J.M. Hu Collection. Hong Kong | 09 oct. 2012 www.sothebys.com