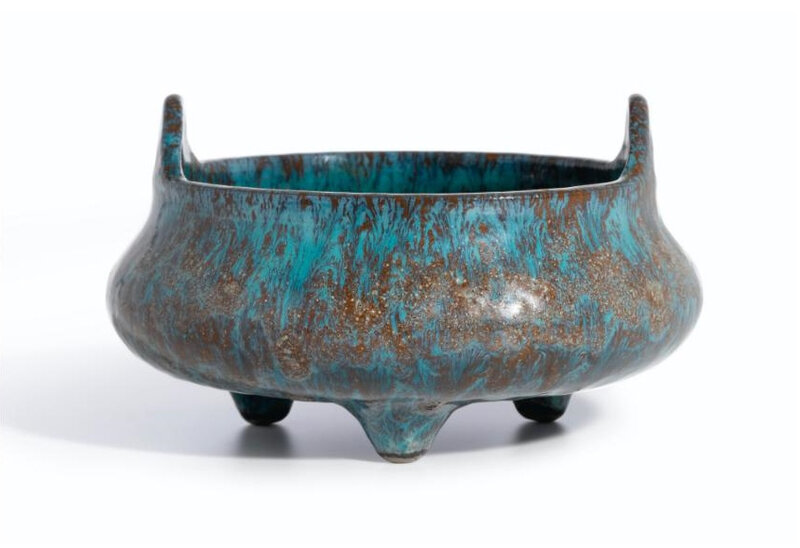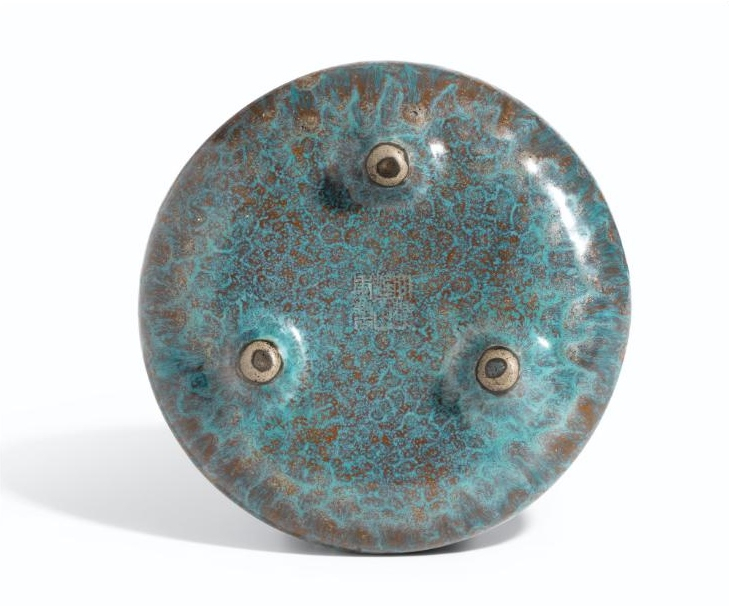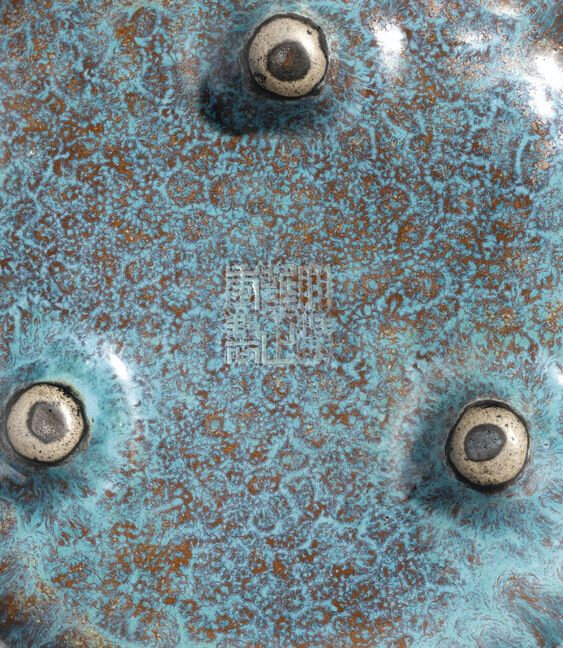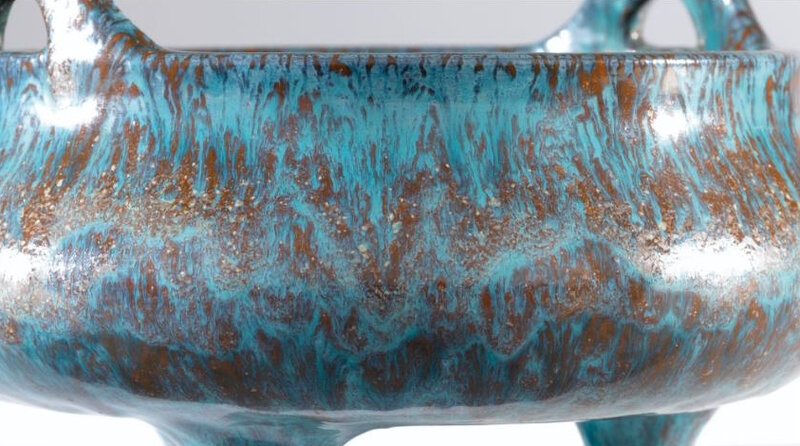 Lot 109. A fine and oustanding 'robin's egg' tripod censer, Incised seal mark and period of Yongzheng (1723-1735); width 18.3 cm., 7 1/8 in. Estimate 4,000,000 - 6,000,000 HKD. Lot sold 4,820,000 HKD. Photo Sotheby's 2012
well potted, the bombé sides rising to a straight mouth, flanked by a pair of upright arched handles on the rim, supported on three short tapered feet, brightly covered overall in a 'peacock feather' variation of the glaze with liberally applied vibrant turquoise streaks covering a bronze-coloured ground, the base incised with a six-character reign mark beneath the mottled glaze, the tips of the feet dressed in a dark brown wash.
Provenance: Acquired in Shanghai in the 1930s and 1940s
Exhibited: Zandelou Qingdai guanyao danseyou ciqi/Qing Imperial Monochromes. The Zandelou Collection, Shanghai Museum, Beijing Museum and Art Museum, The Chinese University of Hong Kong, 2005, cat. no. 21.
Metropolitan Museum of Art, New York (on loan).
Note: The Yongzheng Emperor, who initiated many revivals of earlier ceramic techniques, was particularly enamored with the variegated Jun glazes of the Song and Ming dynasties. In order to have the glazes recreated or imitated he went as far as sending potters from the imperial kilns on study trips to the Jun region in Henan province. Among the many types of glazes derived from those efforts are mottled purple ones such as the flambé, and mottled turquoise ones such as the 'robin's egg' varieties.
The present strongly mottled turquoise glaze represents a rare variation of the much more common 'robin's egg' glaze. Characterized by more intense turquoise/brown contrasts and larger-scale streaks, it is generally differentiated by the term 'peacock feather' glaze. It seems to represent an early Yongzheng version, before the more evenly dappled 'robin's egg' glaze came into use. Examples with this glaze are rare.
A meiping vase with a similar glaze, with three loop handles on the shoulder and bearing a four-character Yongzheng mark, in the Nanjing Museum, was included in the exhibition Qing Imperial Porcelain of the Kangxi, Yongzheng and Qianlong Reigns, Art Gallery, The Chinese University of Hong Kong, Hong Kong, 1995, cat. no. 38; two other vases with related glazes, also with four-character Yongzheng reign marks, are in the National Museum of China, illustrated in Zhongguo Guojia Bowuguan guancang wenwu yanjiu congshu/Studies on the Collections of the National Museum of China. Ciqi juan [Porcelain section]: Qingdai [Qing dynasty], Shanghai, 2007, pls. 66 and 67; a zun-shaped vase with 'peacock feather' glaze, also of Yongzheng mark and period, was included in the exhibition Anthology of Chinese Art. Min Chiu Society Silver Jubilee Exhibition, Hong Kong Museum of Art, Hong Kong, 1985-6, cat. no. 184, from the Collection of Helen and Peter; and another incense burner, but with handles at the sides, was sold in these rooms, 1st November 1994, lot 99, and at Christie's Hong Kong 31st May 2010, lot 1883. For the more common 'robin's egg' glaze compare a Yongzheng incense burner of similar form sold in these rooms, 28th November 1978, lot 156.