Lucio Fontana (1899 - 1968), Concetto Spaziale, Attesa (Pink). Est. £1-1.5 million. Photo: Sotheby's.
LONDON.- Sotheby's London presents its forthcoming 20th Century Italian Art Sale, which will take place on Friday, October 12, 2012. The auction will include major works by Lucio Fontana, Piero Manzoni, Alberto Burri, Marino Marini and Giorgio Morandi, in addition to a fine group of 'Arte Povera' works. The entire sale is estimated to realise in excess of £14 million.

Discussing the forthcoming 20th Century Italian Art Sale, Claudia Dwek, Deputy Chairman Sotheby's Europe, said: "This year's Italian Sale will present collectors in this field with the opportunity to acquire some outstanding classical pieces by among the greatest Modern, Post-War and Contemporary artists from Italy, such as Marini, Manzoni and Fontana. We are also pleased to bring to market a fine group of 'Arte Povera' works, which includes three remarkable pieces by Fabro, Paolini and Pascali that have not been available on the open market since the 1970s."

Headlining the auction is Piero Manzoni's kaolin on canvas, Achrome, executed in 1959, which is estimated at £2.2–2.6 million. Manzoni first initiated the Achrome in 1956 and in doing so rejected the existential and empirical questions with which his contemporaries were engaged. The Achrome was a blank slate, a mute surface. This work is one of the most alluring and striking from the artist's ground-breaking series in which Manzoni disassociated the painted surface from the active participation of the artist. Forged as kaolin clay and water dry upon wet canvas, the intricate patterns of the present work are hewn purely by Nature. Its landscape of incandescent highlights and defining shadows make Achrome from 1959 among the most outstanding examples of this iconic series ever to appear for public sale.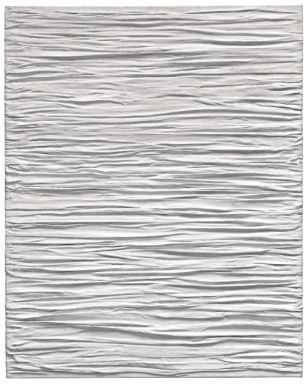 Piero Manzoni (1933 - 1963), Achrome. kaolin on canvas, 100 by 80cm. 39 3/8 by 31 1/2 in. Executed in 1959. Estimation: 2,200,000 - 2,600,000 GBP. Photo Sotheby's
Further important highlights of the auction are two works by Lucio Fontana. Both a precious object and a painted canvas, Concetto Spaziale, which is estimated at £1.6-2 million, resulted from Fontana's creative engagement with Venice. It is one of 15 such works created in 1961, which are regarded as part of the Venezia cycle, executed in smaller scale. Crafted in oil and murano glass on canvas as an elegy to the architectural and painterly wonders of Venice, Concetto Spaziale evinces the Pala d'Oro of the Basilica di San Marco, the piercing Italian sunshine reflecting off lagoon waters, and the decorative intricacies of centuries-old craftsmanship. A companion to Concetto Spaziale, Venice was all Gold (1961) held by the Fundación Colección Thyssen-Bornemisza, Madrid, the present work offers a rare and fascinating window into one of Fontana's most fervent and inspired periods of production.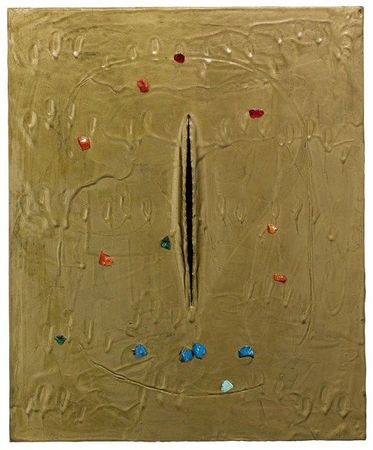 Lucio Fontana, Concetto Spaziale (Gold and Pietre). Est. £1.6-2 million. Photo: Sotheby's
Executed in 1964, the year after Lucio Fontana's first major retrospective was organised by Enrico Crispolti, Concetto Spaziale, Attesa is a magnificently rare and visually arresting work from the Tagli series. Rendered in pink with three bold, geometric golden stripes accenting the central cut, it represents a period of experimentation wherein Fontana pushed his practice forward conceptually and aesthetically. The use of gold in Concetto Spaziale, Attesa is a stunning epilogue to Fontana's gold oil paintings and his infamous Venezia cycle, the artist's dreamy interpretation of the Venetian baroque. Concetto Spaziale, Attesa, offers a rare and precious point of divergeance from Fontana's usual output. With its fresh, deeply alluring pink tones accented by the shimmering gold lines, and anchored in the seductive void of the cut, the present work announces its status as among the finest works ever produced by the Italian master. It is one of just four recorded and estimated at £1-1.5 million.
Cavaliere by Marino Marini (1901–1980), which was conceived in 1947 and cast in bronze in an edition of 6 plus 2 artist's proofs, carries an estimate of £1-1.5million. A dominating theme of Marini's art, the subject of horse and rider underwent a number of stylistic transformations throughout the decades, from the simple, rounded forms of the early 1940s, to the highly stylised, almost abstract manner of his late works. With its solid forms, the pronounced vertical and horizontal lines, and the figure of the rider firmly seated on the horse's back, Cavaliere recalls the calmer, more harmonious renderings of the theme. The present work is the antithesis of a traditional horse and rider image designed to elevate the status of an individual. Instead this rider is without identity and yet this extraordinary and iconic sculpture succeeds in representing the universal man. Several other casts of this work are in important public collections, including the Norton Simon Museum.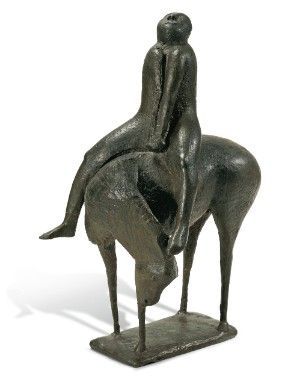 Marino Marini (1901 - 1980), Cavaliere. stamped MM and numbered 4/6, bronze, height: 99cm.; 39in. Conceived in 1947 and cast in bronze in an edition of 6 plus 2 artist's proofs. Estimation: 1,000,000 - 1,500,000 GBP. Photo Sotheby's
The auction will also present a fine group of 'Arte Povera' which includes three works - by Pino Pascali, Giulio Paolini and Luciano Fabro – that have not appeared on the market since the 1970s.

Pino Pascali's Il Dinosauro Che Emerge, executed in 1966, has never before been presented at auction and has always remained in private collections. It is a rare example of Pascali's celebrated series of "white sculptures" or finte sculture. One of only two finte sculture to depict the body and armoured plates of a dinosaur, its sister Il Dinosauro Riposa belongs to the Galleria Nazionale d'Arte Moderna e Contemporanea in Rome, as does a further dinosaur-themed work, Ricostruzione del Dinosauro. Immaculately designed, replete with the artist's intellect and personality, and recording a key moment in Italian contemporary art, the present work epitomises the best of Paolini's oeuvre and is estimated at £400,000–500,000.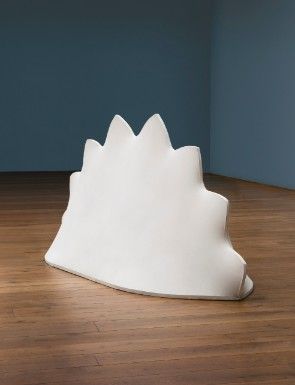 Pino Pascali (1935 - 1968), Il Dinosauro Che Emerge. painted shaped canvas on wood, 100 by 220 by 85cm. 39 3/8 by 86 1/2 by 33 1/2 in. Executed in 1966. Estimation: 320,000 - 400,000 GBP. Photo Sotheby's
Nesso by Giulio Paolini, executed in 1977, is a masterpiece within the canon of Paolini's sculptures; editions 2/3 and 3/3 of Nesso are held in permanent collections at the Stedelijk Museum, Amsterdam and the San Francisco Museum of Modern Art, respectively. Emblematising Paolini's engagement with antiquity, Nesso, which is estimated at £100,000–150,000, elegantly places a drawing of the Farnese Hercules' face atop the equine physique of the mythological centaur Nessus. The title Nesso, meaning "connection" in Italian, describes the metamorphic amalgamation of man with horse, photography with sculpture, and hero with nemesis.

Created in 1969, Luciano Fabro's Nazione Italica, which carries an estimate of £400,000–500,000, hails from Fabro's celebrated Italie series, considered one of the most iconic symbols of the Arte Povera movement. This rarely-seen work, among the earliest Italie ever created by Fabro, was featured in his solo exhibition at the Galleria de Nieubourg, Milan, in 1969, and has remained in a single Italian collection since the 1970s. The first Italia to appear at auction since 2006, Nazione Italica presents a rare moment to collectors to acquire one of his works from this superlative series. Composed of three individual parts – the peninsula, Sardinia, and Sicily – Nazione Italica is displayed as a single whole, the two islands resting within the continent proper, and the title of the work equally gestures towards the nationalistic idea of a unified Italy.
Natura Morta, painted in 1957 by Giorgio Morandi (1890- 1964), is an exceptional example of the artist's enigmatic still-life works and highly sophisticated aesthetic. The cast of unassuming pots and bottles depicted here, elegantly arranged on the canvas, are transfigured by his exquisitely refined palette. The three-tiered background emphasises the artist's mastery of subtle colouration, and the objects, painted in arresting pink and lichen, provide a striking counterpoint of form and colour to the near monochromatic background. Morandi's artistic process was meticulous; every aspect of his art was personally carried out, from stretching and priming canvases to the making of prints. The nuanced colour tones for which Morandi's paintings are celebrated are due to this painstaking attention he paid to their composition. Natura Morta will come to auction with an estimate of £800,000 – 1,200,000.
Alberto Burri's Combustione Plastica, estimated at £1.5–2 million, will be presented at auction for the first time. Produced in 1958, a crucial year for Burri, it formed part of the oeuvre that launched the artist to international renown. An early combustione, the plastic boasts a thickness, materiality and visceral aspect absent from the later, thinner and transparent plastics. Flecks of bright red adorn the top of the canvas, enhancing the suggestion of transformative violence inherent to Burri's method.
Mappa by Alighiero Boetti, executed in 1984, and estimated at £800,000–1.6 million, is a strikingly rendered exemplar of the artist's most celebrated and important series. The present work, which depicts the oceans in a deep purple tone, has remained in a single private collection since 1985. When the earliest unusually coloured Mappa arrived at Boetti's studio in 1979, he was delighted by how this cross-cultural miscommunication perfectly realised his conceptual desire to curate the unexpected and orchestrate global encounters. Along the top and bottom of the present Mappa, the Persian lines read: "Alighiero Boetti is sitting in an Afghan house, looking at the earth from the window" and "Alighiero Boetti is sitting in an Afghan house, looking at the sky from the window."

*Estimates do not include buyer's premium