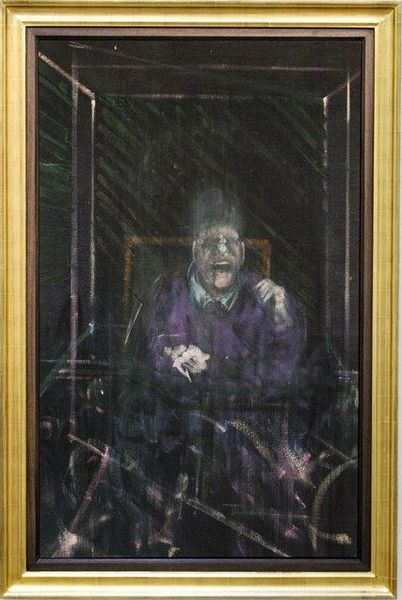 Francis Bacon, Untitled (Pope), 1954. Estimate: $18/25 million (£11/15 million. Photo: Sotheby's.
LONDON.- On 13 November 2012 Sotheby's Contemporary Art Evening Sale in New York will offer one of the most important versions of Francis Bacon's iconic Pope Paintings ever to have appeared at auction. The vision of screaming Popes emerged from the desolate shadows of the Second World War as humanity tried to make sense of the horrors that had been committed during those years. This version was painted circa 1954 and is closely related to the artist's Study after Velázquez's Portrait of Pope Innocent X, the seminal masterpiece that is now housed in the Des Moines Art Center in Iowa. Untitled (Pope) has been in the same private collection since a 1975 auction at Sotheby's London and is estimated to fetch $18/25 million (£11/15 million)*. The work goes on public exhibition for the first time in nearly 40 years at Sotheby's Los Angeles on 27 September before being shown in London from 7 October and Doha later this autumn.
Francis Bacon's Pope portraits are some of the most radical and provocative paintings to have appeared in the years immediately following World War II. The viewer is presented with the Supreme Pontiff, the totem of enlightened perception and order against chaos, violently wracked by the brutal terror of the post-war reality. The Papal imagery and its inspiration first started to appear in Bacon's work in the late 1940s, however this version is more closely allied to a cycle of eight Study for Portraits from 1953 that were created for an exhibition at Durlacher Brothers in New York – Bacon's first show outside England. These paintings can be found in museums such as the Museum of Modern Art, New York, the Hirshhorn in Washington D.C., the Minneapolis Institute, the Lehman Loeb Art Center at Vassar College as well as several distinguished private collections, but this painting most closely relates to the pivotal version in Des Moines.
This series is based upon the 1649 state portrait of Pope Innocent X by Diego Velázquez, court painter to King Phillip IV of Spain. Velázquez dutifully portrays Innocent as the most powerful man in the world surrounded by the luxurious trappings of his office, yet also as a fallible mortal who must face the burdens and pitfalls of his position. In Untitled (Pope) Bacon removes the idiosyncrasies of the grand state portrait. They are replaced by a more intimate depiction of pain and suffering inspired by the screaming nurse figure in Sergei Eisenstein's 1925 movie The Battleship Potemkin and the clenched fist from Edweard Muybridge's photograph Striking a Blow with the Right Hand.
It has previously been thought that Bacon had not seen the Velázquez original when he painted this circa 1954 work. However, new research has suggested that he could have been familiar with another version of the Innocent X painting. A smaller rendering belonged to the Duke of Wellington and was housed at Apsley House in London, just a short walk from Bacon's studio at the Royal College of Art. Apsley House was opened to the public in 1952 meaning Bacon could well have studied this version at first-hand prior to starting his cycle of papal portraits.
Francis Bacon's depictions of Popes are among his most important paintings encompassing many of the themes and iconography that fueled his artistic output over the following decades. Untitled (Pope) is emblematic of these, and of an artist who had such a dramatic effect on post-war art.
*Estimates do not include buyer's premium