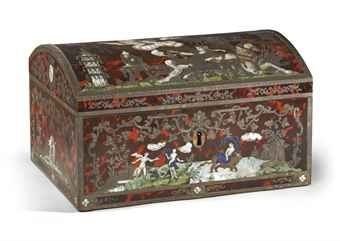 Coffret en partie d'époque Louis XIV. Photo Christie's Ltd 2012
En marqueterie d'écaille de tortue Caret, de nacre gravée, de laiton et de corne teintée, le couvercle bombé dissimulant deux compartiments secrets représentant Diane allongée sur un dromadaire, un chinois se tenant à ses côtés, avec Jupiter tenant le foudre assis dans des nuées et Uranie, les faces principales représentant l'enlèvement d'Europe et Ariane endormie découverte par Bacchus, les côtés représentant des amours surmontés d'un blason aux armes de Paul Charles Antoine Leroy de Chavigny, comte de Montluc, l'intérieur découvrant un intérieur muni d'un bouton activant l'ouverture d'un tiroir secret latéral ; la corne surdécorée, restaurations, la marqueterie principalement d'époque Louis XIV et réappliquée au XIXe siècle ; on y joint un écrin gainé de cuir d'époque Louis XIV. Coffret: hauteur: 21 cm. (8 1/3 in.) ; largeur: 35 cm. (13¾ in.) ; profondeur: 26 cm. (10¼ in.). Ecrin: hauteur: 24,5 cm. (9½ in.) ; largeur: 39 cm. (15½ in.) ; profondeur: 30 cm. (11¾ in.) (2) - Estimation: €60,000 - €100,000
Notes: Ce remarquable coffret se rapproche de celui conservé à la collection Wallace à Londres (illustré dans Peter Hughes, The Wallace Collection. catalogue of furniture. II., Londres, 1996, p. 620-625). il présente également de très nombreuses similitudes avec celui vendu, Christie's Londres, 10 juillet 2008, lot 110.
On peut élargir le rapprochement à un ensemble de meubles et d'objets avec des marqueteries comparables. ce groupe comprend notamment une table anciennement dans la collection de la duchesse de Talleyrand (vente Sotheby's Monaco, 14-15 juin 1981, lot 145), un bureau provenant de la collection Keck (vente Sotheby's New York, 5-6 décembre 1991, lot 31) ainsi qu'une autre de la collection Patino (vente Sotheby's New York, 20 mai 1992, lot 57).
Ce type d'ouvrage a été attribué principalement à des ateliers d'Allemagne du sud. cette attribution est discutée par peter hughes (cf.op cit, p. 623) ainsi que par Geoffrey de Bellaigue (g. de Bellaigue, The James A. de Rothschild collection at Waddesdon manor: furniture. vol. II, office du livre, Fribourg, 1974, p. 550-557).
Christie's. Collection d'un amateur, 3 - 4 October 2012. Paris