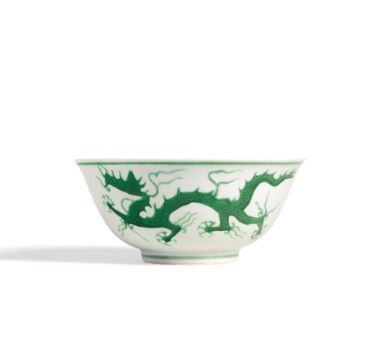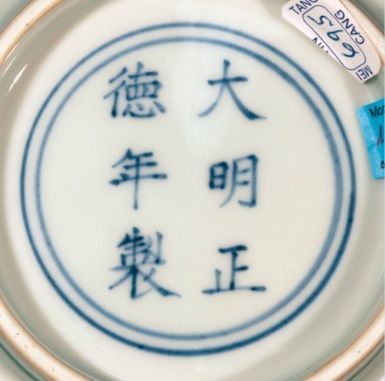 A Fine Green-Enamel 'Dragon' Bowl. Mark and Period of Zhengde - Photo Sotheby's
the deep rounded sides rising from a slightly tapered foot to a flared rim, the interior centred with a medallion enclosing a five-clawed dragon writhing among stylized clouds, its incised scaly body and powerful limbs largely left on the biscuit and covered with a bright green enamel partly overlapping the surrounding glaze, the inner walls left plain except for a green line at the rim, the exterior similarly decorated with two five-clawed dragons reserved on the biscuit and covered with a green enamel, striding above a finely incised ground of crested waves and rocks, all between green fillets encircling the rim and foot, the base inscribed with a six-character reign mark within a double ring in underglaze blue; 20 cm., 7 7/8 in. Estimation: 1,600,000 - 2,000,000 HKD
EXHIBITED: Evolution to Perfection. Chinese Ceramics from the Meiyintang Collection/Evolution vers la perfection. Céramiques de Chine de la Collection Meiyintang, Sporting d'Hiver, Monte Carlo, 1996, cat. no. 128.
LITTERATURE: Regina Krahl, Chinese Ceramics from the Meiyintang Collection, London, 1994-2010, vol. 2, no. 695.
NOTE DE CATALOGUE: This green dragon design, which became very popular during the Hongzhi (AD 1488-1505) and Zhengde (AD 1506-21) reigns, originated in the Chenghua period (AD 1465-87), when green dragon bowls were made both with the dragons enamelled on top of the glaze over underglaze-blue outlines, and enamelled on the biscuit as on the present piece; examples of both in the National Palace Museum, Taiwan, were included in the Museum's exhibition Chenghua ciqi tezhan/Special Exhibition of Ch'eng-hua Porcelain Ware, 1465-1487, Taipei, 2003, pls. 107-8 and 110-11.
Similar Zhengde bowls are, for example, in the Metropolitan Museum of Art, New York, illustrated in Suzanne G. Valenstein, A Handbook of Chinese Ceramics, New York, 1989, pl. 156; in the British Museum, London, from the Sir Percival David collection, published in Daisy Lion-Goldschmidt, Ming Porcelain, London, 1978, pl. 106. One from the collection of H.R.N. Norton, included in the Mostra d'Arte Cinese/Exhibition of Chinese Art, Palazzo Ducale, Venice, 1954, cat. no. 687, was sold in our London rooms, 5th November 1963, lot 178 and in these rooms, 18th May 1982, lot 176; another from collections of Lord Cunliffe and later T.Y. Chao was sold in our London rooms, 15th April 1980, lot 222, in these rooms, 18th November 1986, lot 58.
Sotheby's . The Meiyintang Collection, Part IV - An Important Selection of Imperial Chinese Porcelains. Hong Kong | 09 oct. 2012, www.sothebys.com