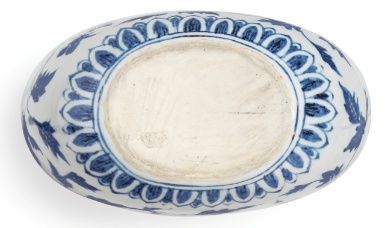 An Extremely Rare Blue And White 'Peony' Moonflask. Ming Dynasty, Yongle Period - Photo Sotheby's
the flattened globular body of elongated oval section, surmounted by a slender cylindrical neck flanked by two scroll handles and resting on a slightly concave flat base, brightly decorated on the body and sides in painterly strokes of cobalt blue with a continuous peony scroll with four lush blooms, evenly distributed on the two main faces and on the two narrow sides, wreathed by scrolling foliage with attendant buds, the leaves detailed with darker veins, between a band of overlapping lotus petals skirting the base and pendent petal lappets draping the shoulder, the neck collared with foliate scrolls, the handles picked out with a tiny flowering peach spray and a double scroll outlining the sides, the base unglazed; height 25.3 cm., 10 in. Estimation: 1,600,000 - 2,000,000 HKD
PROVENANCE: Collection of Nancy and Ira Koger.
LITTERATURE: John Ayers, Chinese Ceramics. The Koger Collection, London, 1985, pl. 51.
Regina Krahl, Chinese Ceramics from the Meiyintang Collection, London, 1994-2010, vol. 4, no. 1635
NOTE DE CATALOGUE: Flasks of this form are known with a variety of flower and fruit designs, but the present peony design is extremely rare. One other flask painted with this pattern, but with cut-down neck, inscribed after firing with the name of the Mughal emperor Alamgir (Awrangzib) (r. AD 1658-1707) and a date equivalent to AD 1659/60, is in the British Museum, London, from the collection of Mrs. Walter Sedgwick, see Jessica Harrison-Hall, Ming Ceramics in the British Museum , London, 2001, no. 4: 17.
A similar flask with a stylized lotus scroll in the former imperial summer resort of the Qing emperors, Bishu Shanzhuang in Chengde, Hebei, is published in Zhongguo taoci quanji [Complete series on Chinese ceramics], Shanghai, 1999-2000, vol. 12, pl. 17, perhaps the flask depicted in the court painting One or Two?, which shows the Qianlong Emperor surrounded by items from his collection; see China. The Three Emperors 1662-1795, Royal Academy of Arts, London, 2005-6, cat. no. 196. A related flask with the more common camellia design was excavated from the waste heaps of the Ming Imperial kilns at Jingdezhen, and included in the exhibition Jingdezhen Zhushan chutu Yongle guanyao ciqi [Yongle Imperial porcelain excavated at Zhushan, Jingdezhen], Capital Museum, Beijing, 2007, cat. no. 104.
Sotheby's . The Meiyintang Collection, Part IV - An Important Selection of Imperial Chinese Porcelains. Hong Kong | 09 oct. 2012, www.sothebys.com