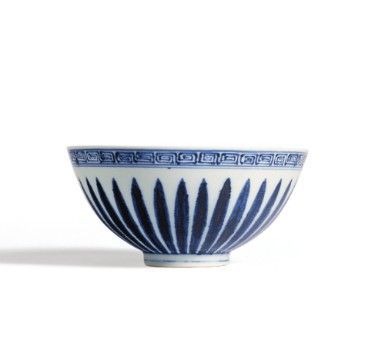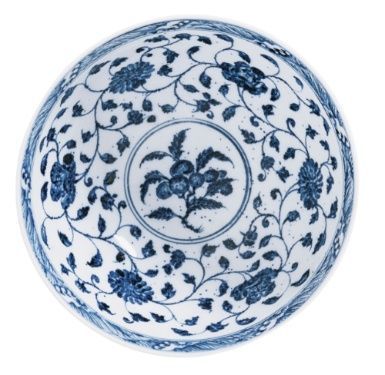 A Fine Blue And White 'Lotus' Bowl. Ming Dynasty, Yongle Period - Photo Sotheby's
of deep rounded conical form with a convex base and a straight foot, the interior centred with a medallion enclosing a foliate spray of loquat within a double-line border, surrounded by alternating chrysanthemum and camellia borne on a scrolling foliate stem with attendant buds, all below a border of crested waves at the rim, the exterior decorated with a band of tall radiating petals, between a single fillet encircling the foot and a band of key-fret below the rim, the blue of intense cobalt tone with darker specks and picked out with 'heaping and piling' effect, the slightly domed base covered with a transparent glaze; 21.3 cm., 8 3/8 in. Estimation: 1,600,000 - 2,000,000 HKD
PROVENANCE: Collection of Mrs. Alfred Clark.
Spink & Son Ltd, London.
EXHIBITED: Ming Blue-and-White Porcelain, The Oriental Ceramic Society, London, 1946, cat. no. 18.
Blue and White Porcelain from the Collection of Mrs. Alfred Clark, Spink & Son Ltd, London, 1974, cat. no. 11.
LITTERATURE: Regina Krahl, Chinese Ceramics from the Meiyintang Collection, London, 1994-2010, vol. 2, no. 670
NOTE DE CATALOGUE: Bowls of this design are known both with and without Xuande reign marks (AD 1426-35), the unmarked bowls believed to date from the Yongle reign. Mrs. Alfred Clark owned an example of each, the Xuande bowl exhibited together with the present Yongle example at Spink & Son, op. cit., cat. no. 12.
Three Yongle examples in the Palace Museum, Beijing, are illustrated in Geng Baochang, ed., Gugong Bowuyuan cang Ming chu qinghua ci [Early Ming blue-and-white porcelain in the Palace Museum], vol. I, Beijing, 2002, pls. 65-7, one of them from the Qing court collection, as well as an example of the more common Xuande variation of this design, vol. 2, pl. 150, with different flowers and fruits and a double row of lotus petals on the outside; other Yongle bowls of this pattern are in the Shanghai Museum, see Lu Minghua, Shanghai Bowuguan zangpin yanjiu daxi/Studies of the Shanghai Museum Collections : A Series of Monographs. Mingdai guanyao ciqi [Ming imperial porcelain], Shanghai, 2007, pl. 1-8; and in the National Museum of China, Beijing, published in Zhongguo Guojia Bowuguan, ed., Zhongguo Guojia Bowuguan guancang wenwu yanjiu congshu/Studies on the Collections of the National Museum of China. Ciqi juan [Porcelain section]: Mingdai [Ming dynasty], Shanghai, 2007, pl. 23; and a bowl discovered in Tianjin is published in Wenwu1977, no. 1, pl. 5, fig. 5.
A similar bowl from the collections of Major L.F. Hay and later R.H.R. Palmer and the Jingguantang collection was sold in our London rooms 16th June 1939, lot 93, and three times at Christie's Hong Kong, 17th January 1989, lot 565, 5th November 1997, lot 891, and 1st December 2009, lot 1871; another was sold in these rooms, 27th April 1999, lot 409.
Sotheby's . The Meiyintang Collection, Part IV - An Important Selection of Imperial Chinese Porcelains. Hong Kong | 09 oct. 2012, www.sothebys.com