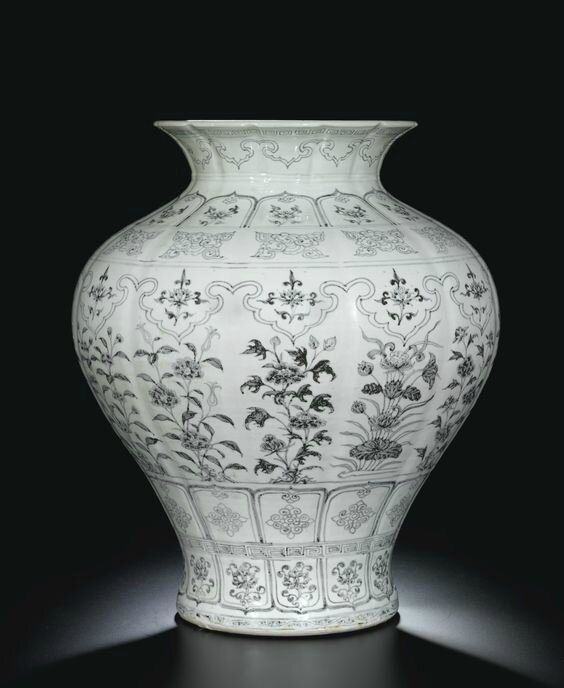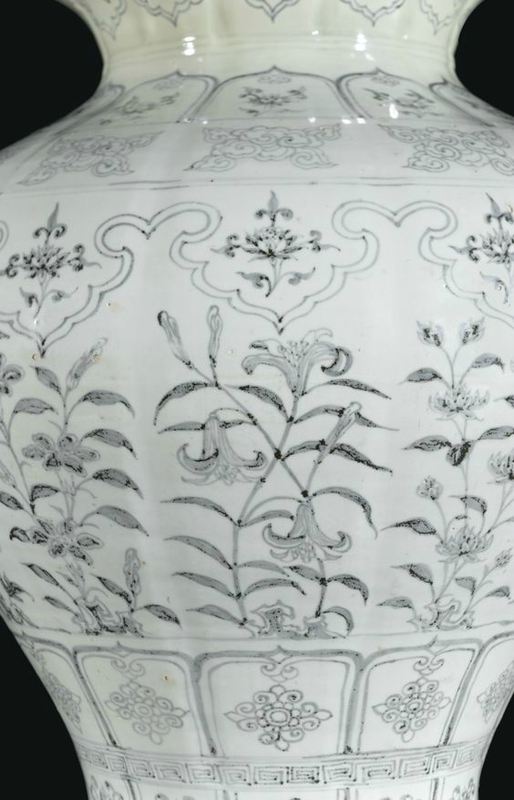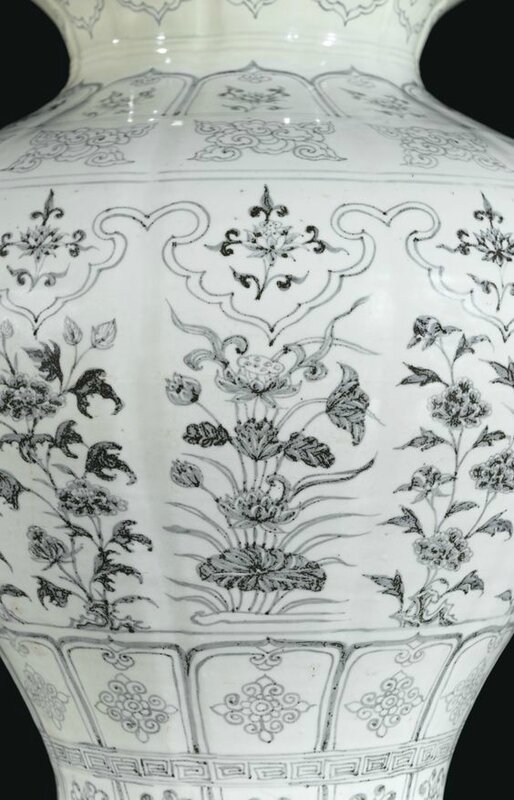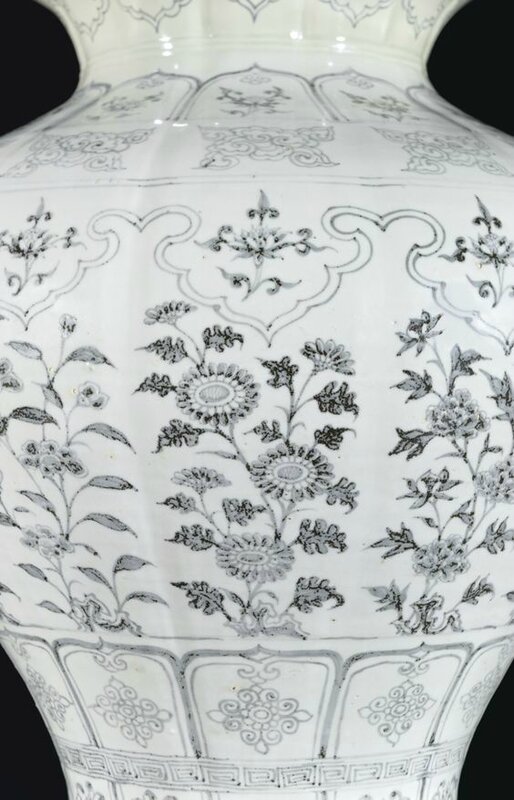 Lot 3060. An Extremely Rare And Exceptionally Large Blue And White Jar, Shiliuzun. Ming Dynasty, Hongwu Period. Photo Sotheby's
robustly potted, of baluster form lightly moudled into twelve lobes resembling a pomegranate, the rounded sides rising from a splayed foot to a broad shoulder and an everted rim, each lobe finely painted in underglaze blue with a different flower spray denoting the months of the year, including clockwise: lotus, tree peony, rose, tea, pomegranate, a flower with lotus-like blooms but different leaves, day lily, gardenia, hibiscus, chrysanthemum, camellia and herbaceous peony, each springing from low stylised rocks and overhung by a frieze of pendent ruyi containing lotus sprays, a band of detached cross-shaped clouds further draping the shoulder and a range of upright petal-lappets enclosing lotus-heads collaring the neck, each separated by double line borders, the lower part of the body skirted by two ranges of petal-lappets pointing in opposite directions and divided by a band of key-fret, the range above containing florets wreathed by trefoil leaves, the range below enclosing lotus sprays, all above a 'classic' scroll encircling the foot, the recessed base unglazed, the upper part of the neck reconstructed and painted with a border of matching key-fret and pendent ruyi ; 52.5 cm., 20 5/8 in. Estimation: 12,000,000 - 18,000,000 HKD - Unsold
PROVENANCE: Sotheby's Hong Kong, 30th April 1991, lot 9.
NOTE DE CATALOGUE: Flowers throughout the Year under the Hongwu Emperor. Regina Krahl
Majestic jars such as this piece belong undoubtedly to the greatest creations of the Ming imperial kilns during the Hongwu era (1368-98). Soon after his accession to the throne, the Hongwu Emperor, founder of the Ming dynasty, severely restricted free international trade, which had flourished during the Mongol period, in order to reign in previously powerful foreign contingents in Chinese society. The porcelain kilns at Jingdezhen were thus deprived of their supplies of foreign cobalt, on which the production of blue-and-white had depended, and had to use local
substitutes. Porcelains painted in copper red were therefore privileged, even though a good colour was rarely achieved. Underglaze cobalt-blue became rare in the Hongwu reign and generally fired a characteristic slate-blue tone, one of the trademarks of Hongwu blue-and-white and vivid testimony of historical events.
The design of twelve different flowering plants representing the months of the year provides a veritable herbarium of Chinese garden flowers—and an ideal metaphor for a prosperous new reign. A similar variety of flowers, all growing from behind garden rocks except for the lotus, which is rising out of water, had not previously been depicted and has rarely been matched in later periods. Since the group contains plants that are seldom depicted in Chinese art, correct identification of the full cycle is challenging.
Although large jars had already been created in the preceding Yuan dynasty, the present form, known as shiliuzun [pomegranate vase], with widely flaring neck and lobed sides was an invention of the Hongwu reign. The difficulties faced by the potters in creating such grand vessels is reflected in the fact that most of these jars display firing problems and have today lost the top of their neck, which had been luted on separately.
Blue-and-white jars of this type are otherwise exceptionally rare. One world-famous example, excavated in 1961 in Haidian district, Beijing, together with a cover painted in underglaze red, became in the 1970s an iconic item symbolizing China's great archaeological discoveries and thereby the country's glorious past. It was profusely published, for example, in Historical Relics Unearthed in New China, Beijing, 1972, pl. 205 (fig. 1), and sent around the globe in numerous exhibitions, the first being held at the Royal Academy of Arts, London, see The Genius ofChina. An Exhibition of Archaeological Finds of the People's Republic of China, London, 1973-4, cat. no. 364, where the jar is also illustrated in colour, p. 39.
Although that jar has often been attributed to the Yuan dynasty, a dating to the Hongwu period has now been confirmed by the excavation of a fragmentary cobalt-blue painted jar and cover of this design from the Hongwu stratum of the Ming imperial kiln sites at Dongmentou, Zhushan, Jingdezhen, which was included in the exhibition Jingdezhen chutu Ming chu guanyao ciqi/Imperial Hongwu and Yongle Porcelain Excavated at Jingdezhen, Chang Foundation, Taipei, 1996, cat. no. 1.
Only two other blue-and-white examples appear to be recorded, one with a reduced neck in the Palace Museum, Beijing, published in The Complete Collection of Treasures of the Palace Museum. Blue and White Porcelain with Underglazed Red, Shanghai, 2000, vol. I, pl. 13; the other from the collection of H. de Railly, offered at the Hôtel des Ventes d'Enghien, Enghien-les-Bains, France, 6th December 1981, and again at Christie's Hong Kong, 31st October 2000, lot 853 and 1st November 2004, lot 819.
Similar jars were also painted in underglaze copper-red. The Palace Museum, Beijing, also holds a similar red-painted jar and cover, of more slender proportions, published ibid., pl. 195. A red-painted jar with a dark red design against a bright red halo is in the Shanghai Museum, illustrated in Wang Qingzheng, Underglaze Blue and Red, Hong Kong, 1993, pl. 34; a very similar jar in the Umezawa Kinenkan Museum, Tokyo, was included in the exhibition Chgoku no tji/Special Exhibition of Chinese Ceramics, Tokyo National Museum, Tokyo, 1994, cat. no. 235; one with darker flowers against a paler red halo, also with a reduced neck, in the Matsuoka Museum of Art, Tokyo, is published in Ty tji meihin zuroku [Illustrated Catalogue of Masterpieces of Oriental Ceramics], Matsuoka Museum of Art, Tokyo, 1991, cat. no. 63, and sold at Christie's London, 9th July 1979, lot 264 from the collection of the Gorhambury Estates Company; another red-decorated jar lacking the rim and with very blurred decoration is in the British Museum from the Eumorfopoulos collection, illustrated in Jessica Harrison-Hall, Ming Ceramics in the British Museum, London, 2001, no. 2: 6; a jar with pale red design in the Baur collection, Geneva, with a reduced neck and firing cracks around the foot, is illustrated in John Ayers, Chinese Ceramics in the Baur Collection, Geneva, 1999, vol. I, pl. 59, and was sold at Christie's London, 19th June 1967, lot 144; another reduced example was sold at Etude Tajan, Paris, 2nd October 1998, lot 45, and the same probably again at Christie's Hong Kong, 26th April 1999, lot 551.
No cobalt-blue painted Hongwu jars of other designs appear to be recorded, but copper-red examples exist also with the Three Friends of Winter and other plants in a continuous band, illustrated in Tianjin Shi Yishu Bowuguan cang ci/Porcelains from the Tianjin Municipal Museum, Hong Kong, 1993, pl. 70; and in Denise Patry Leidy, Treasures of Asian Art: The Asia Society's Mr. and Mrs. John D. Rockefeller 3rd Collection, New York, 1994, pl. 165; and with a continuous peony scroll around the body, illustrated in Fujioka Ryoichi and Hasebe Gakuji, eds, Sekai tji zensh/Ceramic Art of the World, vol. XIV: Min/Ming Dynasty, Tokyo, 1976, p. 157, fig. 16, formerly in the Ataka collection.
Sotheby's. Fine Chinese Ceramics & Works of Art. Hong Kong | 09 oct. 2012