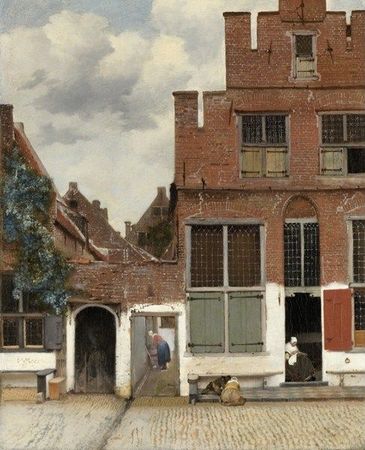 Johannes Vermeer (1632-1675), The Little Street, 1658 circa. Amsterdam, Rijksmuseum Gift of H.W.A. Deterding, London © Rijksmuseum, Amsterdam
ROME.- At long last, Rome hosts a major retrospective of the work of Johannes Vermeer, the greatest Dutch painter of the 17th century, whose art is not represented in any Italian collection nor has it ever been the object of a structured, in-depth study in this country.
The Scuderie del Quirinale exhibition includes a meticulous selection of works by Vermeer – extremely rare, and held in museums throughout the world – and some fifty works by his Dutch contemporaries. Thus the visitor is able not only to explore the genius of this artist, whose life continues to be shrouded in mystery (even his date of birth is still unknown), but also to understand how the Delft master's work dovetails with that of the other artists active in his native city and in nearby centres of cultural ferment such as Amsterdam, Haarlem and Leyden. In addition to such celebrated and enchanting Vermeer masterpieces as The Little Street, currently in Amsterdam, the exhibition also hosts work by Carel Fabritius, Vermeer's acknowledged master who died in the gunpowder store explosion of 1654 which destroyed a large part of the city of Delft, by Pieter de Hooch and by Emmanuel de Witte, alongside work by artists renowned in their own day but perhaps less well-known today, including Gerard ter Borch, Gerrit Dou, Nicolaes Maes, Gabriël Metsu, Frans van Mieris, Jacob Ochtervelt, Jan Steen and numerous other sophisticated and remarkable painters.
The unique temperament of the art of Vermeer and his contemporaries reflects bourgeois culture in 17th century Holland. The homely themes and strong sense of realism that are such dominant features of their style charmed the private collectors of the day, who tended to be merchants, bakers and brewers who hung the pictures in their homes and demanded a constant renewal of their subject matter. In 17th century Italy, on the other hand, major institutional patrons such as the Church or the princely courts commissioned large paintings and public art, a different matter altogether from the intimate and richly nuanced work of Vermeer, who tended to focus on such private themes as the family, the gestures and moments of daily life, reading and writing (especially private correspondence), courting, music and the study of science, along with views of the city, glimpses of a silent and industrious world seen through a lens of ironic and rapt tenderness.
Dutch art in recent years has been abundantly and universally explored and various retrospectives have been devoted to it in England, Holland, Germany, Japan, Spain and the United States, all of them memorable but all of them distant in both time and space.
Despite the fact that art connoisseurs and experts in Italy today are perfectly aware of the virtue and variety of Dutch painting, to a far greater extent than earlier generations may have been, no exhaustive retrospective of that fortunate period in the history of art that was the 17th century had yet been held in this country. This, both on account of the extreme difficulties involved in procuring the rare and precious works of art, jealously guarded by a handful of museums and sophisticated collectors, and on account of the works' physical fragility.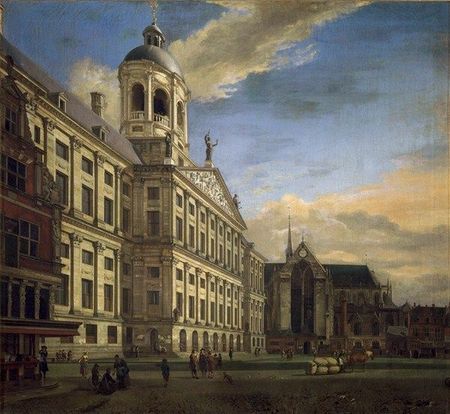 Jan van der Heyden (1637-1712), The Town Hall of Amsterdam with the Dam, 1667. Florence, Galleria degli Uffizi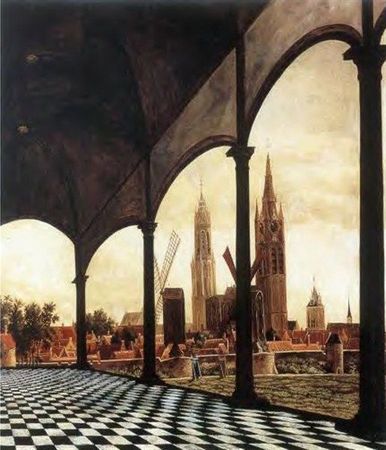 Daniel Vosmaer (1622-1669/1670), View of Delft from an Immaginary Loggia, 1663. Delft, Stedelijk Museum het Prinsenhof Collection of the Cultural Heritage Agency of the Netherlands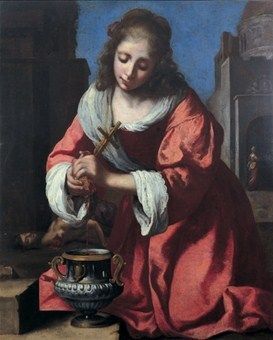 Johannes Vermeer (1632-1675), St. Praxedis, 1655. The Barbara Piasecka Johnson Collection Foundation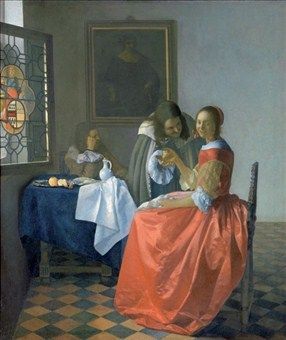 Johannes Vermeer (1632-1675), The Girl with the Wineglass, 1659-1660 circa. Braunschweig, Herzog Anton Ulrich-MuseumKunstmuseum des Landes Niedersachsen
Pieter de Hooch, (1629-1684), Portrait of a Family in a Courtyard in Delft, 1658 circa. Wien, Gemäldegalerie der Akademie der bildenden Künste
Carel Fabritius (1622-1654), Self-Portrait, 1649-1650 circa. Munich, Bayerische Staatsgemäldesammlungen - Alte Pinakothek Foto Scala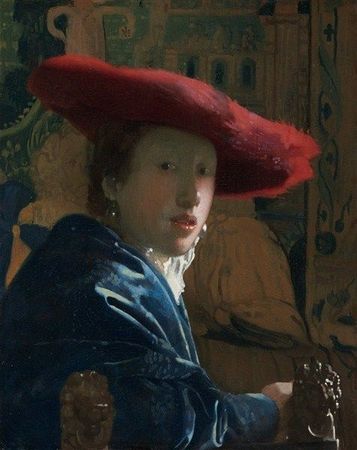 Johannes Vermeer (1632-1675), Girl with the Red Hat, 1665 - 1667. Washington D.C., National Gallery of ArtAndrew W. Mellon Collection
Gerrit Dou (1613-1675), Woman at a Clavichord. London, Dulwich Picture Galleryper concessione dei Trustees of Dulwich Picture Gallery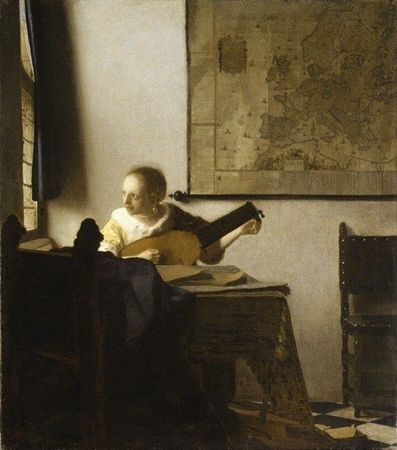 Johannes Vermeer, Woman with a Lute, 1662-1663. New York, The Metropolitan Museum of ArtLascito di Collis P. Huntington, 1900© Art Resource/Scala, Firenze
Johannes Vermeer (1632-1675), Young Woman Seated at the Virginal, 1670-1672 circa. New York, Collezione Privata
Pieter Janssens Elinga (1623-ante1682), Interior with a Gentleman, a Woman Reading and a Housemaid, 1670 circa. Frankfurt, Städelsches Kunstinstitut und Städtische Galerie © U. Edelmann - Städel Museum – ARTOTHEK
Johannes Vermeer (1632-1675), A Young Woman Standing at a Virginal, 1670-1672 circa. London, The National GalleryBought, 1892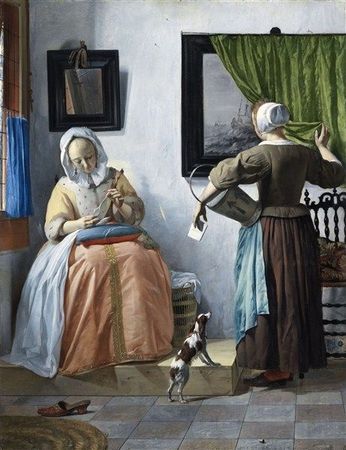 Gabriel Metsu (1629–1667), A Woman Reading a Letter, 1664–1666. presented Sir Alfred and Lady Beit, 1987 (Beit Collection)Dublin, National Gallery of Ireland Collection Photo © National Gallery of Ireland
Gabriel Metsu (1629–1667), A Man Writing a Letter, 1664–1666 presented Sir Alfred and Lady Beit, 1987 (Beit Collection) Dublin, National Gallery of Ireland Collection Photo © National Gallery of Ireland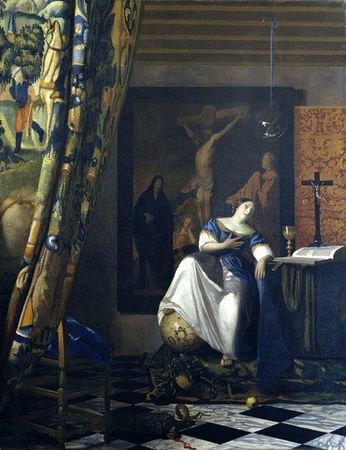 Johannes Vermeer (1632-1675), The Allegory of the Catholic Faith, 1670 -1672 circa. New York, The Metropolitan Museum of ArtThe Friedsam Collection, lascito di Michael Friedsam, 1931© Art Resource/Scala, Firenze