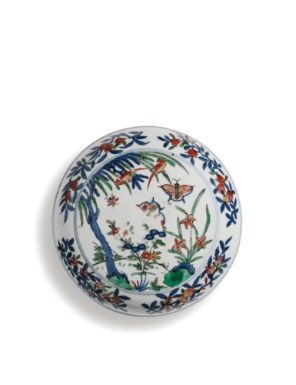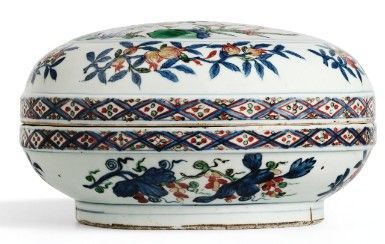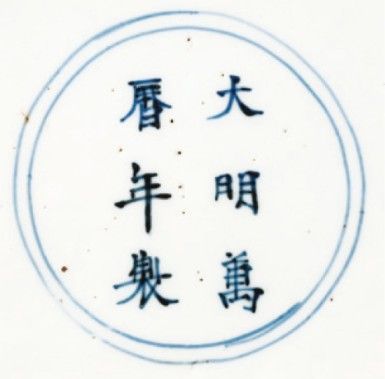 A rare Wucai 'Garden' circular box and cover. Mark and period of Wanli - Photo Sotheby's
of rounded form, thickly potted, the domed cover with a slightly raised central panel and both parts with raised bands at the rims, all supported on a wide, slightly splayed foot, painted overall in a quick and free style in two tones of cobalt blue, and red, green and yellow enamels and black details, the cover with a garden scene with two long-tailed red-and-yellow parrots perched high up in a willow tree, and two large butterflies and an insect hovering above lilies, asters and other flowers growing among rocks, all within double-line borders, the sides decorated with sprays of pomegranate, peach, lychee and a flowering branch on the cover and peach, grape, lychee and further grape vines on the box, the blossoms and fruit coloured red and yellow, the branches and most of the leaves painted in shades of blue and some leaves added in green, the raised rim borders filled with diaper interspersed with green and yellow dots, the base inscribed with a six-character reign mark within a double ring in underglaze blue; 24.4 cm., 9 5/8 in. Estimation: 1,600,000 - 2,000,000 HKD
PROVENANCE: Bluett & Sons, London (1969).
Collection of George (1911-1989) and Cornelia Wingfield Digby.
Sotheby's London, 12th June 2003, lot 1141.
Eskenazi Ltd, London.
EXHIBITED: Sherborne Castle, Sherborne, Dorset (on loan).
LITTERATURE: Regina Krahl, Chinese Ceramics from the Meiyintang Collection, London, 1994-2010, vol. 4, no. 1703.
NOTE DE CATALOGUE: The delightful sensitive nature study of this box, with pairs of birds and butterflies in the peaceful ambience of a garden, is unusual for Wanli wucai porcelain, and the design is in fact an adaptation of a Chenghua (AD 1465-87) doucai pattern, which is known only from one unfinished fragmentary box excavated from the waste heaps of the Ming imperial kiln site at Jingdezhen; that box was discarded after having been painted in underglaze-blue outlines only, before any enamels were added, see Imperial Porcelain: Recent Discoveries of Jingdezhen Ware, Museum of Oriental Ceramics, Osaka, 1995, cat. no. 114.
Another Wanli wucai box of this design is in the Manchester City Art Galleries, illustrated in C.M. Kauffmann, 'Chinese Pottery and Porcelain in the Manchester City Art Galleries', Oriental Art, New Series, vol. V, no. 3, Autumn 1959, pp. 120-22, pl. 3; two others were sold in our London rooms, 17th December 1980, lot 632, from the R. Wistrand collection, and 7th December 1993, lot 236.
Two further Wanli boxes with slight variations in design and size are preserved in the porcelain collection of the Zwinger in Dresden, Germany, and were included in the exhibition, Chinesisches Porzellan der Mingdynastie, Staatliche Kunstsammlungen, Dresden, 1987, cat. nos. 83 and 84. Compare also an unmarked box and cover of this design, also of the late Ming period, sold in these rooms, 10th November 1982, lot 537.
Sotheby's. The Meiyintang Collection, Part IV - An Important Selection of Imperial Chinese Porcelains; Hong Kong | 09 oct. 2012, www.sothebys.com