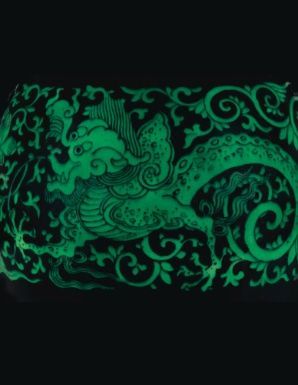 An Extremely Rare Black-Ground and Green-Enamel 'Dragon' Vase. Mark and Period of Yongzheng - Photo Sotheby's
of elegant ovoid form, the rounded sides rising from a thick tapered footring and recessed base to a short wide neck, vividly decorated around the centre in green enamel reserved on a black ground with two fanciful dragons undulating among scrolling lotus, each with a long, wide-open snout, bushy mane, five-clawed forelegs and an elaborate bifurcated tail forming curls, between a ruyi border at the rim and petal lappets skirting the foot, the rim, the interior and base left white, the base inscribed with a six-character reign mark within a double ring in underglaze blue. 13 cm., 5 1/8 in. Estimation: 1,300,000 - 1,600,000 HKD
PROVENANCE: Sotheby's Hong Kong, 29th November 1978, lot 364.
J.J. Lally & Co., New York.
EXHIBITED: Evolution to Perfection. Chinese Ceramics from the Meiyintang Collection/Evolution vers la perfection. Céramiques de
Chine de la Collection Meiyintang, Sporting d'Hiver, Monte Carlo, 1996, cat. no. 163.
LITTERATURE: Sotheby's Hong Kong -Twenty Years, 1973-1993, Hong Kong, 1993, pl. 347.
Regina Krahl, Chinese Ceramics from the Meiyintang Collection, London, 1994-2010, vol. 4, no. 1824.
NOTE DE CATALOGUE: Porcelains of this distinctive green-and-black style are generally decorated with freely rendered nature scenes or formal flower scrolls. Depictions of dragons are extremely rare, although a pear-shaped vase with a very similar dragon design, also of Yongzheng mark and period (AD 1723-35), is in the Baur Collection, Geneva, illustrated in John Ayers, Chinese Ceramics in the Baur Collection, vol. II, Geneva, 1999, pl. 207, together with a green-and-black dish with a bird-and-flower motif, pl. 206.
This elegant form is more often found with a monochrome glaze; a celadon-glazed and an apple-green version in the Palace Museum, Beijing, both from the Qing court collection, are illustrated in The Complete Collection of Treasures of the Palace Museum. Monochrome Porcelain, Hong Kong, 1999, pls. 127 and 129; for one from the J.M. Hu Collection, covered overall in a guan-type celadon glaze, see Zandelou Qingdai guanyao danseyou ciqi/Qing Imperial Monochromes. The Zandelou Collection, Shanghai Museum, Beijing Museum and Art Museum, The Chinese University of Hong Kong, 2005, cat. no. 35, or the Qing Imperial Monochromes from the J.M. Hu Collection, auction catalogue of the same season, lot 102; for one in deep blue see the Min Chiu Society exhibition Monochrome Ceramics of Ming and Ch'ing Dynasties, Hong Kong, 1977, cat. no. 43; and a copper-red one was sold in these rooms, 31st October 1974, lot 158.
Sotheby's. The Meiyintang Collection, Part IV - An Important Selection of Imperial Chinese Porcelains; Hong Kong | 09 oct. 2012, www.sothebys.com