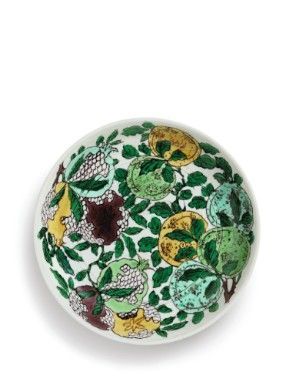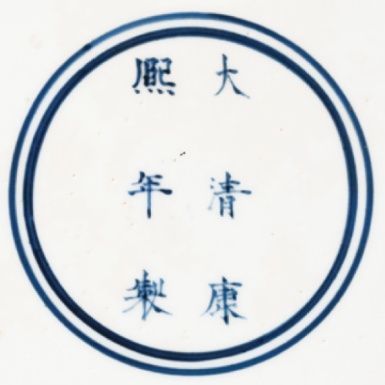 A Biscuit-Enamelled Sancai Dish. Mark and Period of Kangxi - Photo Sotheby's
the deep rounded sides gently rising from a short tapered foot to a flared rim, finely incised on the interior with a central medallion enclosing a five-clawed dragon with long horns and a powerful body issuing flames, writhing among clouds in reach of a 'flaming pearl', all between single or double line borders, and two further dragons striding in pursuit of a pearl among clouds and flames around the cavetto, repeated in mirror-image on the exterior above a border of petal lappets surrounding the foot, the incised design covered with an opaque cream-coloured glaze applied on the biscuit and further painted in brown outlines and coloured washes of yellow, yellowish green, turquoise green, dark green and aubergine, on the interior with a branch of pomegranates, the fruit bursting open to show the seeds, and a branch of citrus fruits with spotted skin, the exterior with branches of camellia and rose, the base inscribed in underglaze blue with a six-character reign mark within a double ring under a transparent high-fired glaze; 25 cm., 9 7/8 in. Estimation: 1,000,000 - 1,500,000 HKD
PROVENANCE: Sotheby's London, 6th April 1976, lot 163.
Collection of The British Rail Pension Fund.
Sotheby's Hong Kong, 16th May 1989, lot 70.
EXHIBITED: Dallas Museum of Art, on loan 1985-1988.
LITTERATURE: Regina Krahl, Chinese Ceramics from the Meiyintang Collection, London, 1994-2010, vol. 4, no. 1818.
NOTE DE CATALOGUE: The highly unusual style of this dish, with a painted motif overlaying an unrelated engraved design, and this rare combination of a high-fired glaze (on the base) with a low-fired white glaze (elsewhere) is known only from Kangxi (AD 1662-1722) dishes and bowls decorated in this colour scheme. Similar examples, although numerous, vary greatly in execution, depicting the fruit in different stages of ripeness, with more or less seeds showing, arranged in different clusters on the branches, and with different distribution of the colours, which ensures that the design retains a lively, naturalistic flair. The incised design comes with or without double lines to separate the central from the surrounding dragons.
Similar dishes can be found in many important museum collections; for example, in the National Palace Museum, Taipei, see Gugong Qing ci tulu. Kangxi yao, Yongzheng yao/Illustrated Catalogue of Ch'ing Dynasty Porcelain in the National Palace Museum, Republic of China: K'ang-hsi Ware and Yung-cheng Ware, Tokyo, 1980, pl. 33; in the Shanghai Museum, see Wang Qingzheng, ed., Kangxi Porcelain Wares from the Shanghai Museum Collection, Hong Kong, 1998, pl. 144; in the Idemitsu Museum of Arts, Tokyo, see Yeh Pei-lang [Ye Peilan], Beauty of Ceramics, vol. 7: Gems of the Wucai Porcelain, Taipei, 1996, pl. 283; and in the Asian Art Museum of San Francisco, see Li He, Chinese Ceramics. The New Standard Guide, London, 1996, pl. 613.
One included in the exhibition Chinese Porcelain. The S.C. Ko Tianminlou Collection, Hong Kong Museum of Art, Hong Kong, 1987, cat. no. 80, was sold in these rooms 28th November 1979, lot 150; one from the Edward T. Chow collection, 19th May 1981, lot 588; and one from the T.Y. Chao collection 19th May 1987, lot 302. A matching bowl, with similarly coloured flower sprays painted over an engraved dragon design, is also preserved in the Meiyintang collection (Krahl, op. cit., vol. 2, no. 889).
Sotheby's. The Meiyintang Collection, Part IV - An Important Selection of Imperial Chinese Porcelains; Hong Kong | 09 oct. 2012, www.sothebys.com