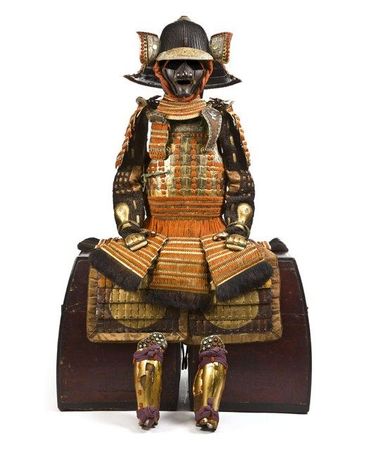 A warabe gusoku suit of armor for a child, Edo period, 19th century. Est. $7,000-9,000. Photo: Courtesy of Bonhams
NEW YORK, NY.- Few groups so universally fascinate us as the Samurai. When Westerners first encountered the remnants of this fabled culture in the late 19th and early 20th centuries, the legends of their loyalty and discipline captured the imaginations of people throughout the world. Institutions at the time voraciously collected any and all things Samurai to satisfy academics and the public alike. Today, the market is focused on private collectors, as discerning connoisseurs vie for their own piece of this mythical history. To meet the demand, Bonhams highly anticipated Arts of the Samurai sale will take place Tuesday, October 16 at the firm's New York location. Featuring more than 200 examples of Samurai armor, helmets, swords, sword fittings and folding screens at a range of price points, the sale is certain to offer something for everyone interested in this unique field.
Originally, the Samurai were the policing force of Kyoto's 12th century imperial government. Gradually, the Samurai wrested administrative control from the imperial household, but by the 14th century, stability had given way to infighting between rival Samurai clans. The violence begat a surge in sword production, and many powerful examples testifying to the bloodshed will be on offer.One such highlight on offer, a large Yamato Koto tachi, attributed to the Shikkake group (est. $20,000-$30,000), has all the hallmarks of the time, like a long point, broad form and noticeable heft. With nearly 70 swords up for auction, this offering is sure to interest a broad range of arms collectors.
As the top caste in Japanese society, everything about the appearance of the Samurai was regulated, including their hair and clothes. All Samurai men were required to maintain armor suitable for battle, even in peacetime. Boldly ornate armor, designed to impress one's peers as much as to inspire fear in an enemy, was one way in which Samurai affluence manifested itself from the 17th century forward. Bonhams will showcase a diverse group of armor and helmets in the sale, and each piece has its own customized aesthetic.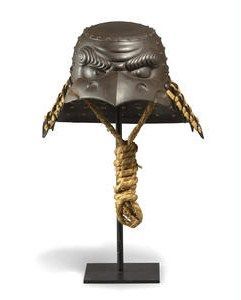 A late 18th century Myochin-school iron eccentrically shaped helmet (kawari kabuto), est. $20,000-$30,000 (photo courtesy Bonhams) is an example highlight, and is Bonhams Japanese Art Specialist Jeffrey Olson's favorite piece in the sale. Shaped like a vicious bird, the helmet startles beholders with angry eyes and flared nostrils. But it is the craftsmanship that makes this work so desirable. Mr. Olson explains, "It's a really well made piece, beautifully carved and very heavy. It was fabricated by an excellent smith from a top school." Another highly unusual offering, sure to impress bidders, is a warabe gusoku suit of armor for a child (est. $7,000-$9,000) from the 19th century Edo period, likely used in an elaborate Samurai coming-of-age ceremony.
Mr. Olson believes Samurai culture has maintained its mystique not only because of its rigorous ideals but also because of its visually arresting pageantry. This combination of style and substance makes it a constant source of inspiration for everyone from authors to film producers, so it's easy to see why many of the world's most knowledgeable collectors choose to collect Samurai related arts. Yet one need not feel intimidated by this impressive collection, which is sure to awe viewers of all ages.