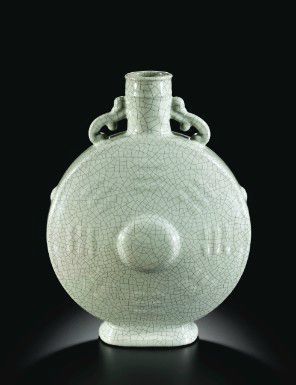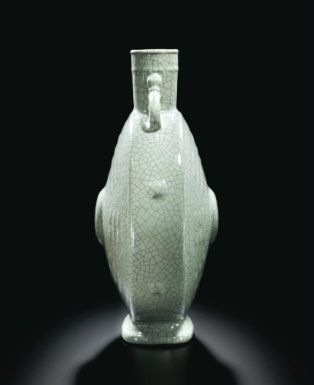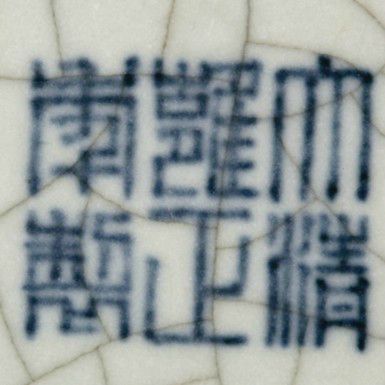 A superb large Guan-Type Moonflask. Seal mark and period of Yongzheng. Photo Sotheby's
modelled after the Islamic metal prototype, of flattened globular form, rising from a splayed rounded square foot to a cylindrical neck set with a pair of archaistic animal scroll handles, the body moulded in relief on each side with a large central yin-yang boss encircled by eight trigrams, the flat sides moulded with bosses resembling rivets, the neck encircled by a raised rib below a thick lipped rim, covered overall in a thick pale creamy-grey glaze picked out with a matrix of light brown and dark grey crackles, the recessed base similarly glazed and inscribed with a six-character seal mark in underglaze blue; 49.8 cm., 19 5/8 in. Estimation: 9,000,000 - 12,000,000 HKD
PROVENANCE: A private Japanese collection.
NOTE DE CATALOGUE: This monumental moonflask represents the ambitious technical and artistic achievements of the Qing potters. The craftsman has successfully recreated a well-known form into a large and imposing piece; a technical feat as vessels of this form and size demanded precision in balancing the weight of the material with the heat of the kiln to prevent sagging. Furthermore, the simplicity of the shape and moulded decoration serves to heighten the effect of the glaze, which simulates the celebrated guan ware of the Song dynasty and reflects the Yongzheng emperor's appreciation of Song imperial glazes.
The Eight Trigrams moulded onto the body of this flask signify the Yongzheng emperor's increasing interest in Daoism, particularly in matters relating to the elixir of immortality. These trigrams were used by Daoists to explain cosmological principles and were a means of understanding the state of the present as well as aiding in decisions for the future. Flasks of this type and glaze are rare. Compare only two other similar examples, sold in these rooms, 8th April 2010, lot 1855, the other, 28th November 1978, lot 207; and a third, slightly smaller example, sold twice in these rooms, 14th November 1989, lot 187, and again, 1st November 1999, lot 349.
Flasks of this form and size, but the body moulded only with a raised medallion, are known in other glazes; see a robin's egg-glazed example, from the Jingguantang collection, included in the exhibition Splendour of the Qing Dynasty, Hong Kong Museum of Art, Hong Kong, 1992, cat. no. 225, sold at Christie's New York, 20th March 1997, lot 100; and another with a flambé glaze, flanked by handles of different form, illustrated in Regina Krahl, Chinese Ceramics from the Meiyintang Collection, vol. 2, London, 1994, no. 835.
The shape of this flask is inspired by an early Ming design that was based on an Islamic metal prototype; see John Alexander Pope, 'An Early Ming Porcelain in Muslim Style', in Richard Ettinghausen (ed.), Aus der Welt der islamischen Kunst, Festschrift fur Ernst Kuhnel, Berlin, 1959, pp. 357-75. This form was recreated and popularised during the early Qing dynasty.
Sotheby's. Fine Chinese Ceramics & Works of Art. Hong Kong | 09 oct. 2012 www.sothebys.com