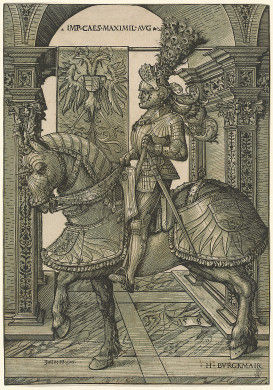 Hans Burgkmair I, Emperor Maximilian I, 1508-1518. Rosenwald Collection, 1948.11.14
WASHINGTON, DC.- The National Gallery of Art presents the first exhibition in the United States to focus on Augsburg's artistic achievements in the late 15th and early 16th centuries. Imperial Augsburg: Renaissance Prints and Drawings, 1475–1540 is on view in the West Building Ground Floor galleries from September 30 through December 31, 2012. The last major exhibition on this subject was mounted more than three decades ago in Augsburg—one of Germany's oldest cities—whose Renaissance heritage has long been eclipsed in America by Albrecht Dürer's Nuremberg.

While focusing on prints, drawings, and illustrated books, the exhibition also includes medals and one etched set of armor. Of the 103 works presented, 86 are from the National Gallery's own collection, with additional loans from the Metropolitan Museum of Art, New York; the Morgan Library and Museum, New York; the Library of Congress; Andrea Woodner; and several private collections.

"It is truly remarkable that the rich and varied history of works on paper in Renaissance Augsburg can be told almost entirely through the Gallery's extensive collection of German prints, drawings, and illustrated books—thanks in large part to the contributions of donors over the course of many decades," said Earl A. Powell III, director, National Gallery of Art. "We are indebted to the private collectors and public institutions who have so generously lent to this exhibition, and we extend our deep appreciation to the Thaw Charitable Trust, and to Gene and Clare Thaw, for making this exhibition and catalogue possible."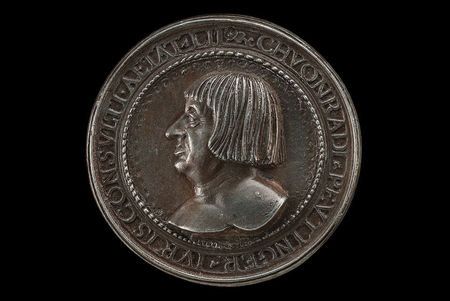 Hans Schwarz, Conrad Peutinger, 1517-1518. Lead alloy, overall (diameter): 8.7 cm (3 7/16 in.). National Gallery of Art, Washington, Samuel H. Kress Collection
The exhibition will travel to the Jack S. Blanton Museum of Art at the University of Texas at Austin (October 5, 2013–January 5, 2014), and then to the Frances Lehman Loeb Art Center at Vassar College (September 19–December 14, 2014). The accompanying catalogue—the first of its kind in English—serves as an introduction to Augsburg, its artists and its cultural history, during this period.

The city of Augsburg, in southwest Bavaria, was founded as a Roman settlement in the reign of Emperor Augustus in 15 BCE. Located on the north-south trade routes to Italy, the city in the late 15th and early 16th century was a prosperous manufacturing center that gave rise to the great banking houses of the Fugger and the Welser. Together, these circumstances fostered an important and diverse artistic community, with an established tradition in the printing and metalworking industries. During the reign of Holy Roman Emperor Maximilian I (1493–1519), Augsburg became the location of an Imperial Diet (council) and the center from which the emperor organized all of his print and armor commissions. As Augsburg's artists benefited from the patronage of the Habsburg court they also created works for the city's thriving art market.

The exhibition emphasizes the rich and varied works of art on paper produced in Augsburg from 1475 to 1540, paying particular attention to innovative printmaking techniques as well as the fundamental role of imperial patronage. The first part of the exhibition focuses on devotional prints and illustrated books representing the Christian contemplative life. This section also examines Augsburg as a center for new printing techniques: Color printing was pioneered there by the native printer Erhard Ratdolt (1447–1528) and further developed by Hans Burgkmair (1472–1531). And etching as a print medium was first explored in Augsburg by Daniel Hopfer (c. 1470–1536). The second section presents the active life: everyday morality is illustrated through biblical, historical, and mythological tales and Augsburg is depicted through genre scenes and portraits of famous and obscure residents. The third section, which is devoted to the patronage of the imperial court, examines Augsburg as the focal point of Emperor Maximilian's print projects and armor productions.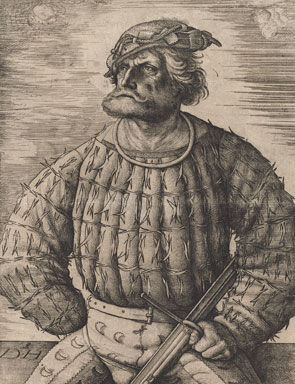 Daniel Hopfer, Kunz von der Rosen, c. 1518. Etching (iron) possibly with drypoint on laid paper, sheet (trimmed within plate mark): 29.4 x 21.5 cm. National Gallery of Art, Washington, Rosenwald Collection