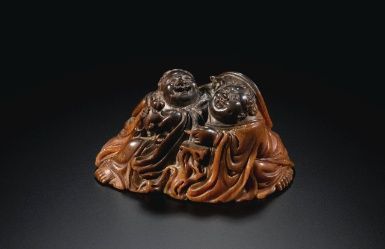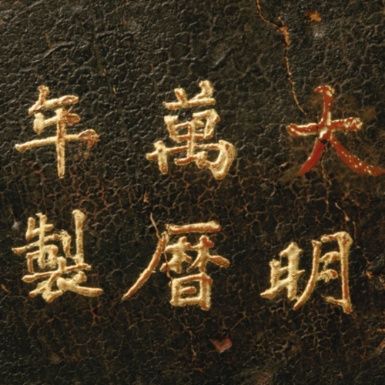 A Very Rare and Superbly Carved Rhinoceros Horn Carving of the Hehe Erxian. Mark And Period Of Wanli - Photo Sotheby's
uperbly carved as the Hehe twins, wearing long robes falling around them in numerous undulating folds, seated shoulder to shoulder with their toes sneaking outside the bottom edge, both with finely-detailed, expressive faces with broad grins, dimples and wavy hair, one holding a bat, the other with a circular, broad-rimmed straw hat trailing down the back to a covered wicker box, the base lacquered and painted in gilt with a six-character mark in three columns within a wide key-fret band; 12.1 cm., 4 3/4 in. Estimation: 2,000,000 - 3,000,000 HKD
PROVENANCE: Sotheby's New York, 28th November 1994, lot 130.
NOTE DE CATALOGUE: Rhinoceros horn figural carvings are extremely rare, and even more unusual are those that bear a reign mark on the base as seen on the present example. The Hehe twins were the patron deities of Chinese merchants and represented 'the twins of Immortality and Harmony'. A related carving of the two brothers jointly holding a bat, offered in theserooms 20th May 1987, lot 623, is illustrated in Jan Chapman, The Art of Rhinoceros Horn Carving in China, London, 1999, p. 108, fig. 102 right, where Chapman notes that 'the shape of the carving does not indicate whether it is made from African or Asiatic horn'. Her guess is that it comes from the posterior horn of the Sumatran rhinoceros (ibid., p. 109). A further group carving of the twins was offered at Christie's New York, 2nd June 1994, lot 6, also with a Wanli reign mark incised on the base.
For examples of rhinoceros horn figures see a carving of Budai, from the collections of Marcel Lorber of London and Mary and George Bloch, sold in these rooms, 23rd October 2005, lot 34; a seated figure of a lohan illustrated ibid., pl. 103; and a figure of Guanyin, in the Shanghai Museum, published in Thomas Fok, Connoisseurship of Rhinoceros Horn Carving in China, Hong Kong, 1999, pl. 77, together with a figure of Manjusri, from the Arthur M. Sackler collection, pl. 76. A carving of a bodhisattva, attributed to the late Ming dynasty, is included in The Complete Collection of Treasures of the Palace Museum. Bamboo. Wood. Ivory and Rhinoceros Horn Carvings, Shanghai, 2001, pl. 137, together with another late Ming period carving of Budai, pl. 138.
Sotheby's. Fine Chinese Ceramics & Works of Art. Hong Kong | 09 oct. 2012 www.sothebys.com