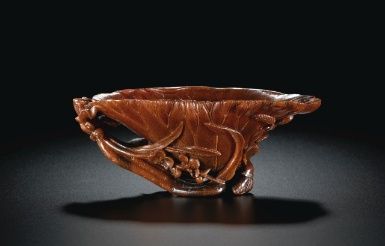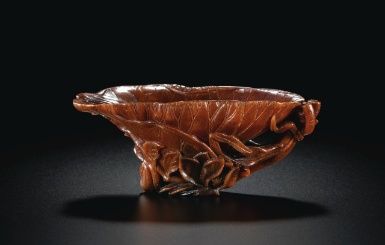 A 'Lotus Leaf' Rhinoceros Horn Libation Cup. Ming Dynasty, 17th Century - Photo Sotheby's
the well-polished horn of chestnut color, realistically carved and detailed as a furled lotus leaf, tied with a ribbon to stalks of lotus blossoms, millet, prunus and reeds, the tied stalks bending upwards and undercut to form an openwork base and the handle, the interior finely incised with veins and decorated with a fish and three snails carved in high relief, wood stand; length 14.3 cm., 5 5/8 in. Estimation: 800,000 - 1,200,000 HKD
PROVENANCE: Collection of Gary Mack, New York.
EXHIBITED: Hong Kong Museum of Art, Metal, Wood, Water, Fire and Earth: Gems of Antiquities Collection in Hong Kong, 2003-2005.
LITTERATURE: Thomas Fok, Connoisseurship of Rhinoceros Horn Carving in China, Hong Kong, 1999, p. 142, no. 93.
World Journal, New York, 30th March 2003, p. 23.
NOTE DE CATALOGUE: The present rhinoceros horn cup, in the form of a large lotus leaf fashioned with deep veins both to the exterior and interior of the vessel, is beautifully shaped and exquisitely carved. A sense of nature and liveliness is added to the piece with the carving of three small snails and a fish resting on the inside of the vessel. The lotus leaf itself is possibly one of the most popular decorative themes in the rhinoceros horn carver's repertoire. While this cup displays a number of characteristic elements seen on vessels of this design, it is special not only for the inclusion of living creatures, but also for the elegant and skillful fashioning of the foot in the shape of entwined stalks that extend upward to form the handle.
The design of this cup exudes auspicious symbolism. The use of millet grass and lotus leaf together form the visual pun hehe (harmony) that expresses the wish for 'living together in harmony year after year'. The lotus leaf symbolises purity and uncontaminated beauty and is associated with the pure and virtuous character of the gentry and scholarliterati. The fish and snails also represent wealth and abundance.
A related lotus leaf form cup from the collections of Edward and Franklin Chow, and included in the exhibition Craving for Carvings: Rhinoceros Horn from the Chow Collection, Asian Civilizations Museum, Singapore, 2005, cat. no. fc11, was sold in these rooms, 8th April 2011, lot 2715. Another cup, from the Murray bequest and now in the Victoria and Albert Museum, London, illustrated in Craig Clunas, Chinese Carving, London, 1996, fig. 31, uses two intertwining stems to form the base that extend upwards to become the handle of the vessel, similar to that seen on the present piece. See also a cup sold in our London rooms, 13th July 2005, lot 105.
Sotheby's. Fine Chinese Ceramics & Works of Art. Hong Kong | 09 oct. 2012 www.sothebys.com