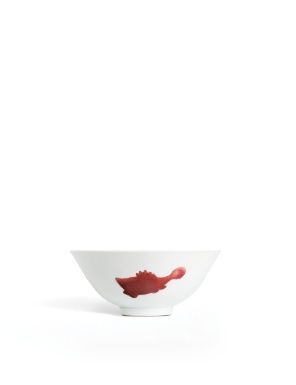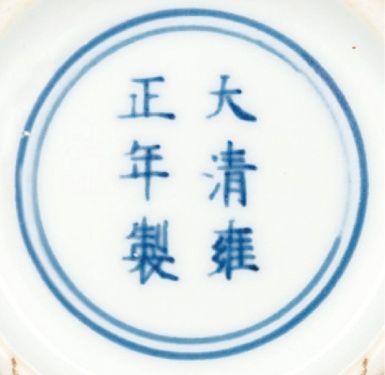 A Fine Underglaze-Red 'Fish' Bowl, Mark and Period of Yongzheng -Photo Sotheby's
well potted, the wide everted sides rising from a short straight foot to a slightly flared rim, decorated around the exterior with three mandarin fish with serrated dorsal fins and rounded tails in bright copper-red silhouettes, reserved on an overall white ground, the interior left undecorated, the recessed base inscribed with a six-character Yongzheng mark within a double ring in underglaze blue; 15.3 cm., 6 in. Estimation: 700,000 - 900,000 HKD
LITTERATURE: Regina Krahl, Chinese Ceramics from the Meiyintang Collection, London, 1994-2010, vol. 4, no. 1718.
NOTE DE CATALOGUE: Designs in the form of underglaze-red silhouettes of animals and fish originated in the Yongle period (AD 1403-24), when they were generally combined with underglaze-blue decoration, and in the Xuande reign (AD 1426-35) were often used on their own. In these early Ming periods, red fish are, however, mainly seen on stemcups and stembowls. A rare fragmentary cup with red mandarin fish was recovered from the Xuande stratum of the Ming imperial kiln sites at Jingdezhen, see Jingdezhen chutu Ming Xuande guanyao ciqi/Xuande Imperial Porcelain Excavated at Jingdezhen , Chang Foundation, Taipei, 1998, cat. no. 101-2. These early silhouettes are much simpler in outline and do not render the serrated dorsal fins of the fish.
After the Xuande period this technique was rarely used until it was revived in the Qing dynasty. A fragmentary bowl with red fish swimming in the opposite direction was recovered from the middle Chenghua (AD 1465-87) stratum; see A Legacy of Chenghua: Imperial Porcelain of the Chenghua Reign Excavated from Zhushan, Jingdezhen, Tsui Museum of Art, Hong Kong, 1993, cat. no. B 22. A rare Zhengde (AD 1506-21) bowl with four underglaze-red fish in extremely pale greyish silhouettes in the Palace Museum, Beijing, from the Qing court collection, is a good illustration of the difficulty encountered by the kilns with the red glaze technique during that period; see The Complete Collection of Treasures of the Palace Museum. Blue and White Porcelain with Underglazed Red, vol. 2, Shanghai, 2000, pl. 220.
This design became highly popular in the Yongzheng period (AD 1723-35), when it was produced in a range of sizes. A similar Yongzheng bowl with less detailed silhouettes in the Nanjing Museum was included in the exhibition Qing Imperial Porcelain of the Kangxi, Yongzheng and Qianlong Reigns, The Art Gallery, The Chinese University of Hong Kong, Hong Kong, 1995, cat. no. 49; another with more flared rim, in the Qingjiang County Museum, Jiangxi province, is published in Zhongguo taoci quanji [Complete series on Chinese ceramics], Shanghai, 1999-2000, vol. 14, pl. 162; another bowl in the Victoria and Albert Museum, London, is published in Rose Kerr, Chinese Ceramics. Porcelain of the Qing Dynasty 1644-1911, London, 1986 (rev. ed. 1998), pl. 11; and one in the National Palace Museum, Taipei, was included in the Museum's exhibition Ming Chenghua ciqi tezhan [Special exhibition of Ming Chenghua porcelain], Taipei, 1977, cat. no. 100, together with rare examples of Chenghua and Wanli (AD 1573-1620) mark and period, respectively, cat. nos. 98 and 99.
Sotheby's. The Meiyintang Collection, Part IV - An Important Selection of Imperial Chinese Porcelains. Hong Kong | 09 oct. 2012 www.sothebys.com