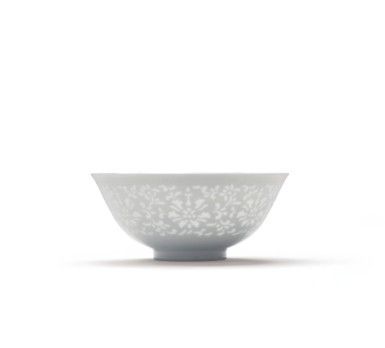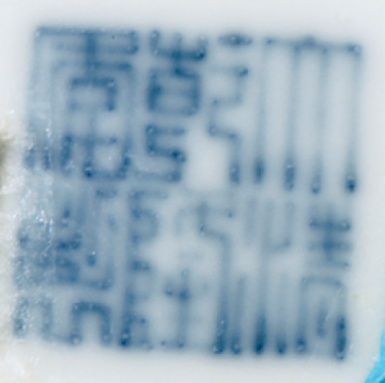 A White Bowl With Transparent Lotus Decoration, Seal Mark And Period Of Qianlong - Photo Sotheby's
thinly potted with wide everted sides rising from a straight foot to a slightly flared rim, delicately pierced around the body with a broad band of formal lotus scrolls filled with a transparent colourless glaze to produce the effect of lace, the base inscribed with a six-character reign mark in underglaze blue; 13 cm., 5 1/8 in. Estimation: 600,000 - 800,000 HKD
EXHIBITED: Evolution to Perfection. Chinese Ceramics from the Meiyintang Collection/Evolution vers la perfection. Céramiques de Chine de la Collection Meiyintang, Sporting d'Hiver, Monte Carlo, 1996, cat. no. 160.
LITTERATURE: Regina Krahl, Chinese Ceramics from the Meiyintang Collection, London, 1994-2010, vol. 2, no. 793.
NOTE DE CATALOGUE: This decoration style, where the body was pierced with a delicate openwork design with tiny rice-grain shaped openings that were filled with glaze, creating this elegant, transparent lace-like effect, is in the West known as 'grainsde-riz' [rice grain] technique. Two similar bowls from the Alfred F. Pillsbury collection in the Minneapolis Institute of Arts were included in the exhibition Chinese Ceramics from the Prehistoric Period through Ch'ien Lung, Los Angeles County Museum, Los Angeles, 1952, cat. no. 340; a white bowl with simpler floral decoration in the Palace Museum, Beijing, is illustrated in Kangxi, Yongzheng, Qianlong. Qing Porcelain from the Palace Museum Collection, Hong Kong, 1989, p. 465, pl. 147; another with a simpler scroll in the National Palace Museum, Taipei, is published in John Ayers and Sat Masahiko, eds, Sekai tji zensh/Ceramic Art of the World, vol. XV: Shin/Ch'ing Dynasty, Tokyo, 1983, pl. 280; and a bowl decorated in this technique with flower-heads only, also in Taiwan, is included in the exhibition Qingdai danse you ciqi tezhan [Special exhibition of monochrome glazed porcelain of the Qing dynasty], National Palace Museum, Taipei, 1981, cat. no. 63.
Sotheby's. The Meiyintang Collection, Part IV - An Important Selection of Imperial Chinese Porcelains. Hong Kong | 09 oct. 2012 www.sothebys.com