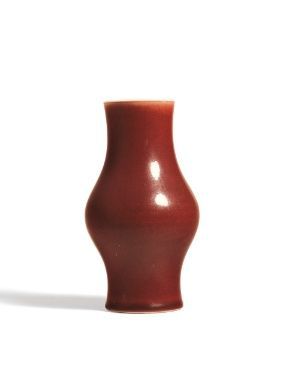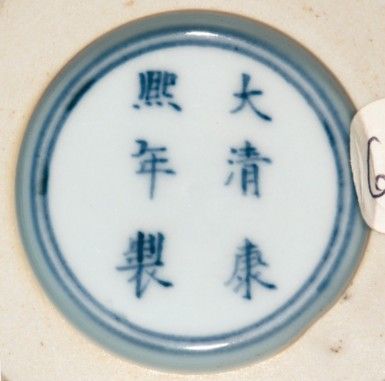 A Copper-Red Olive-Shaped Vase, Ganlanping. Mark and Period of Kangxi - Photo Sotheby's
the bulging body rising to an almost cylindrical neck from a slightly splayed foot, resting on a broad straight-cut foot ring with a recessed base, attractively covered on the exterior with a rich glaze of deep copper-red colour thinning to white towards the rim and pooling in a thick darker layer around the foot, the interior, rim and base left white, the base inscribed with a six-character reign mark within a double ring in underglaze blue; 17.9 cm., 7 in. Estimation: 500,000 - 700,000 HKD
PROVENANCE: Probably Sotheby's London, 29th February 1972, lot 277.
LITTERATURE: Regina Krahl, Chinese Ceramics from the Meiyintang Collection, London, 1994-2010, vol. 2, no. 828.
NOTE DE CATALOGUE: The Kangxi Emperor (r. AD 1662-1722), who was highly interested in technical progress, encouraged the exploration of new glaze recipes at Jingdezhen as well as the recovery of former techniques that had been lost. Deep copper-red glazes had been successfully produced during the Yongle (AD 1403-24) and Xuande (AD 1426-35) reigns, but their production, which was complicated and costly due to a large failure rate, had been abandoned thereafter. The Emperor was instrumental in the successful revival of these glazes during his reign, and superb copper-reds, as seen on this vase, were one of the first triumphs of the newly opened imperial kilns at Jingdezhen in the Qing dynasty (AD 1644-1911).
A similar larger vase in the National Museum of China, Beijing, is illustrated in Zhongguo Guojia Bowuguan guancang wenwu yanjiu congshu/Studies on the Collections of the National Museum of China. Ciqi juan [Porcelain section]: Qingdai [Qing dynasty], Shanghai, 2007, pl. 23; another was sold in these rooms, 15th May 1977, lot 175.
Sotheby's. The Meiyintang Collection, Part IV - An Important Selection of Imperial Chinese Porcelains. Hong Kong | 09 oct. 2012 www.sothebys.com