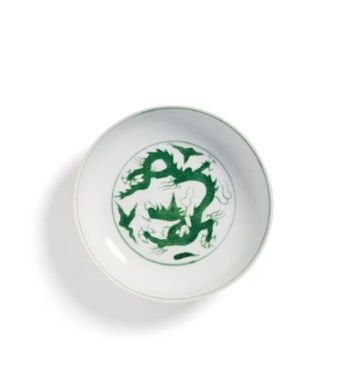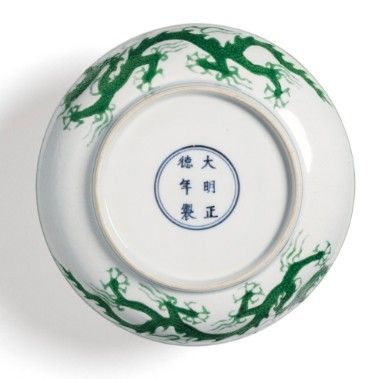 A Green-Enamel 'Dragon' Saucer Dish, Mark And Period Of Zhengde - Photo Sotheby's
with shallow rounded sides supported on a short slightly tapered foot, the interior decorated with a central medallion enclosing a five-clawed dragon writhing among stylized clouds, its head, scaly body and limbs finely incised, reserved on the biscuit and covered with a green enamel, their claws and spikes picked out in green enamel over the glaze, all within a green circle repeated at the rim, the exterior incised with two five-clawed dragons striding above crested waves and rocks, similarly reserved on the biscuit and painted with a green enamel against the white ground, the base inscribed with a six-character reign mark within a double ring in underglaze blue; 17.8 cm., 7 in. Estimation: 500,000 - 700,000 HKD
PROVENANCE: Collection of Neil F. Phillips, Q.C., Montreal.
Collection of the Reach Family.
Eskenazi Ltd, London.
EXHIBITED: Chinese Art from the Reach Family Collection, Eskenazi Ltd, London, 1989, cat. no. 40.
Evolution to Perfection. Chinese Ceramics from the Meiyintang Collection/Evolution vers la perfection. Céramiques de Chine de la Collection Meiyintang, Sporting d'Hiver, Monte Carlo, 1996, cat. no. 127.
LITTERATURE: Regina Krahl, Chinese Ceramics from the Meiyintang Collection, London, 1994-2010, vol. 2, no. 694.
NOTE DE CATALOGUE: This design of green dragons, which is similarly known from contemporary bowls, such as lot 20, is based on rare Chenghua (AD 1465-87) prototypes. A dish with green dragons on the exterior only, enamelled over the glaze over cobalt-blue outlines, was included in the exhibition Chenghua ciqi tezhan/Special Exhibition of Ch'eng-hua Porcelain Ware, 1465-1487, National Palace Museum, Taipei, 2003, cat. no. 109, together with two similar bowls, cat. nos. 107-8, and two bowls with green dragons enamelled over biscuit silhouettes, cat. nos. 110-11.
Three similar dishes are in the British Museum, London, see Jessica Harrison-Hall, Ming Ceramics in the British Museum, London, 2001, pls. 8: 33-35. One in the Shanghai Museum is illustrated in Lu Minghua, Shanghai Bowuguan zangpin yanjiu daxi/Studies of the Shanghai Museum Collections : A Series of Monographs. Mingdai guanyao ciqi [Ming imperial porcelain], Shanghai, 2007, pl. 1-44; one from collections of R.H.R. Palmer and Edward T. Chow, included in the Oriental Ceramic Society exhibition Polychrome Porcelain of the Ming and Manchu Dynasties, London, 1950, cat. no. 77, was sold in our London rooms, 27th November 1962, lot 18 and in these rooms, 25th November 1980, lot 37; a second dish from the Edward T. Chow collection was sold in these rooms, 19th May 1981, lot 447; and a dish from the British Rail Pension Fund was sold four times in our rooms, in London 13th December 1966, lot 73; 1st July 1969, lot 149; and 17th November 1970, lot 76, and in Hong Kong 16th May 1989, lot 27.
Sotheby's. The Meiyintang Collection, Part IV - An Important Selection of Imperial Chinese Porcelains. Hong Kong | 09 oct. 2012 www.sothebys.com