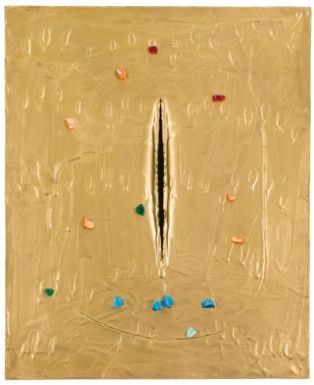 Lucio Fontana (1899 - 1968), Concetto Spaziale (Gold and Pietre). signed and titled on the reverse; oil and murano glass on canvas; 73 by 60cm. 28 3/4 by 23 1/2 in. Executed in 1961. Est. £1.6-2 million. Photo: Sotheby's.
PROVENANCE: G. Laurini Collection, Milan
Private Collection, MilanGalleria Maggiore, Bologna
Galleria Il Mappomondo, Milan
Acquired directly from the above by the present owner in 1988
LITTERATURE: Giulio Ballo, Lucio Fontana, Turin 1970, p. 221, no. 261, illustrated in colour
Enrico Crispolti, Catalogue Raisonné des Peintures, Sculptures et Environnements Spatiaux, Vol. II, Brussels 1974, p. 109, no. 61 O 21, illustrated
Enrico Crispolti, Lucio Fontana, Catalogo Generale, Vol. I, Milan 1986, p. 365, no. 61 O 21, illustrated
Enrico Crispolti, Lucio Fontana, Catalogo Ragionato di Sculture, Dipinti, Ambientazioni, Vol. II, Milan 2006, p. 549, no. 61 O 21, illustrated
NOTE DE CATALOGUE: Gold is as beautiful as the sun!
The artist's inscription on the reverse of Concetto Spaziale, catalogue raisonné no. 64 O 11
Equally a precious object and a painted canvas, Concetto Spaziale was born from Lucio Fontana's creative engagement with Venice. It is one of fifteen such works created in 1961, which are regarded as part of the Venezia cycle executed in smaller scale. Pia Gottschaller writes: "although these works do not have subtitles, they are clearly related to the Venezie in terms of imagery, paint handling, and the predilection for gold and silver paint in combination with glass pieces" (Pia Gottschaller, Lucio Fontana: The Artist's Materials, Los Angeles 2012, p. 99). Crafted as an
elegy to the architectural and painterly wonders of Venice, Concetto Spaziale evinces the Pala d'Oro of the Basilica di San Marco, the piercing Italian sunshine reflecting off lagoon waters, and the decorative intricacies of centuries-old craftsmanship. The concentration of luxuries and sensory stimulation within a tiny network of islands mirrors the density of technique and detail visible in Concetto Spaziale. A companion to Concetto Spaziale, Venice was all Gold (1961) held by the Fundación Colección Thyssen-Bornemisza, Madrid, the present work offers a rare and fascinating window into one of Fontana's most fervent and inspired periods of production.
Concetto Spaziale synthesises the ornamental programmes of the Baroque with principles of Byzantine aesthetics, wherein pure unworked materials resonated with pleasure. Symmetries impart a sense of order, and impressions of the artist's fingertips laid into wet paint create a decorative regime.Variations in the thickness of paint are sculptural relief, and an oval border marked with a tool monumentalises the central cut. The three-dimensionality of the pigment is enhanced by a spectrum of pietre – Murano glass fragments – ranging from turquoise to emerald, and tangerine to ruby, which adorn Fontana's iconic slash. Compositionally, force radiates from Fontana's highly performative methods of mark-making. The sharp, erratically curved edges of his stones bespeak cracking upon force, as if their colour were released through violence, just as the cut asserts the artist's blade. These features contrast the delicacy of Fontana's finger-painting, eliciting a dynamic tension between creation and destruction.
Obsessed with concentrating light upon his canvas, Fontana refined his working method for the Venezie cycle, applying an extremely thin layer of gold pigment over the paint. Concetto Spaziale is thus characterised by a glossy, light-catching depth that the waterpaint of his Attese could ever achieve. His adoption of glass pietre was equally done to capture, reflect, and channel light across and through the work's surface. The transcendent nature of light was clearly on Fontana's mind while in Venice: several of the Venezia cycle feature titles such as At Dawn Venice was all Silver or Piazza San Marco in the Sun, which marry metals to the changing time of day and the movement of celestial bodies.
Curator Luca Massimo Barbero has noted that "[t]he Palazzo Grassi Venices fall into two groups: on the one hand,luminous, marine images of the gold light of the sun or of silvery reflections of the light of the moon; on the other, images encrusted with Stones, chips of glass to signal the fantastical man-made city, its architecture by night and by day, its buildings reflecting and being reflected in the mobile light" (Exhibition Catalogue, Venice, Peggy Guggenheim Collection; New York, Solomon R. Guggenheim Museum, Lucio Fontana: Venice/New York, 2006-7, p. 34-5).
Observing Concetto Spaziale, one perceives the amalgamation of these two "groups" into a single example. Laying glass stones upon a metallic, golden surface, it represents a glorious synthesis of these decorative programmes and epitomises the career-defining breakthroughs that Fontana achieved with Venice as his muse.
Immersed within the religious opulence of Venetian architecture, painting and sculpture, Fontana was undoubtedly attempting to replicate the visually commanding and spiritually enriching properties of Italian devotional art. Sarah Whitfield once perceptively observed that "underlying all of Fontana's art is the desire to find an imagery universal enough in its appeal to usurp centuries of Christian symbolism" (Exhibition Catalogue, London, The Hayward Gallery, Lucio Fontana, 1999, p. 46). Far beyond a commitment to iconoclasm or atheism, Fontana repeatedly practiced his methods – the cut, the hole, the pietre, the metallic surface – with the dedication and varied repetition expressed in religious icons. Known for their use of gold leaf to symbolise divine presence, these works established the iconographic centrality of gold pigment. Used relatively sparingly, perhaps reverentially, across the entire output of Fontana's career, the uniformity of gold in Concetto Spaziale signifies a masterpiece.
Sotheby's. 20th Century Italian Art. London | 12 oct. 2012 www.sothebys.com