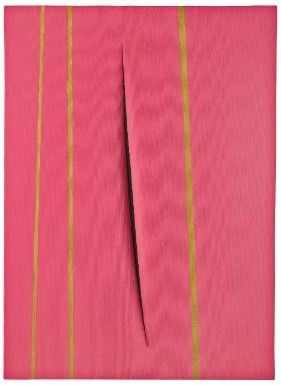 Lucio Fontana (1899 - 1968), Concetto Spaziale, Attesa - Photo Sotheby's
signed, titled and inscribed Quando la terra tace è in riposo per un'attimo on the reverse; waterpaint and oil on canvas; 100 by 73cm. 39 3/8 by 28 3/4 in. Executed in 1964. Estimation: 1,000,000 - 1,500,000 GBP
PROVENANCE: Private Collection, Brussels (acquired from the artist)
Sale: Sotheby's, London, Contemporary Art, 5 February 2004, Lot 7
Acquired directly from the above by the present owner
EXHIBITED: New York, Gagosian Gallery, Lucio Fontana: Ambienti Spaziali, 2012, p. 327, no. 354, illustrated in colour
LITTERATURE: Enrico Crispolti, Lucio Fontana, Catalogue Raisonné des Peintures, Sculptures et
Environnements Spatiaux, Vols. I & II, Brussels 1974, p. 63 (Vol. I), no. 64 T 25, illustrated incorrectly in colour and p. 153 (Vol. II), no. 64 T 25, illustrated incorrectly
Enrico Crispolti, Lucio Fontana, Catalogo Generale, Vol. II, Milan 1986, p. 519, no. 64 T 25, illustrated incorrectly
Enrico Crispolti, Lucio Fontana, Catalogo Ragionato di Sculture, Dipinti, Ambientazioni, Vols. I & II, Milan 2006, p. LXXXIX (Vol. I), illustrated incorrectly in colour and p. 711 (Vol. II), no. 64 T 25, illustrated
NOTE DE CATALOGUE: Executed in 1964, the year after Lucio Fontana's first major retrospective was organised by Enrico Crispolti, Concetto Spaziale, Attesa, is a magnificently rare and visually arresting work from the Tagli series. Breathtakingly rendered in luscious pink with three bold, geometric golden stripes accenting the central cut, it represents a period of experimentation wherein Fontana pushed his practice forward conceptually and aesthetically. Two of his earliest Tagli paintings with gold geometric forms, dating to their first period of production in 1959, are now in the permanent collections of the Musée d'Art Moderne de la Ville de Paris, and the Instituto Valenciano de Arte Moderno, Centre Julio Gonzalez, respectively. Eleven such canvases, adorned with geometric gold lines over a monochrome background and one or more cuts, are documented from 1959. Fontana returned to this theme again only in 1964, to produce a highly limited number of such paintings; the present work is one of just four recorded.
Fontana's use of gold merits consideration: traditionally associated with religious art, gold was similarly used by contemporaries Yves Klein in his Monogold paintings, Robert Rauschenberg in his Gold Paintings, and Alberto Burri with touches of gold to his Sacchi. Yves Klein's first Monogold dates from 1959, the same year in which Fontana first experimented with applying gold geometric lines onto Tagli canvases. Notably, Lucio Fontana bought in the early 1960s from Yves Klein MG 42, an example of Klein's Monogolds for his personal collection. The use of gold in Concetto Spaziale, Attesa is a stunning epilogue to Fontana's gold oil paintings and his infamous Venezia cycle, the artist's dreamy interpretation of the Venetian baroque. An Olio also from 1964 bears the inscription l'Oro è bello come il Sole! – "Gold is as beautiful as the sun!" Fontana frequently referenced gold and silver as embodiments of sun- and moonlight, as in the Venezia titles, and clearly valued metallics as a method of integrating new visual, spatial and even spiritual properties into his paintings. His most exuberant and powerful uses of metallics are rightly gold, traditionally the most opulent and desirable of precious metals, believed across cultures to signify the energy of the sun.
Geometrical principles – and a quest for geometrical perfection – intimately informed Fontana's oeuvre. In 1951 he delivered a public speech at the 9th Milan Triennale within a programme entitled De Divina Proportione (On Divine Proportion), a photograph of which documents him illustrating intersections of parabolic lines, circles and triangles for his audience. Geometry was key to Fontana's concept of 'Spatialism', advanced in four manifestos published between 1947 and 1952, which proposed overturning three-dimensional Cartesian space by introducing the fourth dimension of time. Hence Fontana's statement that: "the discovery of the Cosmos is that of a new dimension, it is the Infinite: thus I pierce the canvas, which is the basis of all arts and I have created an infinite dimension, an x which for me is the basis for all Contemporary Art" (the artist cited in: Exhibition Catalogue, New York, Solomon R. Guggenheim Museum, Lucio Fontana: Venice/New York, 2006, p. 19).
The concept of the Absolute (or infinite, universal) had dominated artistic discourse in Europe since the early twentieth century. Various movements approached the problem differently, yet the basic paradigm of the artist's project as uniting or transcending disparate poles of experience – objective/subjective, decorative/pictorial,conscious/unconscious, spatial/temporal – in many ways utterly defined the theoretical underpinnings of modern art.
Conceptually aligned with Mondrian or the post-painterly abstraction of Barnett Newman, Fontana asserted the priority of the aesthetic over the social, believing the Infinite was best channelled through sensory experience. Fontana's quest for a "new dimension" in art was thus similarly motivated to Mondrian's claim that art "must be the direct expression of the universal" (Piet Mondrian, 'Neo Plasticism: The General Principle of Plastic Equivalence', 1920 in: Charles Harrison and Paul Wood, Eds., Art in Theory: 1900-2000, Malden 2003, p. 290). Yet whilst Mondrian was satisfied by reorganising the picture plane into a series of rectangular colour fields, Fontana pushed further, as evinced by the present work. Synthesising the insights of geometrical abstraction with the spatial challenge of the Tagli – the cut of the knife – he moved beyond his predecessors. The gold lines adorning Concetto Spaziale, Attesa should thus properly be seen as an aesthetic extension of the cut's purpose; according to Enrico Crispolti "by experimenting with the use of 'sign' forms, generally gold, Fontana created a dialectic relationship with the slashes" (Enrico Crispolti, Lucio Fontana, Catalogo Ragionato di Sculture, Dipinti, Ambientazioni, Vol. I, Milan 2006, p. 77). Perceptively speaking to the artist's deepest concerns, Sarah Whitfield has written: "Fontana creates a space where the most distant polarities finally meet and close together" (Sarah Whitfield in: Exhibition Catalogue, London, The Hayward Gallery, Lucio Fontana, 1999-2000, p. 48). Concetto Spaziale, Attesa, offers a rare and precious point of divergeance from Fontana's usual output, recording a moment wherein he synthesised several art historical lessons and thrust Western art forward conceptually. With its fresh, deeply alluring pink tones accented by the shimmering gold lines, and anchored in the seductive void of the cut, the present work announces its status as among the finest works ever produced by the Italian master.
Sotheby's. 20th Century Italian Art. London | 12 oct. 2012 www.sothebys.com