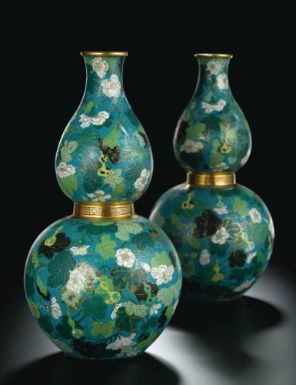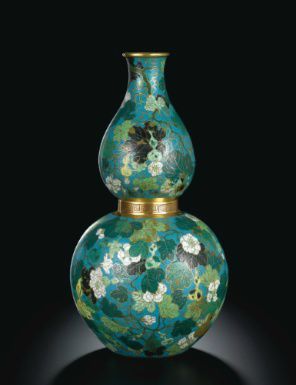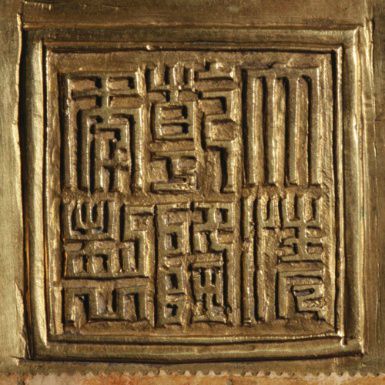 An Exceptional Pair of Large Cloisonne 'Double-Gourd' Vases. Seal Marks and Period of Qianlong - Photo Sotheby's
each with a rounded lower body tapering at the waist before rising to a tall upper bulb surmounted by a flared rim below a gilt-lipped mouth, masterfully decorated overall with a profusion of double-gourds of various shapes, suspended from long leafy vines interspersed with white flowers and curling tendrils, the leaves and gourds enamelled in delicate shades of green and yellow with touches of black and brown against a turquoise ground, the flowers detailed with pale green and yellow stamens, the gilt waist incised with a red key-fret border, the base cast with a six-character seal mark within double squares; 46.7 cm., 18 3/8 in. Estimation: 8,000,000 - 10,000,000 HKD - Lot. Vendu 7,220,000 HKD
PROVENANCE: Collection of HRH Prince Arthur, 1st Duke of Connaught and Strathearn (1850-1942), and his daughter Lady Patricia Ramsay (1886-1974; by repute).
Collection of John Stafford Reid Byers (1903-84), Waterfoot House, Newcastle, County Down, possibly acquired in Ireland during the Second World War.
NOTE DE CATALOGUE: During the reign of the Qianlong emperor, the manufacture of cloisonné enamel products flourished achieving its most sophisticated levels in both range and quality. Palace archival records confirm that huge quantities of enamel wares were produced with a wide range of designs which included eye-catching decorative pieces such as the present pair of double-gourd form vases. A closely related vase, but of larger proportions, decorated with gourd-vines, bats and auspicious shou and wan characters, is included in Helmut Brinker and Albert Lutz, Chinesisches Cloisonne, Zurich, 1985, pl. 294, from the collection of Pierre Uldry.
Further Qianlong mark and period double-gourd form cloisonné enamel vases include a pair sold in these rooms, 11th April 2008, lot 2809, the body decorated with flowering and fruiting gourd vine against a turquoise ground and applied with pierced gilt-bronze roundels; and another pair, also from the Uldry collection, ibid., pl. 298, with similar decoration of pierced roundels. Compare also a pair of red-ground double-gourd shaped vases finely enamelled with flowering gourd vines bearing large gourds mottled in black, as seen on the present examples, offered at Christie's New York, 15th September 2011, lot 1207, attributed to the Qianlong period.
Double-gourd form vessels are full of symbolism with the double-gourd representing fertility and good fortune, and the decoration of mottled gourds on leafy vines reinforcing this auspicious wish. With its abundant small seeds and swelling rounded form, the gourd became a natural symbol of fertility. The long vines also represent endless lineages, suggesting the wish for continuity and many generations of descendants, especially sons and grandsons. The gourd is also associated with Daoism as it is the attribute of Li Tiegui, one of the Eight Immortals.
The provenance of this pair of vases is notable for having been formerly in the important art collection of HRH Prince Arthur, 1st Duke of Connaught and Strathearn (1850-1942), third son and seventh of the nine children of Queen Victoria and Prince Albert. Prince Arthur had a long and distinguished career in the British Army that included service in South Africa, Canada, Ireland, Egypt and India. He was made Field Marshal in 1902, and served as Commander-inChief in Ireland, Inspector-General of the Forces and as Governor General in Canada.
Sotheby's. Fine Chinese Ceramics & Works of Art. Hong Kong | 09 oct. 2012 www.sothebys.com