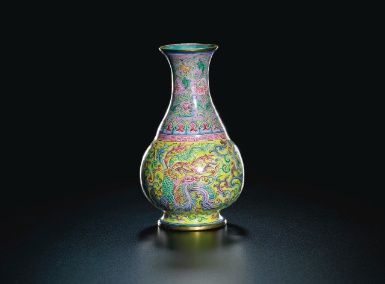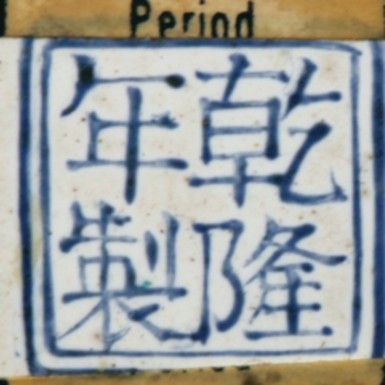 A Yellow-Ground Beijing Enamel on Copper 'Phoenix and Dragon' Vase. Blue Enamel Mark and Period of Qianlong - Photo Sotheby's
the pear-shaped body supported on a low splayed foot and rising to a waisted neck below a flared rim, finely enamelled on the rich yellow ground with two large phoenix wreathed by their multi-coloured tail feathers, grasping in their beak a branch of lingzhi, each confronted by an archaistic kui dragon stylised with a beard and a slender scrolling body, all below a band of pink key-fret and upright ruyi-lappets at the slightly bulging shoulder, the neck draped by a flowering pomegranate scroll with attendant fruits and buds against a pale lavender ground, the interior turquoise, the rims gilt, the white base inscribed with a blue-enamelled four-character reign mark within double squares; 10.2 cm., 4 in. Estimation: 2,000,000 - 3,000,000 HKD - Lot. Vendu 2,660,000 HKD
PROVENANCE: Mrs. Anne Bigelow Stern collection (by repute).
Chait Galleries, New York, purchased 1st March 1983.
Christie's London, 9th November 2010, lot 288
NOTE DE CATALOGUE: In its shape and delicate small size this vase is after slightly earlier, Kangxi period, bottle vases generally painted with birds, flora and fauna. For example, see a Kangxi mark and period vase, finely painted with blooming flowers in panels on a yellow ground, illustrated in Michael Gillingham, Chinese Painted Enamels, Oxford, 1978, p. 15, pl. 6. Another vase from this group with floral decoration, in the National Palace Museum, Taipei, is published in Enamel Ware in the Ming and Ch'ing Dynasties, Taipei, 1999, pl. 86; and one painted with birds and flowers was sold in these rooms, 17th May 1989, lot 416.
The decoration seen on the present vase is also unusual for Qianlong vessels of this type, although a covered bowl of the same period, from the Qing Court collection and still in Beijing, painted with the phoenix design on a yellowground, is illustrated in The Complete Collection of Treasures of the Palace Museum. Metal-bodied Enamel Ware, Hong Kong, 2002, pl. 203.
The colour scheme used on the neck of this vase is also rare, although it is reminiscent of that found on vessels of the Kangxi period, such as the painted enamel bowl with floral decoration on a pale lavender ground published in Enamel Ware in the Ming and Ch'ing Dynasties, op. cit., pl. 79. Shades of purple or lavender were frequently used on Kangxi vessels, especially before pink enamel was introduced into the Chinese enamellers' repertoire employed by the Palace Workshop.
Sotheby's. Fine Chinese Ceramics & Works of Art. Hong Kong | 09 oct. 2012 www.sothebys.com