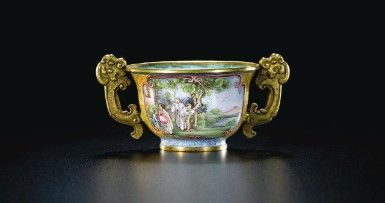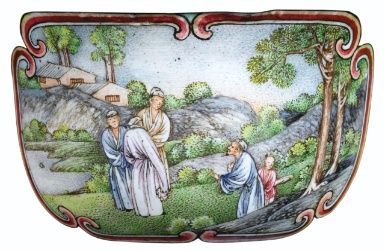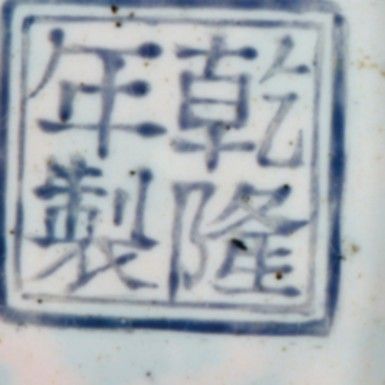 A Finely Painted and Rare Beijing Enamel 'Scholars' Handled Cup. Blue Enamel Mark and Period of Qianlong - Photo Sotheby's
the well-wrought copper body with deep rounded sides rising from a short waisted foot to a flared rim, set with two gilt archaistic dragon-fish handles, the exterior exquisitely decorated in stippled enamels with two rectangular landscape panels within strapwork borders, each depicting in an European style a gathering of scholars near a lake with mountains and trees in the distance, in one scene three sages are conversing next to a pavilion, another stands holding a gnarled staff while their companion is leaning against a tree trunk, gazing at the sunrise in the distance, in the second a scholar followed by a child attendant carrying a wrappedqin addresses three others standing in front of rocks and houses, all reserved on a bright yellow ground picked out with dense crimson-red foliate scrolls, between a pale blue border at the rim and a pale blue 'classic' scroll around the foot, the interior turquoise, the rims gilt, the white base inscribed in blue enamel with a four-character reign mark within double squares; 9.8 cm., 3 7/8 in. Estimation: 1,500,000 - 2,000,000 HKD - Lot. Vendu 2,300,000 HKD
PROVENANCE: Collection of Madame Nelly Loup-Borel, Geneva.
Christie's Hong Kong, 30th May 2006, lot 1569.
NOTE DE CATALOGUE: The present cup belongs to a select group of utilitarian wares produced in the Enamel Workshop, one of the most important workshops within the Zaobanchu (Imperial Palace Workshop) located in the Forbidden City. The Enamel Workshop was in charge of the manufacture of cloisonné, champlevé and painted enamel wares on metal, porcelain and glass. Enamelling on metal was introduced to the Palace Workshop during the reign of the Kangxi emperor, and by the Qianlong period artisans were creating pieces, both decorative and utilitarian, of most delicate design and exceptionally fine quality. This cup is remarkable for its main figural decoration that reflects a strong Western-style painting influence while the subject matter is traditionally Chinese. It is unusual to find Chinese figures painted on enamel wares, with the majority depicting Western figural scenes, and even rarer are those showing Chinese scholars in a landscape setting. The use of Western painting technique is evident from the delicate shadowing of the landscape, trees and buildings, and the realistic depiction of the figures with much care given to every detail, especially the scholars' facial expressions and the many folds of their gowns. For an example of a Chinese subject matter on a painted enamel ware see a covered jar decorated with a scene of a Chinese mother holding her infant, in the Palace Museum, Beijing, illustrated in Zhongguo jinyin boli falangqi quanji, vol. 6 (part 2), Shijiazhuang, 2002, pl. 129.
Related two handled cups of different form and decoration, from the Qing court collection, can be found in both Beijing and Taipei. For example, see a cup with its handles in the form of stylised clouds and painted with the theme of a Western 'mother and child' illustrated in Masterpieces of Chinese Enamel Ware in the National Palace Museum, Taipei, 1971, pl. 35, together with its matching cup stand; and two further cups finely decorated with floral scroll motif, published in The Complete Collection of Treasures of the Palace Museum. Metal-bodied Enamel Ware, Hong Kong, 2002, pls. 204 and 205.
Sotheby's. Fine Chinese Ceramics & Works of Art. Hong Kong | 09 oct. 2012 www.sothebys.com