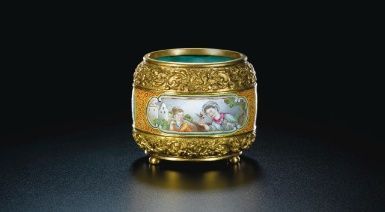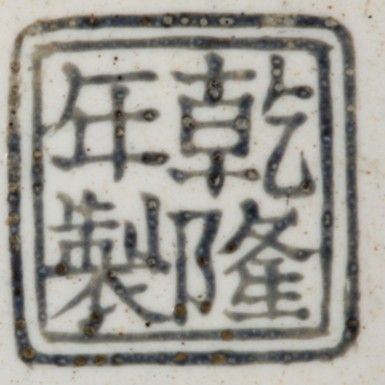 An Exquisite Beijing Enamel 'European Subject' Tripod Washer. Blue Enamel Mark and Period of Qianlong - Photo Sotheby's
the ovoid copper body resting on three small spherical feet and rising to an inverted lipped rim, with a finely enamelled central register set between gilt-bronze lotus borders, exquisitely decorated in stippled colours with two horizontal quarterfoil panels within strapwork borders, each containing an European landscape with a castle in the distance and trees in the forefront, in the first a young man presents his beloved fiancée with a flower spray, in the other the woman dressed in a ruby-red robe hands a fruit to her child, the two panels alternating with pale blue archaistic medallions formed from intertwined phoenix and dragon, all reserved on a rich yellow ground picked out with red scrolls, set between cast foliate scroll bands around the mouth and foot, the interior turquoise, the rims gilt, the white base inscribed with a four-character reign mark in dark blue enamel within double squares; 5.5 cm., 2 1/8 in. Estimation: 2,000,000 - 3,000,000 HKD - Lot. Vendu 2,180,000 HKD
PROVENANCE: Christie's Hong Kong, 5th November 1997, lot 903.
NOTE DE CATALOGUE: Expertly cast and beautifully painted, this delicate washer is a masterpiece with only one other closely related example known; a washer of the same size and form but painted with a naturalistic design of many flowers in a palette of pink, yellow, blue, green and white enamels on a light blue ground around the centre of the body, sold in these rooms, 21st May 1980, lot 269. The present washer is amongst the finest examples of painted enamel wares on a metal body produced in the Enamel Workshop during the Qianlong period. Metal enamel vessels decorated in the Imperial workshops with scenes of a Western mother accompanied by her infant in stylised rococo-style panels were much favoured by the emperor, who had this theme repeated on many different types of vessels. For example, see a melonshaped covered box illustrated in The Complete Collection of Treasures of the Palace Museum. Metal-bodied Enamel Ware, Hong Kong, 2002, pl. 208; a ewer with a loop handle, in the National Palace Museum, Taipei, illustrated in Enamel Ware in the Ming and Ch'ing Dynasties, Taipei, 1999, pl. 118, together with a drum-form jar, pl. 119; and a small vase last sold in these rooms, 9th October 2007, lot 1540.
The theme of 'mother and child' may have been introduced to the Chinese court by the French Jesuit missionary-artist Jean-Denis Attiret (1702-1768) who, in turn, would have been influenced by the rococo taste of France under Louis XV, where painters like Boucher, Fragonard and Lancret were highly esteemed. It is interesting to note that during Qianlong's reign the 'Western mother and child' theme was also changed to depict a 'Chinese mother and child', possibly to satisfy Chinese taste. For example, see a painted enamel jar decorated with a Chinese mother and child in similar rococo panel, included in The Complete Collection of Treasures of the Palace Museum. Metal-bodied Enamel Ware, op. cit., pl. 212, together with a brushpot bearing with the same theme, pl. 222.
Sotheby's. Fine Chinese Ceramics & Works of Art. Hong Kong | 09 oct. 2012 www.sothebys.com