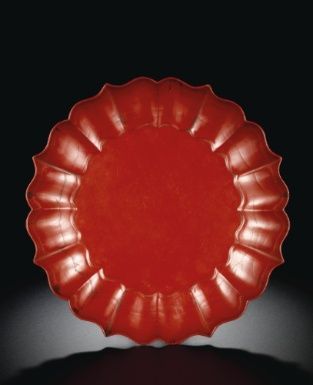 A Rare Red Lacquer Foliate-Rimmed Dish. Southern Song Dynasty, 13th Century - Photo Sotheby's
the delicately-lobed and rounded sides rising from a recessed base to a barbed rim divided into eight bracket foliations, the interior with radiating ribs extending from a slight recess of conforming shape in the centre, applied overall with a rich crimson-red lacquer, except for the base and the broad footring lacquered in black; 21.2 cm., 8 3/8 in. Estimation: 1,800,000 - 2,500,000 HKD. Unsold
NOTE DE CATALOGUE: Plain lacquer wares of the Song dynasty are amongst the most beautiful and delicate pieces known in this media. The present dish is striking for its deep red colour and simple yet elegant organic form. It is not only most pleasing to the eye but is also surprisingly light and thin when held in one's hand. This dish is the work of a highly skilled craftsman who has created a masterpiece that represents the refined taste of the Song elite literati.
A very similar eight-lobed red lacquer dish, from the Sedgwick collection, was sold in our London rooms, 15th October1968, lot 56. Compare also a slightly smaller six-lobed dish of this type with a black lacquer base illustrated in Lee Yukuan, Oriental Lacquer Art, Tokyo, 1972, p. 118, pl. 52, where it is noted that the two characters on the base represent the alias of a man who apparently withdrew from society to study and meditate. A rare brownish-black eight lobed lacquer dish, from a noble Japanese family collection formed prior to World War II, was offered in these rooms, 8th October 2010, lot 2638; and a seven-lobed red lacquer dish (or perhaps a stand), from the Dubosc collection, was included in the Eskenazi exhibition Chinese Lacquer from the Jean-Pierre Dubosc Collection and Others, London, 1992, cat. no. 8.
Further examples of undecorated Song dynasty lacquer dishes of varying lobed form were included in the exhibition So Gen no bijutsu, Nezu Institute of Fine Arts, Tokyo, 2004, cat. nos. 17-20. Eight-lobed lacquer dishes continued to be popular during the Yuan dynasty, when they were carved with the popular 'bird and flower' design; for example, see a slightly larger dish carved with the 'peacock and peony' motif included in the Special Exhibition of Palace Lacquer Objects, National Palace Museum, Taipei, 1981, cat. no. 5.
Sotheby's. Fine Chinese Ceramics & Works of Art. Hong Kong | 09 oct. 2012 www.sothebys.com