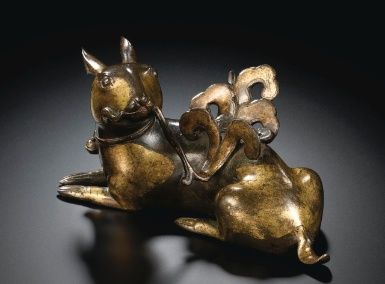 A Finely Cast Gilt-Bronze Mirror Stand in the Form of a Hare. Song Dynasty - Photo Sotheby's
cast recumbent crouching on its four legs, its raised head turned sharply to the left detailed with alert eyes, flared nostrils and divided upper lip, its long ears reclining behind, wearing a choker suspending a small bell and grasping in its mouth a long spray of trefoil leaves curling over to form a receptacle on its back, further supporting a circular Song dynasty bronze mirror decorated with flowers issuing from cragged rocks. Quantité: 2; length 22.5 cm., 8 7/8 in. diameter of the mirror 13.3 cm., 5 1/4 in. Estimation: 1,800,000 - 2,500,000 HKD. Unsold
NOTE DE CATALOGUE: Gilt-bronze mirror stands of the Song dynasty are extremely rare, and even more unusual are those in the form of a hare. The mirror, with its disc form, represents the moon. The hare and the moon together recall the ancient Chinese tale of the Jade Rabbit who resides on the moon and continuously makes the elixir of life for his companion, the Moon Goddess Chang'e.
A bronze mirror stand attributed to the Song or Yuan periods, in the form of a mythical single-horned animal called xiniu, from the Salting bequest and now in the Victoria and Albert Museum, London, is illustrated in Rose Kerr, Later Chinese Bronzes, London, 1990, pl. 87 and on the front cover, where the author mentions that mirrors were often mounted on stands and thus form part of stationary dressing-tables as seen on paintings showing ladies making-up before such mounted mirrors (see ibid., p. 103).
Animal form stands continued to be popular in the later dynasties; for example, see an early Qing period finely cast silver stand, in the shape of a crouching lion, sold in these rooms, 26th October 1993, lot 316.
Sotheby's. Fine Chinese Ceramics & Works of Art. Hong Kong | 09 oct. 2012 www.sothebys.com