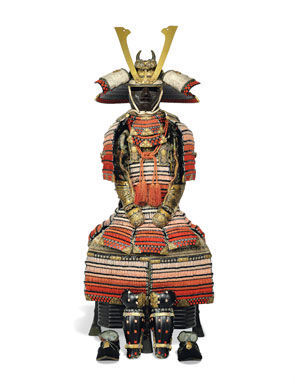 A fine Yoshitsune-Gote do-maru Armour. Estimate: £100,000-150,000. Photo: Christie's Images Ltd 2012
LONDON.- Christie's will celebrate Asian Art in London this autumn between 6 – 9 November, with a diverse array of rare and beautiful works with excellent provenance and many highlights from important private collections. The sales include: Fine Chinese Ceramics and Works of Art on 6 November at King Street; and at South Kensington: Interiors – dedicated to Chinese Art – and The Japanese Aesthetic on 7 November; and Chinese Ceramics, Works of Art and Textiles on 9 November.

Fine Chinese Ceramics and Works of Art: 6 November at 10.30am & 2.00pm, Christie's King Street - Bid via Christie's LIVE
Christie's London Asian Art week in autumn 2012 opens with a stellar offering of Fine Chinese Ceramics and Works of Art on 6 November. A selection of exquisite works from a Private English Collection and Property from the Michael D. Stevenson Collection will be offered alongside notable ceramics, jade carvings, bronzes, cloisonné enamel, lacquer ware, painting and furniture. The sale features over 300 works which demonstrate the incredible breadth and dynamism of Chinese art, spanning the Neolithic period through to the 20th century. With estimates ranging from £1,000 to £700,000 the sale is expected to realise in excess of £10 million.

Meeting the current markets continuing demand for the finest Jades, the sale is led by a remarkable very rare yellow jade archaistic conjoined double-bi form ornament, Qianlong period (1736-1795), which was formerly in the renowned collection of J.T. Tai (estimate: £500,000-700,000). This pair of archaistic yellow jade hinged bi discs is a rare example of the lapidary's art incorporating not only surface carving, but also loose, pierced decorative plaques in the centers of both the discs, as well as reticulated dragon extensions which are joined with a tubular section - all carved from a single piece of nephrite. Such tours de forces of jade carving with pierced and linked sections appear to have emerged in the Eastern Zhou dynasty (770-221 BC), and the current example combines archaism relating to that period with Qing dynasty stylistic innovation. The specific inspiration for the current example is a similarly-sized pair of linked jade bi discs in the collection of the Palace Museum, Beijing.

Other examples include a large finely carved pale celadon jade boulder Qianlong period (1736-1795) depicting a scholar accompanied by an attendant on one side; the stone is of an even pale tone with attractive russet areas (estimate: £50,000 - 80,000). It has been the property of a distinguished English family since the early 20th century.

Property from a Private English Collection comprises further jade carvings dating primarily to the Qianlong period (1736-1795). High quality and good condition were factors of paramount importance in the careful formation of this collection over 30 years, with important works mainly sourced from top London dealers. Jade carvings have consistently appealed to English collectors since the early 20th century and this collection features a good selection, including a small 18th/19th century evenly toned white jade brush washer, attractively carved with numerous chilong amongst swirling waves around a central aperture (estimate: £30,000 - 50,000). Further examples with notable provenance include a rare large longquan celadon model of a pagoda, Ming dynasty, 15th century (estimate: £15,000-20,000) from the collection of Michael D. Stevenson, a north American based collector who built his collection from the 1970's through the 1990's. This collection features a variety of media also including glass, gilt bronze, lacquer and porcelain which are also offered in the sale.

The rich offering of Cloisonné enamels is led by the second most valuable lot in the sale, a rare massive imperially-inscribed vase, Hu, Qianlong Period (1736-1795) measuring 27½ in. (70 cm.) high from the Property of an Asian Collector (estimate: £400,000 - 600,000). Exceptional both for its size and fine quality decoration, the vase is inscribed with an Imperial poem written by the famous calligrapher and painter Huang Yi (1744-1802). The poem, describing the subtle movement of the birds and the trees and eulogising the simple pleasures that nature provides, is recorded in the Yuzhi shiji (Imperial Poetry Collection).

From the Property of a European Gentleman, a rare large cloisonné enamel fish basin, Qianlong period (1736-1795) is a particularly attractive example attributed to the Imperial workshops. The choice of motif is highly auspicious: fish have remained a popular theme in the Chinese decorative arts and convey a range of auspicious messages, most of them based upon the sound of the word. The word for fish itself (yu) sounds like the word for abundance or surplus. Thus two or more fish represent multiplied abundance and gold fish (jinyu) suggest an abundance of gold. On the exterior a number of different motifs suggesting longevity have been combined, including deer, cranes and pine trees (estimate: £100,000 - 150,000).

This is the first London sale in the category to feature a section dedicated to Religious art, presenting stunning works representing two main religions in particular: Buddhism and Daoism which highlight that Chinese religious beliefs throughout the centuries have developed a frequently used wide set of rich iconography and art in China.

Praying to figural models, portraits of the gods and deities, was seen as an effective way to invoke their power and effect real change in everyday life. In Buddhist tradition, the creation and reproduction of images of the Buddha and Bodhisattvas is also intrinsically linked with devotional intent and the notion of merit. By making and offering such images, the pious believe that they are gaining merit and accumulating good deeds and acts that carry over to the next world or life.

Examples are led by a superb 18th century parcel-gilt bronze repoussé figure of Maitreya (estimate: £80,000-120,000); and a rare large gilt-bronze figure of the Daoist guardian figure Wang Lingguan, late Ming dynasty, 16th/17th century, offered from a private European Collection (estimate: £60,000-80,000). The figure is powerfully cast and modelled with a third eye above the bulging eyes and a flaring beard, his face has a wrathful expression.

Exemplifying the beauty of fine Chinese ceramics, highlights include a blue and white moonflask, Baoyueping, Qianlong (1736-1795) of impressive proportions – measuring 19½ in. (49.5 cm.) high – with Bajixiang decoration in rich cobalt blue tones (estimate: £200,000-300,000). A finely painted famille rose Turquoise ground vase, dates to the Daoguang period (1821-1850) which inherited the fine quality of potting and enamelling perfected during the Qianlong reign (1736-1795) (estimate: £150,000-200,000). It is elaborately decorated with auspicious symbols, including bats, lotus blooms, 'wan' symbols, lanterns and 'ruyi' heads. Bats symbolise happiness and blessings, the lotus form one of the Eight Buddhist Emblems, lanterns represent abundance, and ruyi provide a homophone for the Chinese saying `may your wishes come true.' A rare Wucai circular box and cover, Wanli period (1573-1619) demonstrates exuberance of colour and design seen among imperial polychrome porcelains in the Wanli reign (estimate: 80,000 - 120,000). Round boxes with bud-shaped finials found considerable favour in the Wanli reign, and a very similarly decorated box to the current example is in the collection of the Idemitsu Museum of Arts, Tokyo.

Emperors, members of the literati and academic individuals throughout Chinese history have greatly appreciated scholarly objects which not only enriched a cultured learned environment, but also provided a source of meditation and inspiration. Ornamental and functional objects for the scholar's desk, including brush washers, brush pots, seal paste boxes and Yixing pottery, often reflected and defined the taste of the individual.

This auction features a fascinating array of such works led by a particularly charming small 18th century gilt-bronze and champlevé enamel 'prunus' brush pot, from a private English collection, (estimate: £30,000-50,000). The Prunus plants depicted are extremely auspicious, and hold a special place in Chinese literature and art. The first flower to bloom in late winter and early spring, it symbolises endurance and hope. A Huanghuali cylindrical brush pot, Bitong, 18th century is offered from The Capelo Collection (estimate: £20,000-30,000). This type of wood is extremely popular for its appearance and patina, exhibiting a rich golden-brown colour. A delicately decorated small rare Yixing slip-painted circular box and cover, Qianlong period (1736-1795) would have been used by scholars as a seal paste box (estimate:£10,000 - 15,000).

An impressive 18th century tiger-maple four-poster canopy bed, Jiazichuang (estimate: £150,000 - 180,000) leads the furniture offered. Formerly part of the Gangolf Geis Collection of Fine Chinese Furniture, it has been suggested that it was most likely made for a man's apartment, whilst a six-poster 'wedding bed', often a dowry item brought into the marriage with the bride, would be more likely to be made for a woman's quarters.

Chinese Interiors: 7 November at 10.00am, Christie's South Kensington Bid via Christie's LIVE
An established and extremely popular feature of Christie's Asian Art Week in London is the Interiors sale, dedicated to Chinese Art, held at South Kensington. Offering collectors affordable works of art dating from the Neolithic period through to the 20th century, the auction on Wednesday 7 November will include bronzes, jade, porcelain, cloisonné enamels, snuff bottles, paintings, textiles and more.

The sale presents an array of works from important private collections including The Burton Collection of Chinese Works of Art, A Private English Collection of Cloisonné, A Private Welsh Collection of Chinese Ceramics, A Private Collection of a European Family and A Private East Asian Collection of Early Jades. The sale comprises more than 480 lots, with estimates starting at just £500. Highlights include a Chinese white-glazed jar and cover, Tang dynasty (618-907) from the private collection of a European family (estimate: £2,000-3,000); and a Chinese Jade carving from a Private East Asian Collection (estimate: £1,000-1,500).

The Japanese Aesthetic: 7 November at 10.30am & 2.30pm, Christie's South Kensington Bid via Christie's LIVE
The sale of The Japanese Aesthetic, on 7 November, encapsulates the extraordinarily powerful designs of Japanese domestic and export works of art ranging from 13th century swords from the battle torn years of the Muromachi period to the elegant and dynamic designs by metalworkers in the Meiji period (late 19th century), for export to the west. Featuring over 450 lots, the sale includes a private collection of swords, a group of armours from a private western collection and a group of ceramics from a private English collection by the renowned St. Ives potter Bernard Leach and his circle. Further highlights include ukiyo-e prints including the famous Sanka hakuu [Shower Below the Summit] from the series Thirty-six Views of Mount Fuji by Katsushika Hokusai (1760-1849) (estimate: £25,000-30,000) and a private American collection of lacquer. With estimates ranging from £800 to £180,000, the auction is expected to realise in the region of £2million.

The sale presents one of the best groups of armour to come to the market in recent decades, comprising five magnificent examples befitting the daimyo of Edo period Japan and their high ranking retainers. Offered from the property of a private western collector and in fantastic condition, they are led by a fine Yoshitsune-Gote do-maru Armour (estimate: £100,000-150,000). Elsewhere in the sale, a highlight among the swords and sword fittings is a Bizen Ichimonji tachi-style Japanese sword blade attributed to the 13th century Kamakura period Fukuoka Ichimonji school (estimate: £60,000-80,000).

A fine example of metalwork is a rare example by the artist Shoami Katsuyoshi (1832-1908). The elegant iron and gilt and patinated bronze decorated kabin [flower vase] signed Dai Nihon Okayama Shoami kizamu, dates to the Meiji Period (late 19th century) and is in the form of a gourd entwined with vine, leaves, a frog and snake (estimate: £120,000-180,000). This extraordinary piece of metalwork reflects the type produced by late 19th century Japanese metalwork when the decline of the samurai led sword and metalworkers to produce alternative works to showcase their skills. Another example of high quality late 19th century Japanese metalwork is an inlaid iron vase and cover, in gold, silver, shibuichi and copper depicting pheasants and insects among flowers beside a stream, the cover with insects among flowers and grasses, surmounted by a finial in the form of a kirin (estimate: £40,000-50,000).

Following the success of an extremely rare pair of late 17th century Kakiemon tigers in May, which realised £169,250, Edo Period domestic and export ceramics from the mid-17th/early 18th century again present a highlight in the form of a rare pair of Kakiemon models of karashishi. They are believed to be a previously unrecorded model, possibly made for a temple (estimate: £120,000-150,000).

2012 marks Bernard Leach's 125th anniversary. Works by Leach and his circle which are offered from a private English Collection provide a rare opportunity for collectors and institutions. Renowned as the father of studio pottery and leader of the revival of traditional handmade pottery in England, Leach was born in Hong Kong and went on to live in Japan during his early adult years.

Whilst in Japan Leach began potting and became friends with the potter Shoji Hamada (1894 - 1978) who went on to travel to England with him, where they set up the Leach Pottery at St. Ives, Cornwall in 1920. Together they promoted pottery as a combination of Western and Eastern arts and philosophies. Characteristic highlights of great charm include a rare, late 1920s large pie-crust earthenware dish decorated with an onion seller (estimate: £5,000-7,000) and examples of Shoji Hamada's work such as a stoneware vase with red clay body incised with a band of floral patterns, made at the St. Ives Pottery 1920-1923 (estimate: £6,000-8,000), alongside Leach's drawings and etchings.

The art of lacquer is celebrated in a Private American Collection of Lacquer which presents examples from the 18th and 19th centuries. Featuring writing boxes, inro and incense boxes, highlights include an attractive Kodansu [Small Cabinet] decorated with chrysanthemums by a stream in gold and silver lacquer, with hinged door opening to reveal three small drawers decorated with autumn leaves, Edo Period (19th century) (estimate: £4,000-6,000).

A group of lacquer from the ingenious artist Shibata Zeshin (1807-1891) and his pupils includes a lacquer bon [tray] decorated with auspicious symbols and signed Zeshin and Taishin (Ikeda Taishin 1825-1903) (estimate: £15,000-20,000) and an album of six miniature fan paintings depicting birds, fruit and flowers, each signed Zeshin and sealed, and dated 1869 (estimate: £8,000-10,000).

Chinese Ceramics, Works of Art and Textiles: 9 November at 10am & 2pm, Christie's South Kensington - Bid via Christie's LIVE
Christie's South Kensington sale of Chinese Ceramics, Works of Art and Textiles on 9 November features over 300 lots spanning two millenia of Chinese art from the early centuries BC through to the 20th century, with estimates ranging from £1,000 to £20,000. The carefully curated sale offers a diverse selection of porcelain, jade carvings, bronzes, silver, cloisonné, lacquer, bamboo, furniture, paintings, snuff bottles and textiles. The sale is expected to fetch in the region of £1.5 million.

The auction includes several private collections of jade, porcelain and snuff bottles including The Roden Family Collection of 20th Century Porcelain, led by an exquisitely painted famille rose 'landscape' vase, cong, dated to the sixth year of the Republic corresponding to 1917 and with a Juren Tang mark (estimate £10,000-15,000). Unusually, the vase has been signed by Guo Baochang, the Superintendant of Ceramics, and is likely to have been made as tribute for China's last imperial monarch, Yuan Shikai, who reigned for less than 100 days.

Jade highlights include a Ming dynasty (1368-1644) grey jade model of the Daoist immortal Zhen Wu seated on a carved wood stand (estimate £10,000-15,000). The figure is carved with a pointed beard and long hair that falls loosely down his back. The carvers have cleverly incorporated the lighter grey tones of the jade to delineate his face and upper body with his lower body fashioned from the darker grey tones. It has a fascinating early provenance having been acquired by the family of the UK private vendor in 1950 from the celebrated London dealer Louis Joseph for £94, a princely sum at the time.

Also of note are the jade carvings from a Private East Asian Collection predominantly formed in the 1980s and 1990s in Hong Kong. Among the Ming dynasty (1368-1644) highlights are the two animated boys (estimate: £4,000-6,000).

Christie's will offer The Stan Barden Collection of Snuff Bottles assembled in Hong Kong from 1960 to 1981 that includes all manner of glass, porcelain, amber, jade and hardstone bottles, including two 18th/19th century shadow agate bottles (estimate £2,000-3,000). Stan Barden, who was founder member number one of the International Snuff Bottle Society in Hong Kong, was particularly drawn to agate bottles.

Ceramic highlights from important private collections include a slender blue and white vase depicting a scene from The Romance of The Three Kingdoms and dating circa 1630-50 from the Cornelia and George (1911-1989) Wingfield Digby Collection (estimate: £5,000-8,000).

The textile section is led by a small collection of robes 'Sold to Benefit the Brooklyn Museum', with estimates ranging from £2,000 to £8,000; an interesting collection of Rank Badges from a Private Collection; a strong group of delicate 18th and 19th century fans painted with views of Hong Kong and Whampoa; a formal court robe (chao'fu), worn to the most important ceremonies in the Imperial palace (estimate: £10,000-15,000), along with a large yellow canopy embroidered with dragons, which probably graced an important Mandarin's audience room, as the Emperor's representative in the provinces (estimate: £15,000-20,000).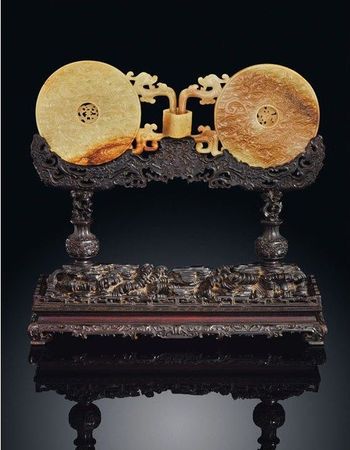 A remarkable very rare yellow jade archaistic conjoined double-bi form ornament, Qianlong period (1736-1795), which was formerly in the renowned collection of J.T. Tai. Estimate: £500,000-700,000. Photo: Christie's Images Ltd 2012