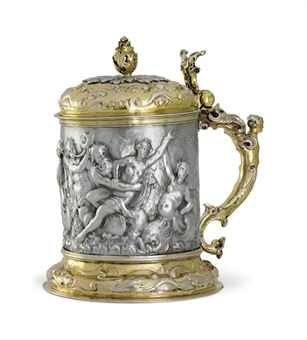 A German Parcel-Gilt Silver Tankard, probably Hamburg, circa 1660, Maker's MarkGerman Parcel-Gilt Silver Tankard, probably Hamburg, circa 1660, Maker's Mark EH . Photo Christie's Image Ltd 2012
Cylindrical, the silver sleeve chased with scene of Triton abducting a sea nymph, the gilt foot and cover chased with auricular ornament, the caryatid handle with auricular thumbpiece, the cover with silver leaf calyx and pierced bud cover, with gilt interior and removable gilt liner under cover, marked under base; 10½ in. (26.3 cm.) high; 79 oz. 10 dwt. (2,483 gr.). Estimate $30,000 - $50,000
Provenance: Presented by the States of Lubeck to Sir William Morice of Warrington (1602-1676)
Thence by descent to Lt. Col. Sir Arscott Molesworth-St. Aubyn, Bt. Partridge Fine Arts, London
The Dimitri Mavrommatis Collection, sold Sotheby's, London, 8 July 2008, lot 2
Alastair Dickenson, London
Property from the Estate of Benjamin F. Edwards III
Notes: Sir William Morice of Warrington (1602-1672) played an important role in the politics of the Commonwealth period, maintaining Royalist loyalties. Elected Member of Parliament for Devon in 1648, he was among the MPs excluded in "Pride's Purge" on the suspicion that they did not support Parliament and the New Model Army.
Morice spoke in Parliament in favor of restoring Charles II to the throne and met him upon his arrival at Dover from his exile in the Netherlands; Charles knighted him that same day. Subsequently, Morice was appointed Secretary of State for the Northern Department, a position responsible for relations with Northern England, Scotland, and the Protestant states of Northern Europe. In this capacity, he negotiated with the Hanseatic League (including the states of Lubeck, Bremen and Hamburg), which was eager to maintain the trading privileges it had enjoyed under the old regime.
In addition to the present lot, the States of Lubeck gave Sir William a silver dish by the Hamburg goldsmith Hans Lamecht III (now in the Kunstgewerbemuseum, Hamburg). In the opinion of Erich Schliemann, author of the definitive work on Hamburg goldsmiths, the present lot originated "North but not north of the Elbe" (see catalogue for The Dimitri Mavrommatis Collection, sold Sotheby's, London, 8 July 2008, lot 2).
Christie's. Important Silver and Objects of Vertu. 19 October 2012. New York, Rockefeller Plaza